Xeoma and IoT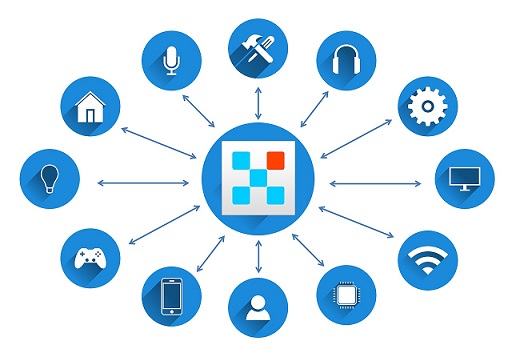 Almost everyone nowadays has at least one gadget. It might be a smartphone, tablet, voice controlled speaker or another "smart automation" device. These devices have become an integral part of our daily lives. The whole world is moving towards automation. This desire for automation has led to the development of "Smart Home" and "Safe City" systems, as well as the inventions of devices that can do daily tasks automatically without human intervention like "smart kettle" or "motorized curtains".
The internet of things, or IoT, is a full ecosystem of smart devices that can interact with each other and the world around to provide valuable information or do particular work. Xeoma is equipped with all options and features to work with smart devices. So Xeoma video surveillance software is a part of the IoT world in a way.
Let's review various application scenarios of Xeoma in terms of IoT:

1. "Smart home" solution
There are plenty of "smart devices" available for home automation these days. Smart automation devices such as "smart" kettles and fridges, motorized curtains, automatic gates, "smart" illumination and many other things are aimed to make our life easier. And Xeoma can be used as a centralized system to control these to make our life even easier.
Xeoma's multiple modules and features allow you to create not only a video surveillance system to monitor the territory, but also integrate 3rd party devices to control every "smart" device from your laptop or smartphone.
For instance, you can use Xeoma's "License plates recognition" module to recognize vehicle license plates from "white list" and automatically open gates or gate barriers to let the car in using "HTTP Request sender" module. This way your car can automatically enter the territory without human interaction or manual gate opening. And Xeoma's AI-based module "Face recognition" is able to recognize faces and open doors/gates upon receiving the signal that there's an authorized face at the door. Automate entrance using "Face recognition" module in Xeoma.
Also, you can use "Sound events detector" to recognize various sounds on the territory (screaming, glass breaking, shooting etc.) and send alerts to the security office or police. Get your home protected by means of Xeoma's "Sound events detector" module based on Artificial intelligence and deep machine learning.
At the same time Xeoma's "Loitering detector" will help you keep an eye on the perimeter outside your territory and receive alerts when there's someone suspicious hanging around your property. Xeoma's "Loitering detector" is always there to protect your premises from intruders.
Another highly important feature for "Smart home" solution is preventing fire accidents. Use Xeoma's "Smoke and fire detector" to prevent fire emergency on the territory or inside the house. This module is able to recognize smoke and notify you or fire department before the actual fire combusts. Protect your property with Xeoma's Artificial intelligence technologies.
There are multiple module's available in Xeoma to integrate 3rd party devices. Such as "HTTP Request sender" and other integration modules that are able to control motorized curtains and open/shut them according to your schedule (e.g. open curtains in the morning every day at 8 AM). Simply use Xeoma's "Scheduler" module alongside HTTP integration modules to make your morning even more pleasant when you're able to spend precious minutes laying in your bed. Or use "App runner" to launch a script/app/program whenever any detector is triggered. E.g. run a TV show every day at the same time automatically according to the schedule or open motorized curtains. Xeoma's functionality has something to offer for any project around your "Smart home" system.
By the way, you can use "Camera embedded detector" to integrate camera's own sensors and detectors in Xeoma. This way you can receive alerts if someone is crossing particular zone, or you can automatically control illumination and many other things. More.
For advanced smart home solution and tech-savvy homeowners there's "Modbus controller" module available in Xeoma. It's used to create your own system of pins. You can set different reactions for different signals of such a controller, for example, to recognize a car's license plate and turn on the light or open the gate. Also, for technically advanced users Xeoma has "GPIO control" module to offer. This module is able to send/receive signals to/from GPIO pins in ARM-based microcomputers. You can create your own IoT system based on Xeoma with almost unlimited potential.

2. Xeoma and transport automation
Xeoma can be used to count passengers and provide safety to the public transportation sphere. Transport area is usually highly loaded, so it's difficult to keep an eye on everything that is going on in and out of the vehicle. Xeoma video surveillance software will become a tireless helper in monitoring everything and assisting with business.
Xeoma's "Visitors counter" or "Cross-line detector" modules can be used to count passengers. You can have a full log and all information you need to keep the business going and optimize things. Also, you can use "Crowd detector" module to recognize human heads in the camera field of view. Then the module counts the heads and saves this data to a spreadsheet report file, so that you always have necessary information in your pocket.
As mentioned earlier, protection is key. So "Smoke and fire detector" module is a perfect addition to any video surveillance system. This module recognizes indicators of fire and can be used to send alerts or automatically launch fire-fighting system to protect people inside the vehicle and the vehicle itself.
In order to see the "full image" of what is going on around a vehicle, you can use Xeoma's "360° surround view" AI-based module to stitch videos from 4 cameras positioned on 4 sides of a vehicle to monitor and observe the whole area. And Xeoma's "Detector of abandoned objects" will indicate if there's an object being left in the camera's field of view. This module is aimed to protect passengers from potential terrorism threats.

3. Remote monitoring and acceptance: office, house, factory, plant etc.
Remote monitoring is an integral part of modern video surveillance. By means of video surveillance application you can check on your home, office or supervise a factory, plant, warehouse and accept the conducted services/job remotely.
Use Xeoma's "PTZ Tracking" module to monitor the entire territory automatically using PTZ (moving) cameras. Also, you can use AI-based "Detector of Construction Site Safety" module to assure safety in the working area. This module detects helmets and work robe in camera's sight in construction sites and thus helps ensure the compliance with health and safety regulations. As well as you can use "Sound events detector" to detect sounds like glass break, gunshot, scream to protect the territory at night or during the working shift.

4. Elderly care
Video surveillance software Xeoma is not only a CCTV app, it has AI-based functionality as well, so you can use it for various scenarios. E.g. it can be used to take care of your loved ones.
Use "Slip and fall" detector to recognize falling in the selected area. This module is able to recognize even a fall from a chair, as well as an incomplete fall if a person slipped and fell from a small height or lost consciousness and slid down the wall. Alongside "Slip and fall" detector you can use "Sound events detector" to recognize loud screaming or other loud noises and receive immediate notification. And "App runner" module can be used to automate process of opening/closing motorized curtains, turning on/off the TV, opening automatic doors etc. to make life of your elder ones more convenient.

5. Security checkpoints automation
It's more frequent nowadays to install automatic gates/checkpoints rather than the ones with human involvement. Such checkpoints save time and costs. Video surveillance software Xeoma can be used to automate entry processes.
By means of "Smart card reader", "QR code recognition", or "Face ID" modules you can create full automated checkpoints. Make entry process easy and automatic with Xeoma. Use "License plates recognition" to automatically open a gate barrier upon receiving a signal that there's a license plate from 'white list' being recognized at the moment. And "Face recognition" module can be used to store information about employers entry time and recordings of their work hours.

6. Territory protection
Xeoma can be used for perimeter protection as well. It has various modules and options to ensure security on the premises.
Use "Camera embedded detector" module to connect 3rd party sensors and detectors in Xeoma. You can add camera's own detectors like motion, fire, cross-line, intrusion, lens obstruction, smoke, faces, license plates detectors and so on. In addition, you can also integrate external devices connected to the camera via ONVIF, such as smoke sensors, automatic doors, POS, gate barriers, different alarms etc. These devices will be available in Xeoma alongside camera's built-in detectors and can be used in the software as well. There's also "Senstar PTZ Tracking" module for perimeter security available in Xeoma. It can be used alongside Senstar's FlexZone® fence-mounted intrusion detection sensors that are placed in strategic areas of the fence. Use Xeoma and its advanced Senstar module to rotate camera to a certain area when the sensor is triggered to protect the territory. This module is often used for jail security and its territory protection. Another useful module that can be used for territory safety is "Sound events detector" that is able to recognize various sounds on the territory and receive notifications. These could be screams, gunshots, glass breaking, baby crying and other. And "Loitering detector" module will help to recognize suspicious persons around the premises or on the territory itself. This module gets triggered when there's someone hanging around for too long. So as "Detector of abandoned objects" can be used to protect the territory. Get notified if there's an abandoned object being left on the territory or near it.

7. Agriculture, farming, fishing
Farming and fishing environment often requires IoT help too. Crops and fish farming frequently suffer from birds invasion. This is the issue that Xeoma can easily resolve using its intellectual modules that can be integrated with 3rd party devices.
This way "Object recognizer" module can be used to detect birds and get notified. You could also use particular sound cannons to scare the birds away using bioacoustic that will not affect fish, but only birds. Read more in this article. Recognize temperature in a camera's field of view using "Thermal Camera Data" in Xeoma. This way you can recognize only birds or other warm-blooded animals and react accordingly.

8. "Safe city"
Safe city is a public program of employing complex city-wide measures to facilitate better safety levels for its visitors and residents. The measures differ from city to city, and depend on the city's points of weakness. But one indispensable part of such systems is video surveillance, and the more advanced it is, the more tasks it can help accomplish. Take Xeoma for example: thanks to over 100 features, it can aid in providing safer environment in public spaces, both with its preventive power, and the post-incident investigation potential that helps make sure that a wrongdoer doesn't repeat their acts.
Prevention of crime starts with simply placing video cameras and the 'Under Surveillance' warning signs in troublesome areas, but it can be further contributed to greatly with Xeoma's Crowd Detector module (detects if a group of people has gathered in the selected zone) and the Emotions Recognition module (detects aggressive behavior in people in camera sight). Xeoma's real-time face recognition or recognition of car number plates listed in police records will help detect if a missing person or vehicle is 'seen' by any of the city-wide network of cameras. Object Recognition, another feature of Xeoma based on neural networks, is yet another tool to help make roads safer by quickly detecting an odd object in a highway or another high-risk area.
Quick reaction of emergency services might be essential in not letting the situation unfold badly.
For example, the Sound recognition functionality will help detect gunshots, screams, baby cry, glass break or car alarm sounds, and notify the assigned decision maker about the emergency to dispatch a patrol group or an ambulance. Various reactions from mobile push notifications to launching a custom script will aid in making the emergency response time as little as possible.
Parts of the 'Safe city' infrastructure are in the IoT specter too.
You probably are already used to road light poles not being just a way to make the highway brighter: there can be a PTZ wide-range cameras installed there, recording 24/7. Even more than that, there might be a tiny credit-card-sized computer board embedded inside which processes camera outputs real-time right on site. Only video surveillance programs that can work in such difficult environment are applicable in such cases, but when they are, it helps get rid of latency and provide faster reaction without having to hire specially trained people for this kind of job. Luckily, Xeoma is one of such advanced programs.
Besides, Xeoma can understand the language of Modbus communication protocol which means it can exchange information with road traffic lights controllers. Such controller can inform Xeoma that the red light is on, and the program might switch to the mode of being on the lookout for any vehicles crossing the intersection. Another part of Xeoma's License Plate Recognition solution is the IoT-powered tracking of speed limit violations in which Xeoma can obtain information about the vehicle speed from special radar speed equipment.
Xeoma's license plate and car recognition abilities can be put to good use in detection of illegal parking or illegal dumping, but there are over 2 dozen of video analytics more to help with other issues as per necessity.
Like a superhero with an all-seeing eye it restlessly fights crime day and night, making people residing in the 'Safe city' locations safer, and thus more active, confident and, eventually, happier.

9. Parking
It has been said a lot so far about Xeoma's license plate recognition abilities that, combined with other Xeoma's features, can be used in complex solutions for various car-related scenarios – from imposing fines for illegal parking to spotting uninvited trespassers.
There is a parking lot solution in Xeoma too that relies heavily on the Internet of things structure. Xeoma understands http commands so it can be integrated into systems with parking ticket machines, maintaining a shared database across several locations. Thanks to the Modbus protocol Xeoma can tell gate barriers to open upon seeing a 'green' (i.e. approved) license number plate. And on the contrary, when it detects a 'red' vehicle (one with bad reputation or requiring payment) it can send an alarm to the administration. For more information, See our 'Video surveillance cameras in a private parking lot' article

10. Sports tracking
Automation is the key to improving business operations these days – and the entertainment industry is not an exclusion. In sports game broadcasting business, it might be a great save if a human sports game operator could be replaced with a program. Besides, unlike humans, computers are able to demonstrate tireless split-second reaction even despite long work hours, no vacation or lunch breaks needed.
The Sports Tracking module available in Xeoma video surveillance software is made for that. As a part of the IoT world, it seamlessly operates with any network camera with pan, tilt or zoom functions. The module can make the PTZ camera always keep focus on the ball in basketball or soccer games, and 'follow' it across the field. Alternatively, the module can rotate the camera to track the biggest group of players on the court – this way you can be sure that the viewers will get all the action.
With the added value of website integration of live broadcasts, the solution quickly pays off its price. Besides, as usual, records can double serve as promotional, educational materials, or for a post-game coaching analysis of the match.
FREE TRIAL OF XEOMA
Try Xeoma for free using a demo license. You can request it here:
May, 30 2022
Read also:
Let's get it started, or how to use Xeoma
Our clients and testimonials
Promo leaflets, PDFs
Reseller partner program