Xeoma Cloud Video Surveillance System at great prices
XEOMA operates as a CCTV Cloud Storage as a service. It means that we have Xeoma running on our cloud server and you can connect your cameras there.

WHY IS IT GREAT?

The server will take up all load, maintenance and update, while you can connect to it at any time to view your cameras, their archives, download records of interest and use all the usual features of Xeoma you might need in the cloud!
You don't need to buy or maintain expensive video surveillance equipment. Just a camera and Internet connection is what is required.
Xeoma Cloud video surveillance can also be used in addition to computer-based Xeoma that runs on your computer to push video to the cloud. You can view this live and archived video over the Internet with Xeoma Client or in a web browser.
Xeoma Cloud Available modules

| Devices | Filters | Destinations |
| --- | --- | --- |
| Universal camera (except for USB cameras) | Motion detector | Preview |
| Microphone(IP Microphone only) | Scheduler | Preview and Archive |
| Another Xeoma | Marking | Email Sending |
| FTP Receiver | Day Detector | Web Server |
| HTTP Receiver | Image Rotate | Pop-up Window (in Client) |
| | Unitor | HTTP Request Sender |
| | My detector | Upload to FTP server |
| | HTTP Switcher | HTTP Upload to other Xeoma |
| | Visitors Counter | Mobile notifications |
| | Sound Detector | Streaming to Youtube |
| | Problems Detector | |
| | HTTP Marking | |
| | Relay Switch | |
| | Condition | |
| | Fisheye Dewarping | |
| | PTZ tracking | |
| | Image Crop | |
| | Object Size Filtering | |
| | Moving to PTZ preset | |
| | Button Switcher | |
| | Privacy masking | |
Xeoma Cloud Limitations

| Devices | Filters | Destinations |
| --- | --- | --- |
| Screen capture | PTZ tracking with Senstar/Flexzone presets | Save to File |
| File Reading | Visitors Counter | Sound Alarm on server |
| | Object Detector | RTSP Broadcasting |
| | Image Resize | Application Runner |
| | Loitering Detector | ANPR Upload to FTP |
| | Face detector | Speed Detector (Sender) |
| | License plate recognition | |
| | Cross-Line Detector | |
| | Smoke detector | |
| | Detector of Abandoned Objects | |
| | Camera-Embedded Detector | |
| | GPIO | |

GET FREE TRIAL


WATCH VIDEO ABOUT XEOMA CLOUD


WHY XEOMA CLOUD IS BETTER THAN OTHER CLOUD SERVICES?

With a lot of cloud services nowadays, here's why you should choose Xeoma Cloud:
Quick start

Minimum requirements to start working with Xeoma Cloud – just a camera and Internet connection. No special knowledge required. Easy connection with step-by-step instructions and videos.
Cost-efficient and trouble-free

No need to buy a sophisticated up-to-date computer. Forget about maintenance costs and huge electricity bills for servers running 24/7. Xeoma Cloud servers are set up by our team of experts and is overall cheaper and easier than regular on-site video surveillance!
Stable and secure work

Your footage is safe in Xeoma Cloud video surveillance system – only authorized users have access to cameras, both in real-time and archive. Even if the camera is vandalized, they will never get the footage.
Sophisticated features

Unlike other cloud surveillance services that offer only motion detector and record (at best), Xeoma Cloud offers almost all of its regular features, including PRO features: emap, object tracking and visualization, integration with cashier registers and home automation systems, synchronized view of multiple archives, with a few exceptions.
Flexible pricing and NO hidden fees

Different, flexible types of subscriptions with What-You-See-Is-What-You-Get conditions allow you to find the right one just for you.

Additional modules are available to be added by the price of their rent.
| | |
| --- | --- |
| | No ads, no logo watermarks even in the free version! |
Every subscription has:


No advertisements or logo watermarks in camera live view or in archive.
Unlimited live and recorded view.
Unlimited download of videos.
Any image resolution.
Unlimited fps.
| | |
| --- | --- |
| | Special offer for partners. Most profitable conditions. Personal level of collaboration and active help. Free rebranding opportunities! |

HOW TO CONNECT TO XEOMA CLOUD

4 easy steps:

1. Get a subscription.

2. After having purchased a subscription, a letter will arrive to your email with the connection data and password. You will need to enter these data into Xeoma Client.

3. Download Xeoma Client from the download page.

4. Run it and enter connection data from the letter into the Connection dialog.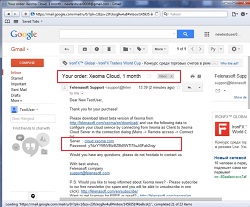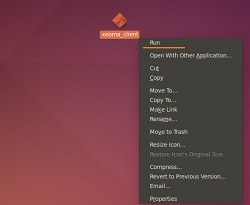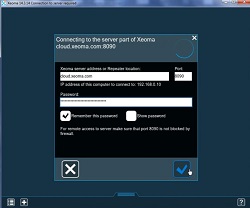 Looking for a guide on how to connect cameras to your Xeoma Cloud account? See here
WHY IS CLOUD-BASED VIDEO SURVEILLANCE BETTER THAN REGULAR PC-BASED INSTALLATION?
saves you efforts, time and money
great for locations where 24/7 running of server is not possible or desirable
saves electricity
no equipment except for cameras is needed
perfect for cameras positioned in many locations
your records are not subject to theft, safe on our cloud server
If you want to have cloud cctv running on your server use Xeoma Pro Your Cloud
CONDITIONS & SUBSCRIPTIONS
*Storage time is unlimited, it depends on camera specifications and storage space provided by the subscription.
Average storage time in the table is just an approximate calculation of how long video footage can be retained in Cloud before overwriting starts for an H264 camera has 1 Mpix resolution (1080 x 720 px) with 25 fps image refresh rate and 1 Mbps bitrate.
You can calculate your average storage time in the Cloud calculator here, or ask us.
Overwriting will write newest entries over your oldest ones.

XEOMA CLOUD COMPARED TO OTHER CLOUD SERVICES
You think you have an economical and easy cloud service. Not unless you tried Xeoma. Other cloud services trick you into buying their seemingly economical subscriptions by adding hidden costs for nearly every feature you want to add or disable (like watermarks). Also, they set very strict restriction on what cameras you can or cannot connect while with Xeoma Cloud you can use cameras of any resolution and refresh speed.
Possibilities
Xeoma Cloud
Traditional cloud services
No advertisements
No watermarks
Unlimited view time
(online and archives)
Unlimited download of videos
Camera of any resolution
Any fps
(frames per second rate)
Sophisticated features available
Flexibility of subscription
Clear conditions without extra fees
Continuous OR motion-triggered recording
REQUIREMENTS AND CONDITIONS
The solution is ideal for cameras in single or multiple locations, such as shops, parking lots, schools and etc.!
Easy start – connect in 1, 2, 3!
There is no need to set up your own IT infrastructure;
When the purchased storage limit is reached, loop recording will overwrite old videos with new ones;
You can use all modules of the regular version of Xeoma – detectors, sms or email sending, ftp upload, etc.;
Not available are only
a) modules that cannot work in the cloud (Screen Capture, local USB cameras, local microphone, File Reading, Save to File, Application Runner, Sound Alarm, etc.) and
b) "heavy" modules like ANPR, Face Detector, Object Detector, Privacy Masking, Image Rotate, Image Resize, Smoke Detector RTSP Broadcasting, and Fisheye Dewarping. However, these "heavy" modules can be bought separately and added to your subscription for $20/month for each instance of chosen modules;
Camera requirements: JPEG, MJPEG, H264, H265 or MPEG-4 stream with static (fixed) public IP address that you can view from the outside Internet (or, if the address is dynamic, you can use any free DDNS service). Please remember that you need to forward camera's ports on your router: 80 (for JPEG, MJPEG) or 554 (for H264, H265, MPEG-4) port of the camera (see this resource to learn how to do it: http://portforward.com/english/routers/port_forwarding/routerindex.htm).
If cameras don't have a fixed (static) IP address or its substitutes, see this page for more options.
Preview stream: maximum resolution 352×288, maximum bitrate 150 Kbps (for h264/h265/mpeg-4). No limitation for MJPEG/JPEG.
We recommend to use JPEG/MJPEG stream for preview and direct saving to the archive;
Network requirements depend on camera image resolution and fps or bitrate. Use our system requirements calculator for an estimation. For example, 2.2 Mbit Internet connection per 1 Full-HD camera with 2 fps, or 128 Kbit per 1 camera with 800×450 image resolution and 0.5 fps, besides the load of all other users in the network. Internet connection with unlimited traffic is preferred;
You can monitor how many subscription days are left;
You can extend your subscription as your business grows – buy more storage space or connect more cameras.
CONNECT YOUR CAMERAS IN 3 EASY STEPS
Looking for a guide on how to log into your Xeoma Cloud account? See here

SPECIAL OFFER! Get free access to Xeoma Cloud for 7 days!

FAQ
1. What are the system requirements when using Xeoma Cloud?

No need to buy and maintain expensive hardware and software: you only need an internet connection to connect the cameras.

2. What cameras should I purchase?

Xeoma Cloud supports almost any IP camera. If there is no camera in the list of supported cameras, you can try Xeoma Cloud in trial mode and find out if the camera will comply with the program. If the camera is in the list, then it will work.
3. Do I need to install software if I use Xeoma Cloud?

No, there's no need to install Xeoma unless you want to. Xeoma Cloud is our remote Cloud Server, so you can easily connect to it using Xeoma Client (can be used without installation) or browser.
4. How do I upgrade my subscription? Now I have 14 cameras, I need 4 more.

You can wait until your current subscription ends, and then purchase a new one with a different number of cameras. Or contact us, we will estimate the cost for you to upgrade to the new plan, even if the subscription has not ended yet.