"Modbus" controllers – smart home systems and traffic light automation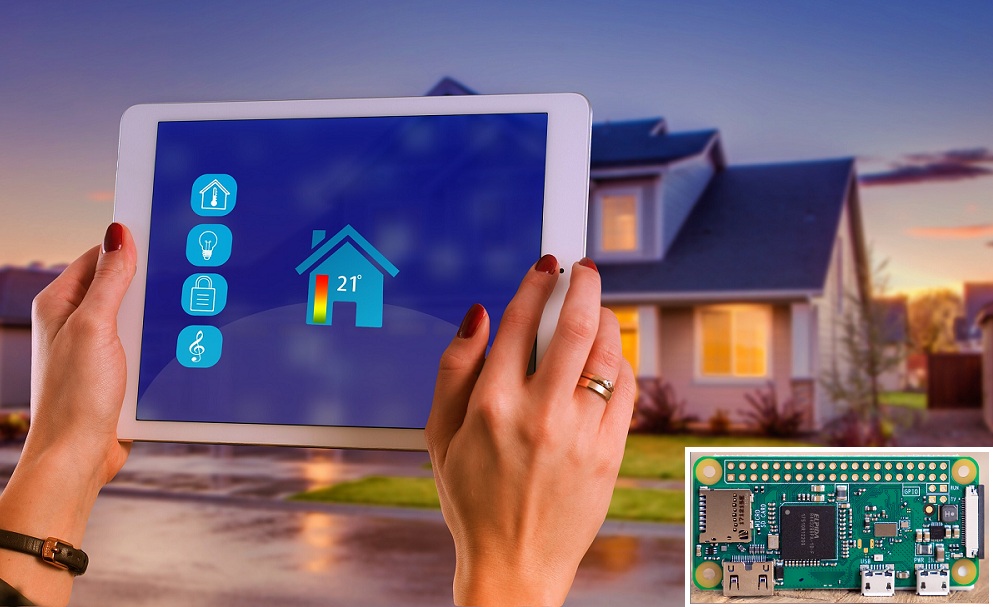 "Modbus" controllers in Xeoma CCTV software

The "Modbus" controllers Additional module of the Xeoma video surveillance software is designed to receive commands from controllers operating under the Modbus protocol to trigger the necessary reactions in Xeoma. This is a very popular type of controller used in automation, "smart home" systems, as well as in various equipment (traffic lights, etc.). You can set different reactions for different signals of such a controller, for example, to recognize a vehicle license plate and impose a fine if it is driving through a red light.
TYPICAL USES
The new "Modbus" controllers Additional module in the Xeoma software is a method of integration with devices that are capable of transmitting signals from sensors to external systems (such as, for example, Xeoma) using the Modbus protocol. Examples below:
"Smart home" systems
Receive signals from various sensors and devices of the "smart home" system and trigger automatic reactions in the Xeoma video surveillance software. For each sensor (controller port), you can configure your own reactions – not only notifications, but also filter modules. Find more details below.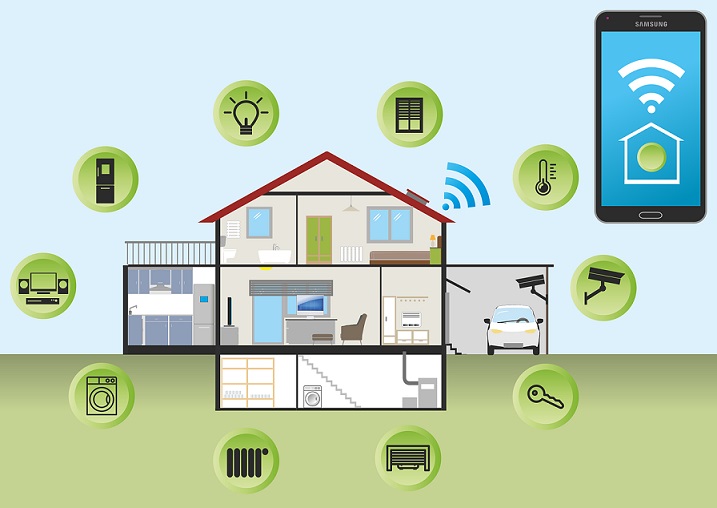 Police (compliance with traffic rules)
Driving through a red traffic light – is a serious traffic rules breach, which should not be remained unpunished. The "Modbus" controllers module allows you to receive a signal from a traffic light that the red light is switched on, so the cars breaking traffic rules will be automatically fined.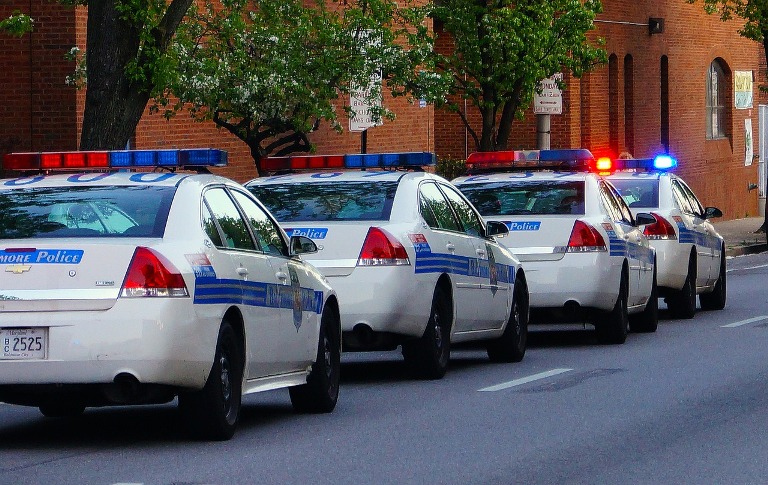 NO SPECIAL EQUIPMENT REQUIRED



An ordinary modern computer can cope with the load from the module.



You can use any camera: no expensive cameras with built-in sensors and artificial intelligence capabilities are required.



Works on multiple operation systems: Windows, Linux, Mac OS X, Linux (ARM architecture), Android and even Raspberry!
HOW IT WORKS
The "Modbus Controllers" module is designed for receiving commands from controllers that work through a Modbus TCP protocol, to trigger necessary reactions in Xeoma. This is a very popular type of controllers that are used in automation systems, smart homes, traffic lights equipment, etc. Such controllers have input ports (or inputs) that will send triggers to Xeoma (six ports from 0 to 5). Select to which input ports Xeoma should react by checking its checkbox. See the controller's documentation to learn what input port is assigned to which trigger.
Upon getting a trigger from a certain input port, you can select to which module the video stream should be pushed to, if multiple modules are connected in the chain after this module. So that you can have your system have different reactions to different input port triggers.
Starting from beta version Xeoma 20.11.30, an option has been added to push a signal to all of the chain's split module lines, not just one as previously, upon receiving a trigger from an input port.
When you add the module, input the controller's IP address and port (usually 502). Tick the needed ports' "React to state of this input port" checkboxes. Select which of the following modules should get the video stream if it gets triggered. You can also tick the "Invert port state" checkbox if you'd like to have a reverse reaction: push video when there are no incoming triggers, and stop when there are.
Click "Test" to see if there is a connection to the controller.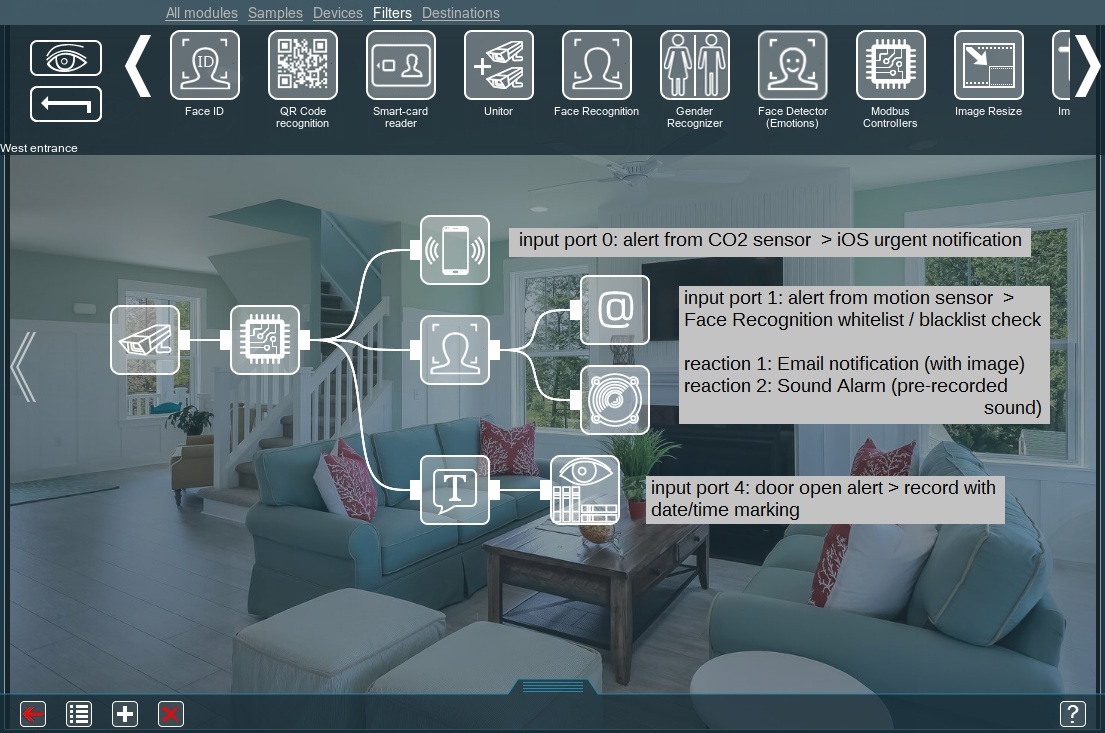 Work with these devices has been tested and confirmed: OWEN MK210-301, CPM723-01 (FASTWEL), AC16S0R (HAIWELL).
• The Additional "GPIO" module in Xeoma, which operates on a devices running the ARM architecture (various micro computers, similar to Raspberry Pi, ODROID, Tinker Board, etc.) functions in a similar way.
Find more information about this module here
• Traffic light recognition can also be performed by the AI-based "Color Recognition" Additional module in Xeoma.
More about this module
• Also Xeoma has a License plate recognition functionality and a Vehicle speed detector.
More details
HOW TO TEST
1. Download Xeoma from official website and launch it. Make sure your Xeoma is in a trial edition or activate a Pro or Standard edition license, as well as the license for the "Modbus" controllers Additional module.
2. Add a camera or let Xeoma add a default one for you.
3. Add the "Modbus" controllers module to a chain.
4. Add to the chain necessary filters and reactions for each port after the module.
5. Set up "Modbus" controllers, choosing which port of the controller will transmit the signal to which branch of the chain.
6. Test the connection with the controller, clicking "Test" button
Ready!
FREE TRIAL
Try the Modbus controllers Additional module in the Xeoma video surveillance software with a free trial license. Request it below:
Any questions? Assistance required? Reach out to us! We'll be happy to help!
| | |
| --- | --- |
| | Do you need something else? The module does not fit your specific needs? We can develop the needed functionality and add it into Xeoma as the paid development. See details here |
Frequently asked questions about Modbus
1. What Modbus-powered devices does Xeoma support?

Xeoma supports any devices that work though a Modbus TCP protocol version. For example, MK210-301 (OWEN), CPM723-01 (FASTWEL), AC16S0R (HAIWELL), and others.
2. What cameras should I use with Modbus?

Xeoma supports almost any IP camera, there are no specific requirements for work with Modbus module. If there is no camera in the list of supported cameras, you can try Xeoma in trial mode and find out if the camera will comply with the program. If the camera is in the list, then it will work.

3. Will this module work with the Modbus protocol RTU version?

No, Xeoma only supports the new protocol version – Modbus TCP. If you need support for Modbus RTU in Xeoma, you can order paid development here.

4. How do I buy the module?

You can buy the licenses for the module in the Purchase page, section for Additional modules. Please note that the module's license is activated over existing Xeoma Standard or Xeoma Pro licenses so if you have none yet, you can buy the base license here.

26 October, 2020; updated: 1 September, 2021
Read also:
FelenaSoft Support (Contacts, FAQ, articles about Xeoma functionality)
Additional modules in Xeoma Xeoma
Purchase additional features in Xeoma Xeoma
Deep learning technology
Advanced license plate recognition in Xeoma
Professional Face Recognition by Xeoma for personal and business uses