PTZ Tracking for PTZ security cameras in video surveillance systems
| | |
| --- | --- |
| | Xeoma also has other modules that can provide PTZ Tracking. For example, the PTZ Sports Tracking is using artificial intelligence mechanics to find a sports ball in camera's sight and rotate the camera to always follow it. Also works for tracking players. |
PTZ security cameras are some of the most effective cameras when speaking of video surveillance systems. If your camera supports PTZ then you can enjoy 'PTZ Tracking' in Xeoma.
Xeoma now can track moving objects using PTZ tracking automatically. With 'PTZ Tracking', your video surveillance systems with Xeoma automatically detects and follows moving objects, which helps you to effectively discover and handle incidents. For your convenience in operation you can set up maximum vertical/horizontal steps, the time of following the object for before going back to the start position, zoom speed and more.
In advanced video surveillance systems like Xeoma automatic PTZ tracking can be combined with manual PTZ control.
Note that if the camera does not have physical support for PTZ, automated tracking with digital zoom of the picture can be used. Learn more here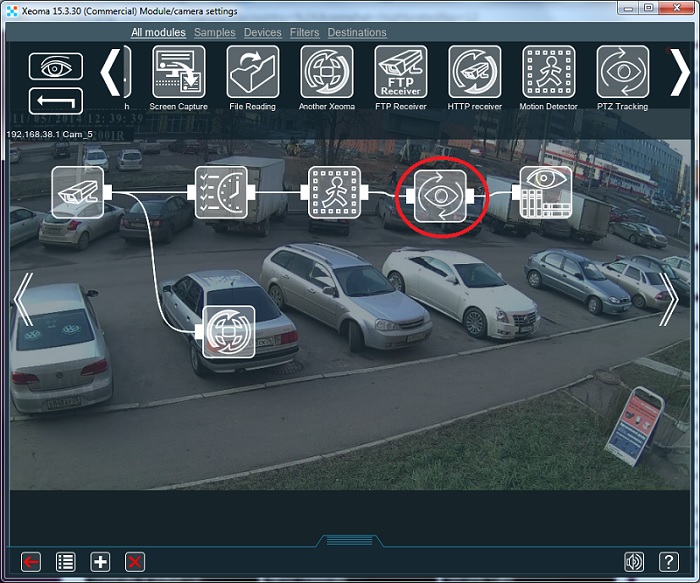 | | |
| --- | --- |
| | Starting from version 21.3.4, Xeoma has the opportunity to set a PTZ preset as a start position that the ONVIF-compliant PTZ camera will go back to after it finishes tracking the object. Find this option in the "PTZ Tracking" module settings if you have a valid Xeoma Pro license in the server. |
Troubleshooting
1. Accuracy:
The PTZ Tracking feature's accuracy depends very much on the environment. False alarms (tracking of flase objects) frequently come from the Motion Detector and should be troubleshot on this module's side. You can try the following adjustments in your Motion Detector:
* different sensitivity (higher level of sensitivity threshold)
* different object size (bigger)
* higher delay before triggering
* detection zone of smaller size
Also, you might want to use Object Detector (not to be mixed with Object Recognizer) in the chain instead of Motion Detector to push information about the moving objects to the PTZ Tracking module. In some cases, it does a better job since the Object Detector can actually 'remember' and track an object across the field while Motion Detector technically only sees pixel changes between two frames, and loses the object if it stops for a moment.
Ultimately, these outside-of-Xeoma enhancements might aid in better PTZ Tracking:
* other positioning of camera
* better lighting conditions
* higher resolution of camera
* try another camera
2. Not going to the start position:
This might be a complex issue, connected to both settings of Motion Detector and PTZ tracking.
First of all, please take a look at the "Follow the object for (seconds) before going back to the start position" setting of the PTZ Tracking module. The value in "Follow the object…" is how long the object will be tracked for. By default it's set to "Always" which is OK in most environments where false detection is not happening – the object is followed for as long as it's moving, no time limitation.
So it might be a good idea to set it to a smaller value and see if the camera "goes back" after 5 seconds of tracking an object (or even a "false" object).
Secondly, the "Wait before going back to start position after motion ended (seconds)" setting might influence going to the start position. This setting doesn't allow the camera to go to the start position for N seconds after motion ended. So in your case, when a lot of false alarms are happening, the camera simply doesn't get more than 5 seconds idle that will allow it to get back. Please try a lower settings like 1 here.
6 April 2015, updated 14 April 2022
Read also:
Additional module in Xeoma: Move to PTZ preset
Sports ball detection and tracking
PTZ control and zoom
Setting up PTZ guard tour in Xeoma
Frequently Asked Questions about Xeoma software
Complete Xeoma User Manual