Affiliate program for resellers, integrators and Xeoma software distribution
FelenaSoft is looking for partners – security camera installers, security system engineers, security eqipment manufacturers, telecommunications providers, dealers and resellers – from all over around the world. Please contact us!
With Xeoma you can earn more than with other solutions because it has:
* Wider, more powerful set of features, from license plate recognition to detector of unattended items;
* Support for any cameras: analogue, IP, USB; perfect for hybrid systems;
* Most alluring partner program: reseller discounts (contact us to know the prices);
* Instant work without installation or initial setup;
* Free rebranding (OEM);
* And Xeoma's key feature – graphical settings editor and flexible configuration of even the most complicated goals.

New! Here you can buy plug-n-play kits and cameras to work with Xeoma security camera system.

Xeoma-based solutions on ARM devices – for example Raspberry Pi – or Android tablets are used as a competitive alternative to DVR.
Affordable prices (for example, Xeoma Standard for 1 camera $12.56 USD, for 128 cameras $839.97 ($6.56 per camera); Cloud subscriptions $0.54 USD/month and up).
Also, a full-featured free version is available – view of unlimited number of cameras, no ads, no time limitations.
Contact us to get free demo licenses and Cloud subscriptions for tests.
We will gladly answer all your questions, help to test Xeoma, and find the best solution for you.
FelenaSoft is glad to invite you to join our worldwide affiliate program for resellers, integrators and distribution. Here's why it is beneficial for you:
Easy and fast start – no registration required
No initial investments required
Helpful support and quick training to work with Xeoma
Active development of the program with new features added quickly
Always fits to your needs
Unique features: free rebranding, creation of your own Cloud
And, most importantly, working with Xeoma is beneficial.
On a constant basis we offer following affiliate program scenarios for Xeoma Pro, Xeoma Standard and Xeoma Lite licenses
1. Free licenses
2. Purchase with discount
3. Cash back
Purchases can be performed through bank wire transfer, with a credit card, through PayPal or myCommerce platform (offers many payment methods).
Details:
1. Free licenses
Buy licenses in any comfortable way – via RegNow, PayPal, bank, etc. just like regular customers, then notify us via email about your purchases, and we'll reply with free licenses for 20% of the total cost of licenses purchased. For example: if you have purchased one 128-cameras license, you will be able to get one 16-cameras license free of charge.
There is no need to "cash out" your licenses at once, you can save and later get a better license (usually it is relevant for large orders).
Advantages of this method:
*you get licenses quickly;
*you don't need any registration anywhere to get your discount;
*you stay in touch with us.
Please note that purchases made more than 1 year prior to your request you need to kindly provide us date and sum of the payment.
You cannot get this bonus several time for the same purchases.
2. Purchase with discount
You can buy licenses straight from us using bank payment system. There is a fixed minimum discount that can be increase if you sell bigger volumes of Xeoma.

Advantages of this method:
*you buy licenses already with discount;
*bigger discount.
Contact us to know the discounts
This method also works for purchases through PayPal or MyCommerce, where the discount amount will be 10% lower than the discount for purchase through bank for the same purchase size.
***Exception: UK and EU countries. If you're from one of these countries, choose another program or contact us for big purchases.
Reseller discount for Xeoma Cloud and Xeoma Repeater subscriptions:
– 20% discount for any purchase of Xeoma Cloud through bank transfer or with credit cards, or 10% for purchases of Xeoma Cloud through PayPal/MyCommerce.
Reseller discount for Xeoma Cloud and Xeoma Repeater subscriptions:
– 10% discount for any purchase of Xeoma Repeater. Only available for payments through bank transfer or with credit cards.
**You can also use a Prepayment option for bank transfer to leave a deposit in your reseller account and thus secure a certain discount and generate licenses as you need them. For example, purchase item called Prepayment for $2000 – this sum of money will be deposited in your reseller area, you can generate licenses with the discount for the prepaid amount of funds. Details
Contact us to get an invoice with discount or if you want to use another payment system to pay prepayment.

3. Commission money (cash back)
When you purchase licenses as our partner, via MyCommerce, you get 20% commission in cash. Using My Commerce (RegNow) Payment System, sign up as an Affiliate (our RegNow ID is 14338) and use the following links (please replace XXXX with your Affiliate-ID at My Commerce (RegNow) to buy and earn your commission from sells!:
https://shopper.mycommerce.com/checkout/cart/add/14338-35?affiliate=XXXX to purchase 1 video source/camera license for Xeoma dvr software;
https://shopper.mycommerce.com/checkout/cart/add/14338-36?affiliate=XXXX to purchase 4 video sources/cameras license for Xeoma dvr software;
https://shopper.mycommerce.com/checkout/cart/add/14338-37?affiliate=XXXX to purchase 16 video sources/cameras license for Xeoma dvr software;
https://shopper.mycommerce.com/checkout/cart/add/14338-38?affiliate=XXXX to purchase 64 video sources/cameras license for Xeoma dvr software;
https://shopper.mycommerce.com/checkout/cart/add/14338-1?affiliate=XXXX to purchase 1 license for WebCam Looker.
At the end of the billing period you can get 20% commission of all purchases from MyCommerce. If you can't find a license for the right number of cameras in the list, you can purchase several licenses that would provide the the right number in total (e.g. 64 cameras + 16 cameras make 80 cameras). You don't need registration at FelenaSoft if you use this method but we would be always glad to hear from you and get your feedback, suggestions, ideas on how to improve conditions for resellers.
Advantages of this method:
*you get 20% of purchases as cash back;
*you get your licenses fast;
*equally beneficial for large and small purchases.
Affiliate program for manufacturers and OEM of video surveillance equipment
If you are a video surveillance equipment manufacturer (produce cameras, DVRs, tablets, dash cameras, video capture cards, tablets and monitors with embedded web cameras, smart home systems, etc.), or if you sell it, our affiliate program with its special, most profitable conditions is just for you: special discounts for Xeoma licenses, and even free version to integrate to your devices.
For cameras, embedded Xeoma Cloud can be used for storage and view.
With Xeoma's free rebranding, you will be able to offer Xeoma in your video surveillance project under any name of your choice, with modified design and information about your company.
Here are some ways you can use Xeoma with our affiliate program:
As you see, FelenaSoft offers very profitable affiliate program for resellers, integrators and Xeoma software distribution. Earn by helping clients save money with Xeoma dvr software!
Affordable prices and powerful set of features of Xeoma will make your product more attractive for users than any of the competition!
You can also offer Xeoma's free version as a bonus to purchases.
You can change registration data of a license/licenses to your clients' data (email, name, company name) with this page
Got a question? Contact us! We will gladly advise on Xeoma integration into your projects with most benefits to you.
How to enroll?
No agreements or initial investments required. Any sum of purchases. Simply start selling Xeoma licenses and services to your clients and get your discounts, free licenses or commission money. The more you sell, the higher is your profit.
Licenses can be bought for personal or commercial use (e.g. for reselling).
Registration is only required for the MyCommerce method, but we would be delighted to meet you in any case! Come introduce yourself, and we'll be able to recommend you to our clients!
Contact us with any questions, to request an invoice, etc.!
Current price list with reseller discounts here
4 ways to benefit from Xeoma's free version
You can use this edition as main or alternative software with the cameras you produce or install.
Xeoma's free edition is much better than the regular bundled software, with
0
addition to cost! This version has the famous user-friendly modular-structure interface that users love so much, and
modules and options
of commercial Xeoma. View of up
to 1000 cameras
!
When the user feels like buying and adding more cameras to expand the system, a
license can be bought
to unlock more features and more cameras.
Works on Windows, Linux, Mac OS X, Android + iOS client coming soon. Online view via browser is available from any OS, any browser!
Subscribe to our newsletter to get the free edition!
Exclusive rights
With our free OEM/rebranding utility you can rebrand Xeoma security camera system into an application for Windows, Linux, Mac OS and Android with your name and sell it exclusively as your own in your country or region.
Since the resulting product is unique you won't need any agreement confirming your exclusive status. Just offer the rebranded Xeoma to your customers.
Changing name will fully eliminate mentioning of Xeoma from the program so you can feel safe your clients will not buy licenses from us behind your back. They will only know and trust your company especially if they need camera and hardware installation, excellent local representation, quick response and very good/cheap prices for quality and one of the most powerful video surveillance software in the world. It's more convenient for users to talk to a local company! Please note that we do not provide discounts to end-users so thanks to our beneficial discounts buying directly from you might be even cheaper for your clients! You will have the 100% of the market.
Administrator page for partners
For your comfort, we have added reseller area. Go to reseller admin page
Now you can purchase licenses instantly or leave a deposit with us to generate licenses when you need them. After you transfer money to us, we will send you your login and password for reseller area access. Here you will see:
1 – Your login
2 – Money left in your account
3 – Your discount (depends on paid amount of money)
4 – License generation section. Please be advised that your reseller discount does not apply to Cloud and Repeater subscriptions!
5 – Choose product/license type
6 – Enter name and email of your CLIENT. This data will be used to register license and will be shown in the program. Choose amount of such licenses you want to generate and click Order product. Generation takes only a second and generated licenses will be shown on screen.
7 – Show history of payments and license generation
8 – Show API button will show commands that can be used to integrate reseller area with your billing.
You can try the reseller area with this test access:
Test login: test1
Test password: reseller

You can get the invoice for bank transfer (for deposit please choose the Prepayment option) or pay the prepayment with a card (click the button below).
Important: You are allowed to resell Xeoma security camera system to end users only at official Xeoma prices or higher.
Resellers that received Xeoma security camera system licenses and subscriptions at lower prices or free of charge are prohibited to resell Xeoma to end-users at prices lower that the official retail price from our official site, including giving them free of charge, unless otherwise agreed upon with our company.
Promotional materials
For quick study of our product major advantages, download our 2-pages leaflet.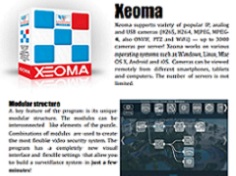 We also have an 11-pages promo PDF brochure can be used for presentations:
Below is the technical datasheet for Xeoma (PDF format).