← Back to Xeoma Additional modules
Mobile notifications in Xeoma
Mobile notifications in Xeoma

"Mobile Notifications" is a module in Xeoma, that allows to receive immediate notifications in mobile devices running iOS (iPhone, iPad) and Android even without connecting to the server (unlike the simpler module for real-time mobile notifications "Client Window Pop-Up" that requires the app to be always running to push alerts). This module allows you to receive instant notifications, even if Xeoma application is not running on your iOS/Android. Stay up to date with standard notifications on your iPhone/iPad or Android – on the lock screen, in the Banners area, or in the Notification Center. Starting from the beta version Xeoma 20.10.22 this module is included in Xeoma Standard and Xeoma Pro editions. And starting from the beta version Xeoma 21.5.31 the new functionality has been added to the module: you can set up that the module, when triggered by the needed event, sends a real-time notification to your mobile device not only in the form of a text, but also attaches a photo from the camera taken at the moment of triggering.
ADVANTAGES OF MOBILE NOTIFICATIONS IN XEOMA

Instant alerts
You receive mobile notifications instantly, immediately after the configured modules are triggered

In real time:
You receive real-time notifications even when your Xeoma application is not running on your iOS or Android device.

Cost-effective:
One-time payment. This module is included in Xeoma Standard and Pro editions.
See our affordable prices
HOW IT WORKS:
Mobile notifications in the Xeoma camera software is automatic. Connect the module to the chain after the modules, whose triggering reactions you want to receive by means of instant notifications on your mobile device. In the Mobile notifications module settings, you can set the title and text of notifications, the minimum interval between notifications, and also select the recipients of notifications – all users or only the Administrator.
Module's macros:
%TIME% – a detection time
%PROBLEM% – macro to receive information on the problem's type from "Problems detector"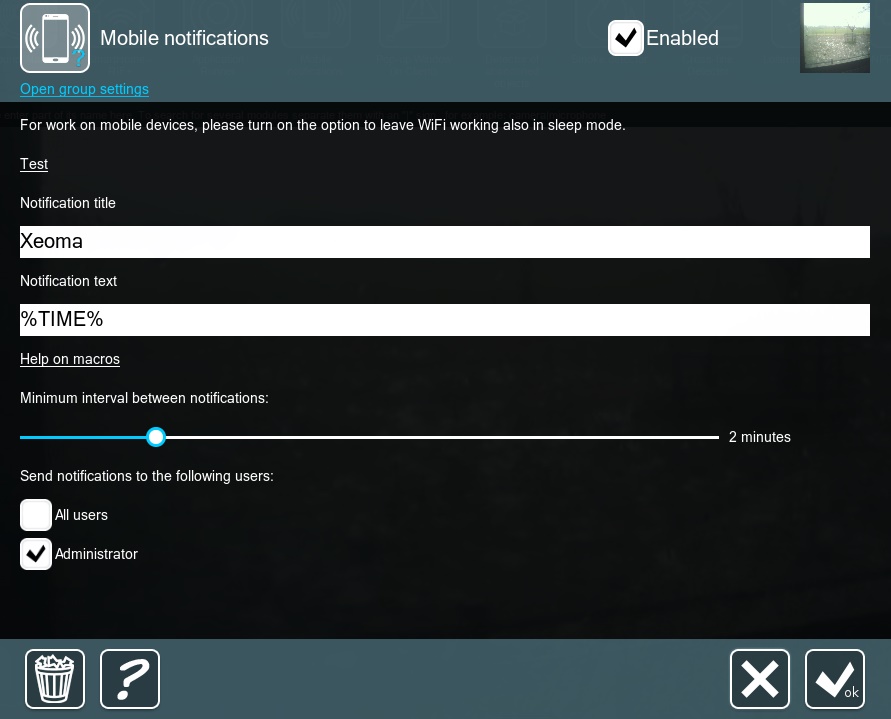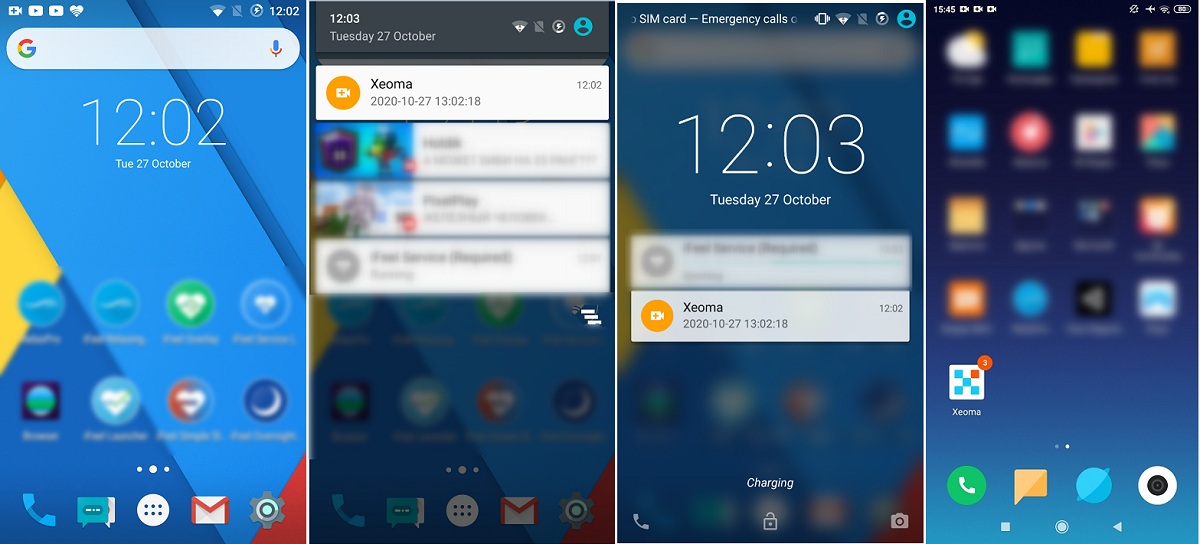 Starting with Xeoma 23.3.22, clicking on an incoming notification does more than just launch the Xeoma app – the Xeoma archive player opens directly on the event that triggered the notification.
If you'd like to receive an image from your mobile device's camera, then please tick "Attach image from camera" field in the "Mobile notifications" module's setting: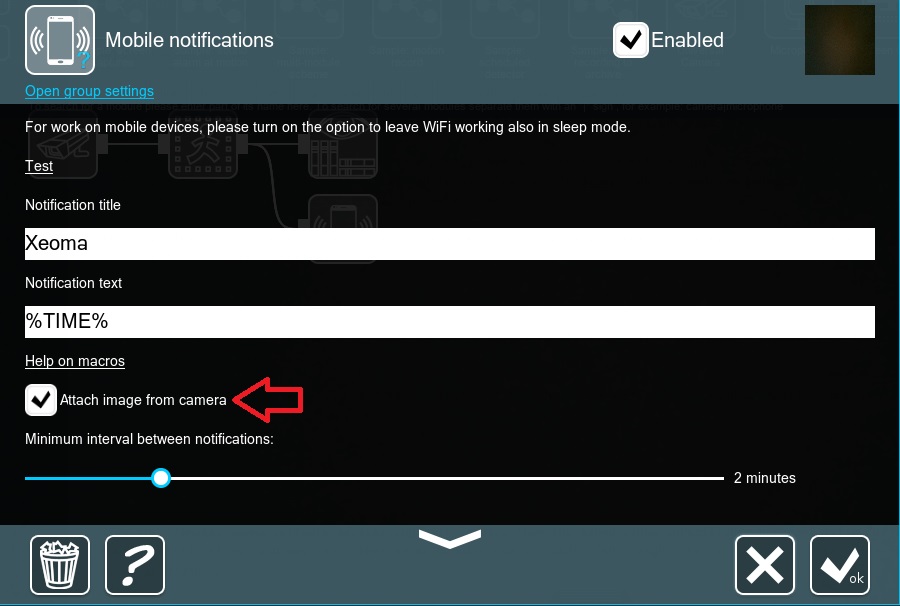 This way anytime the module gets triggered, you'll receive a real-time notification with attachment – a photo from the camera in the moment of triggering.
No special hardware required – you can use a common, off-the-shelf computer and any brand or model of mobile devices.
Besides Mobile notifications, you may find other Xeoma modules useful:

Xeoma's Crowd detector module can count people's heads and detect if the number is bigger or smaller than needed. Also allows detecting social distance violation between people and quickly react.
Sound events detector is a module, based on artificial intelligence, which detects sound events like cries and screams, gun shots, breaking of glass and car alarms.
Mask detector will automatically detect people wearing or not wearing a medical protective facial mask.

Look for detailed information about these and other features in the Support section.
HOW TO TEST
1. Launch Xeoma. Make sure your Xeoma is in a trial edition or activate a Pro edition license.
2. Add a camera or let Xeoma add a default one for you.
3. Add a "Mobile notifications" module to a chain
4. Set a title and text of the notification.
5. Select recipients of notifications.
6. Install Xeoma on your mobile device and connect to the Xeoma server.
7. Done! Now you will receive instant notifications from Xeoma to your mobile device, even if you have no connection to the Internet.

* On your iOS device, you need to allow Xeoma to send you notifications. To do this, click on the settings icon when connecting to a remote server and activate this option. This way you can receive mobile notifications from the Xeoma server on your iOS mobile device: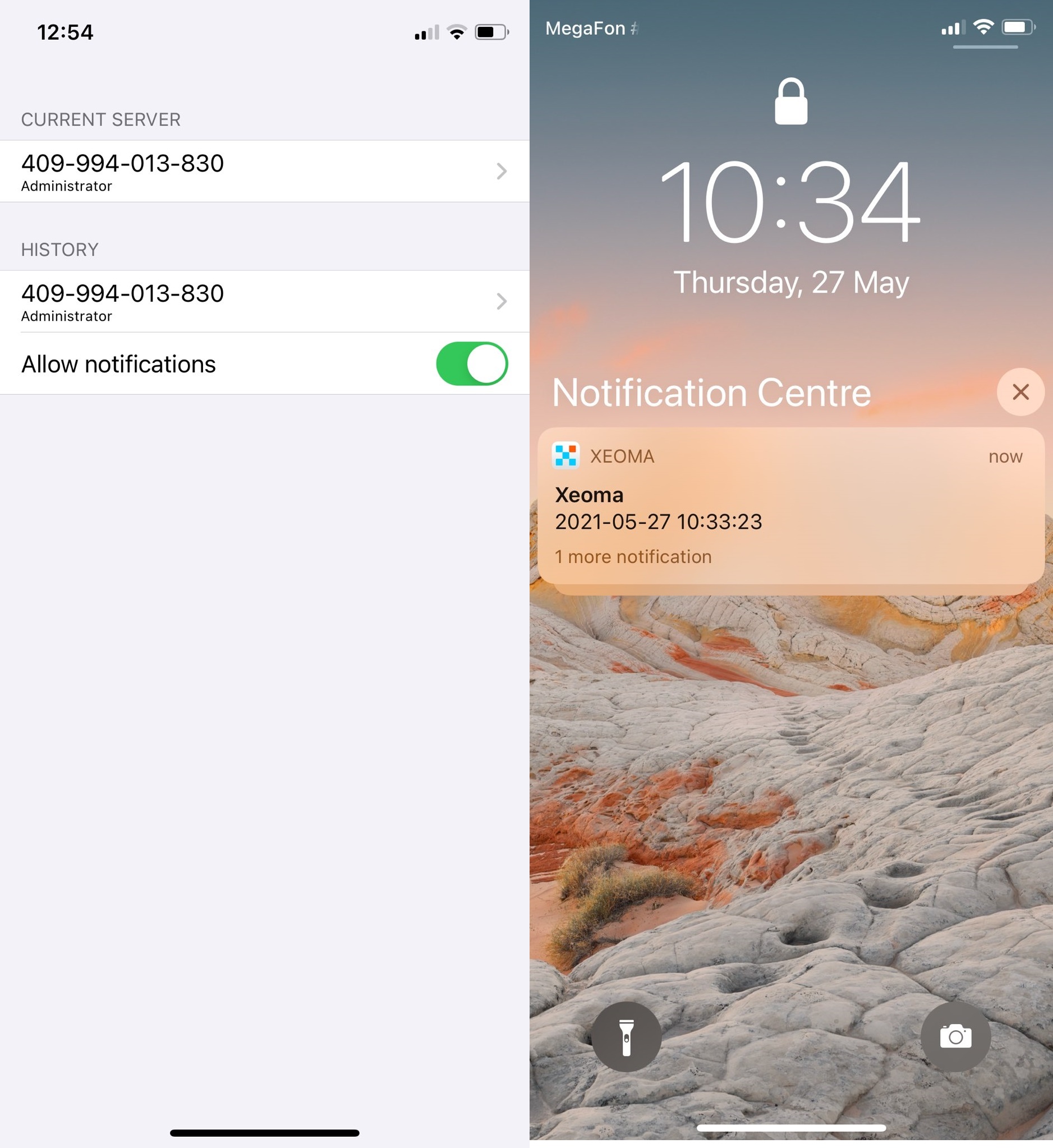 * On your Android device, you need to tell Xeoma to accept notifications. To do this, open Xeoma and go Main menu -> Remote access -> Notifications setup – here you can check the boxes for those servers from whom you want to receive push alerts.
FREE TRIAL
Try Mobile notifications module in the Xeoma video surveillance software with a free trial license. Request it from our contact form here
Any questions? Assistance required? Reach out to us! We'll be happy to help!
| | |
| --- | --- |
| | Do you need something else? We can develop it and add it into Xeoma as the paid development. See details here |
19 October, 2020
Read also:
Mobile surveillance
Mobile video surveillance with Xeoma free Android app
Xeoma: Effective video surveillance without Internet connection
Additional modules in Xeoma
Prices for dditional modules in Xeoma
How AI in video surveillance helps fight Coronavirus
Text Recognition module – AI-based reading of text and numbers in camera sight
Advanced license plate recognition in Xeoma