Xeoma is a multi-functional and flexible software that contains many options and functions to build a perfect video surveillance system. One of Xeoma's functions is possibility to use Additional modules that will be described in this article.
Get free trial access to all AI-based additional modules in Xeoma.
Check conditions of using additional modules.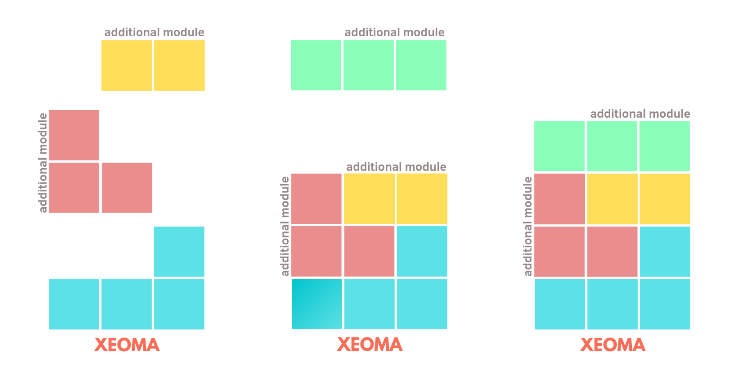 Additional modules are professional features and modules most of which are based on artificial intelligence and deep machine learning.
These are the modules:
• Unique Visitors Counter (Auto training and grouping by frequency of detection)
This feature is available for Artificial Intelligence option of the Face Recognition module. With its help, even unknown persons are automatically 'remembered' in the system, and if they reappear in the camera image, they will be added to one of three groups based on the frequency of their detection. For two of the three groups, you can set the frequency of appearance so that faces appearing at least this interval are assigned to the group.
*"Text Recognition", "Slip and Fall Detector" and "Eye Tracking" modules are shown and work only in machines with the following processors:

Intel 64-bit processors of the following series:
-intelCore processors starting from the 4th generation;
-XEON processors starting from the 6th generation;
-Atom processors of the "C23", "C25", "C27", "C33", "C35", "C37", "C38", "C39", "P59", "Z34", "Z35", "x5-E39", or "x5-E8000" series.
Additional modules were created to save your money! Now you can purchase only necessary modules for your video surveillance system.

Try AI-based modules in the Xeoma video surveillance software with a free trial license. Request it below:

Conditions of using additional modules:
You need activated Xeoma Standard or Xeoma Pro licenses to activate additional modules. Additional modules will not work without Xeoma license.
Additional modules don't work with Xeoma Lite and free version of Xeoma.
Additional modules are available for testing in the trial edition of Xeoma with a limited testing time.
You'll need to use latest version of Xeoma (or not older than 19.3.7) to use Additional modules. Renewal for Xeoma licenses can be purchased here
When you purchase Additional module, total number of cameras of your actual Xeoma license will not increase, i.e. if you already have Xeoma Standard or Xeoma Pro license for e.g. 8 cameras and you purchase let's say "Face recognition (Artificial intelligence)" additional module for 1 camera, then in total you will have the same 8 cameras available and 1 camera from them will be able to use additional module. The only one additional module that can be used for all cameras is "Search by photo" in the archive (this feature is available in archive menu).
If you already have Pro license, then "Face recognition" module is already available in Xeoma for your license, but it'll have only "Statistical analysis of the image" option available in the module. More accurate "Artificial intelligence" option (using artificial intelligence and deep machine learning) will be available after purchasing additional module.
Each additional module comes as a license that has its own renewal period (during that period you can update Xeoma version and use this license) – 1, 3 or 10 years. Renewal period is counted for each additional module separately (same for any Xeoma license – each license has its own renewal period).
If you use Xeoma Cloud, you can also purchase additional modules – simply contact us to get additional information, we'll gladly help.
Additional modules can be purchased for Xeoma Pro "Your Cloud" as well.
How do I test additional modules?
Trial version of Xeoma allows testing all additional modules for 1 hour, then settings will be reset and 1 more hour will be available etc. As for the search by photo in the archive – this additional module can be tested in Trial version as well, but the search will display only one latest incident where this person (face) was detected.
As you can see, Xeoma video surveillance software is developing more and more each day, offering customers all of the latest innovative features and capabilities. Currently, Artificial intelligence and deep machine learning are ones of the most advanced technologies in the world of video surveillance. You can purchase additional modules here.
Here is the overview of Additional modules and features availability under various operating systems.
Feature
Windows
Linux
Mac 64-bit
ARM
64-bit
32-bit
64-bit
32-bit
Face Recognition
+
+
+
+
+
+
except for the poses functionality
Search in archives by photo
+
+
+
+
+
+
Poses detection*
(AI option in Face Recognition module)
+*
–
+*
–
+*
–
Emotion Recognition
+
+
+
+
+
+
Color Recognition
+
+
+
+
+
+
ANPR Additional Improved package
(except for China, Japan)
+
+
+
+
+
+
ANPR Additional Improved package
(only China and Japan options)*
+*
–
+*
–
+*
–
Crowd Detector
+
+
+
+
+
+
Sports Tracking
+
–
+
–
+
–
Gender Recognizer
+
–
+
–
+
–
Age Recognizer
+
–
+
–
+
–
Sound Events Detector
+
–
+
–
+
–
Mask Detector
+
–
+
–
+
–
Construction Site Safety
+
–
+
–
+
–
Modbus Controllers
+
+
+
+
+
+
Text Recognition*
+*
–
+*
–
–
–
Slip and Fall Detector*
+*
–
+*
–
–
–
Fire detection
(no longer an additional module,
part of Pro now)
+
–
+
–
–
–
Eye Tracking*
+*
–
+*
–
–
–
Parking Spots
+
+
+
+
+
+
360 Surround View
+
+
+
+
+
+
Face ID
+
+
+
+
+
+
Drone and airplane recognition
+
–
+
–
+
–
Seabird Recognition
+
–
+
–
+
–
Object Recognition
Other objects
+
–
+
–
+
–
Smart-card reader
+
+
+
+
+
+
QR Code recognition
+
+
+
+
+
+
SmartHome – RIF+
+
+
+
+
+
+
Vehicle Speed Detector
+
–
+
–
–
–
Joystick for PTZ control
+
+
–
–
–
–
*This module/feature/option only works with specific Intel processors. See list here
Also watch our video about artificial intelligence:
March, 11 2021
Read also:
Emotions detector (emotions recognition)
Face detector and face recognition
Smart card reader in Xeoma
Objects detector
GPIO module in Xeoma.
Parking Spots in Xeoma
Slip and Fall Detector