Key features of Xeoma
Full program description Testimonials
Xeoma has all state-of-the-art features for high-quality efficient video surveillance:
Camera/sources processing:
Compatible with any webcams, analog cams, including WiFi wireless cctv cameras
Supports IP-cameras (including H.264, H.264+, H.265, H.265+, JPEG/MJPEG, MPEG-4, Fisheye, PTZ and ONVIF, wireless cams, i.e. perfect both for wired and wireless cctv)
Any resolution (Mpix)
PTZ touring (guard tour)
Screen captures from all monitors simultaneously
Adjustable sound quality and sound volume
Up to 2 000 cameras can be connected on 1 computer!
Soft keys and hardware keys available for licenses
Professional surveillance made easy:
TLS secure connection between server and client parts
Support for IPv4 and IPv6 addresses (cameras, client-to-server connection, etc.)
Hardware acceleration CUDA (Nvidia graphics cards) and QuickSync (Intel) for Windows and Linux
Failover support: automated switching to backup servers in case main servers fail
Quick setup: group settings of modules
Quick navigation and control of cameras with Device list
Xeoma Pro – professional extension to regular Xeoma
Setup of cameras, modules, and schemes in a configuration file in Xeoma Pro
Creating a surveillance network of Xeoma cctv software servers by using web server
Multi-Server and Multi-Client connection architecture for video surveillance of any size
Flexible setup of access rights (user permissions)
Password protection of settings
Fullscreen view
Work with multiple monitors
Support for PTZ control
360° camera image rotation
Sound detector
Instant screenshots of camera image
Intellectual modules and features:
Fisheye cameras image dewarping
Multilayered eMap – map of your video surveillance site with interactive cameras on it
Face detector
Object detector to follow objects even if they're not moving
Detector of abandoned objects to detect unattended items
Smoke detector
Synchronization with camera's SD card
Synchronization with cashier registers (POS)
Heat map
Easy home automation system integration thanks to HTTP request sender and HTTP switcher modules
Possibility to create your own cloud video surveillance service with Xeoma Pro
Privacy masking to blur areas you're not supposed to record, or faces
Visitors counter
Cross-line Detector that also detects motion direction
Automatic object tracking with zoom (PTZ tracking) and visualization of moving objects
Sabotage detector to notify you when problems are detected
PTZ control also in browsers
Quick turning on/off of chains remotely (HTTP Switcher) and locally (Button Switcher)
Search in archive for motion events by time or in selected areas
RTSP and HTTP broadcasting: emulation of IP cameras streaming in MJPEG, JPEG, H264, etc.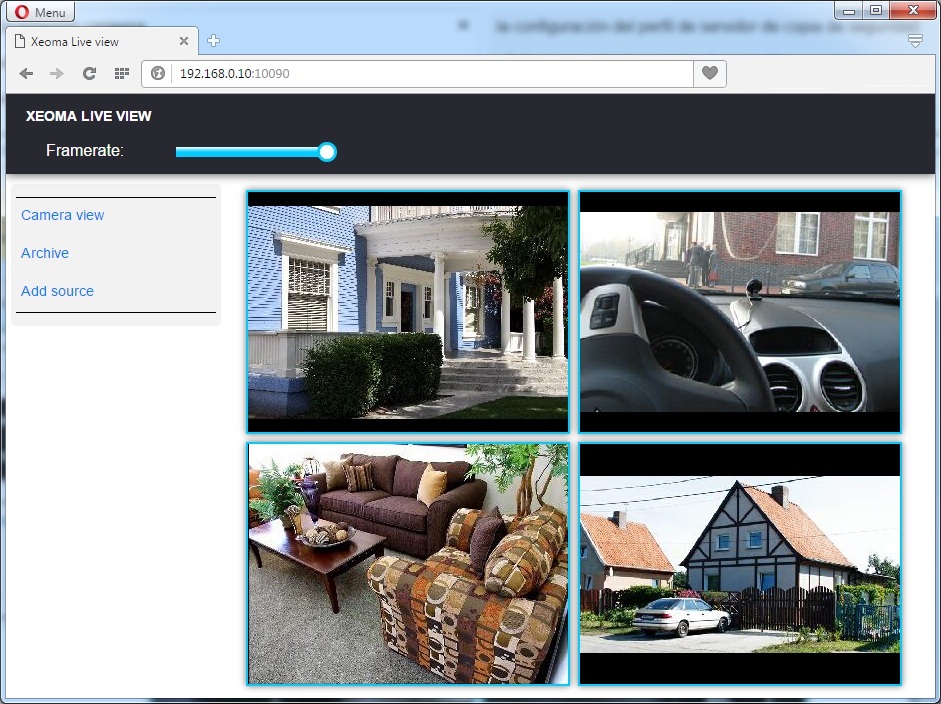 Remote access:
Remote view via mobile devices (Android, iPhone, iPad supported)
Online view of all cameras with sound
Full remote access to settings, archive and cameras
Possibility to embed camera image to your site
Remote access even with dynamic IP address
View of archives in web browsers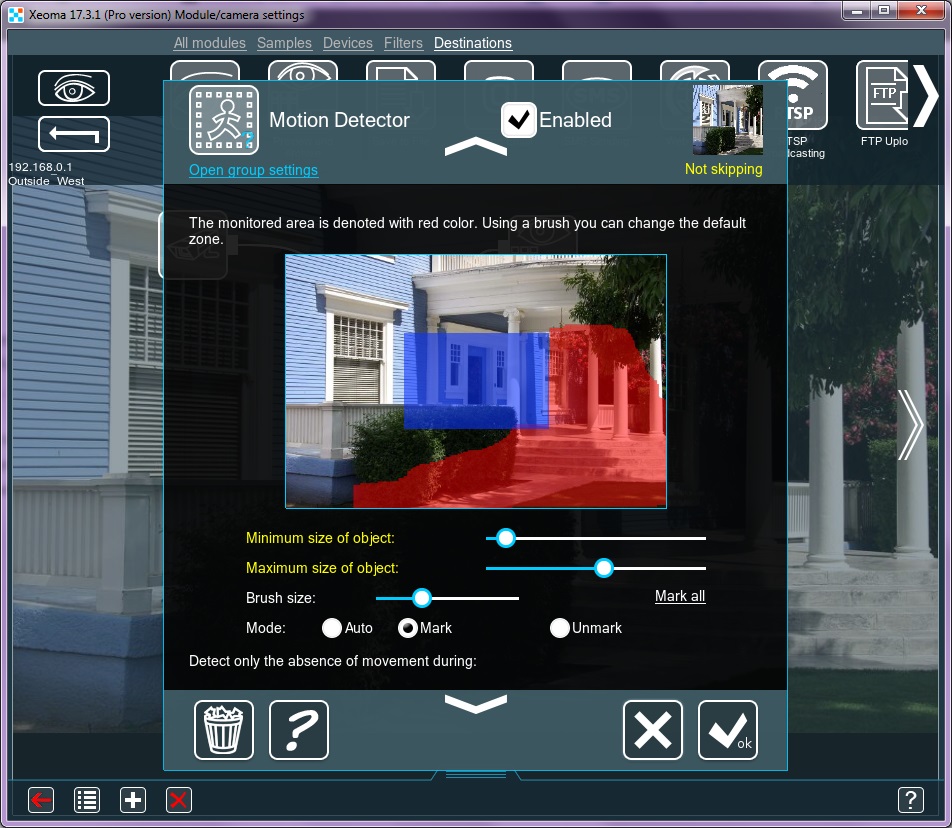 Setting up of zone(s) of any size and shape to monitor for motion
Visual motion detection, with time of the last detected movement shown on preview
Setting up maximum object size to be ignored, and sensitivity level of sensor
Pre-record option to store several seconds preceding motion detection
Post-record to continue recording after the event has finished
Record delay
Enhanced algorithm to avoid false alarms caused by pets or weather changes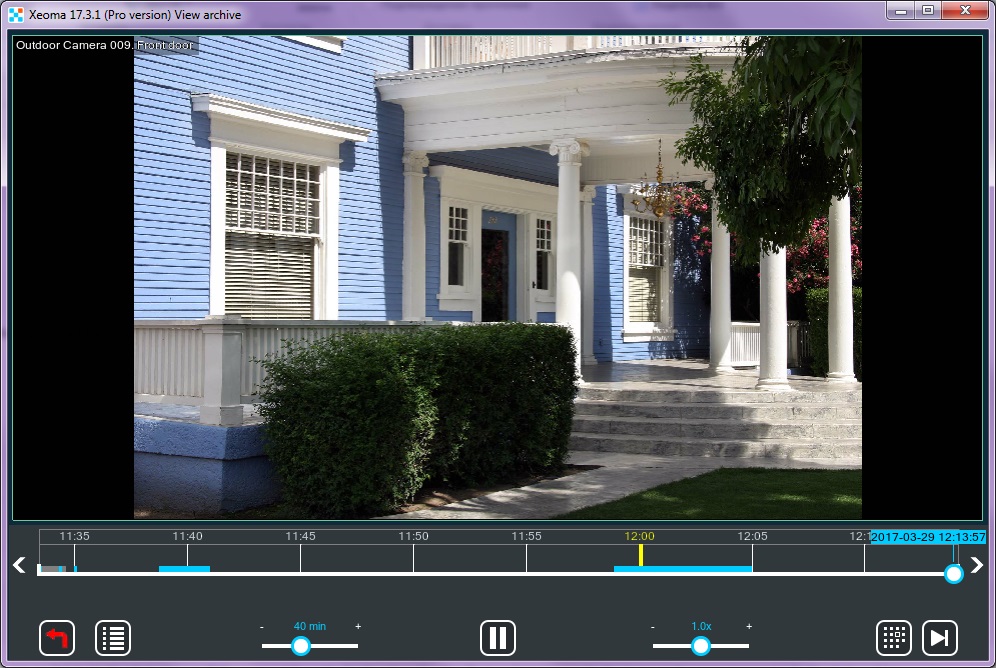 Loop recording
Adjustable maximum size of archive and compression rate of images stored to archive
Possibility to store archive onto different HDDs, RAIDs
Support for network attached storage (NAS), Google Cloud disc, etc.
User-friendly built-in media player with search for motion event or specific time
Export of a selected extract right from the viewer
Deletion of unneeded extracts from the viewer
Search for motion events by time and in selected areas
Simultaneous synchronized view of several archives
Notifications and reactions:
Text message (SMS) sending
E-mail notifications (with attached JPEG images and MJPEG videos)
Event-triggered pop-up window
Sound alarm
Running a specified external program
FTP server upload of images and videos with sound
Saving files to the specified path with cyclic recording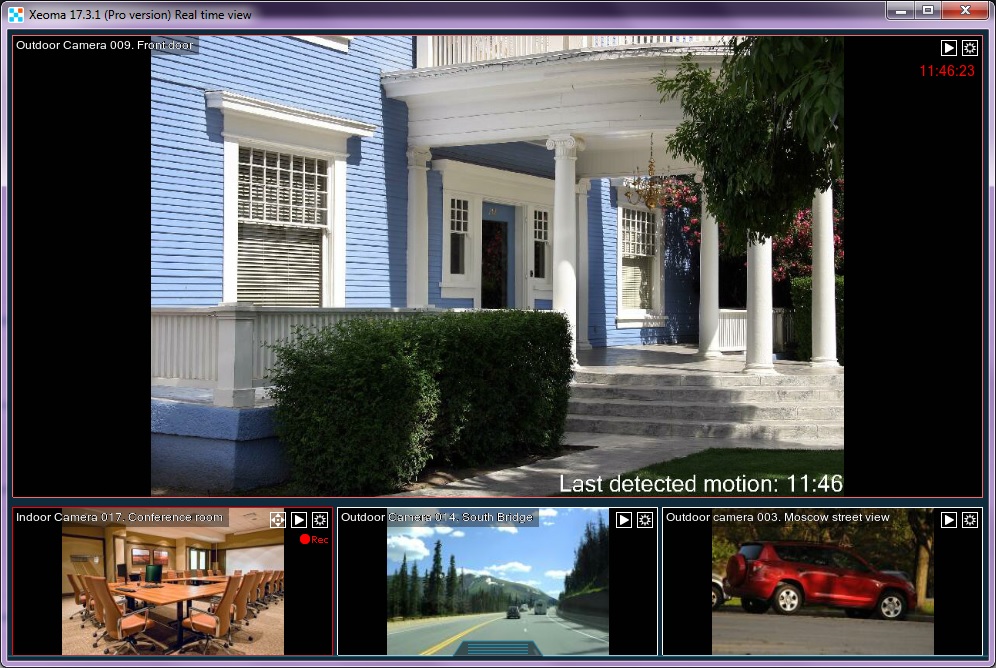 All high-demand features:
Hidden mode of work
WEBM (VP8 and VP9), MPEG-4, MP4 and MJPEG video formats
Marking (embedded time and date, custom text, GPS coordinates, or image stamp over camera's stream)
Scheduler, setting up when system's components are to start/end work
Adjustable volume of sound in preview mode
Quick setup: duplicating of chains
Adjustable preview mode (camera layouts, window transparency, font)
Automatic slide show of real-time images
1-click-easy updates
New versions notifications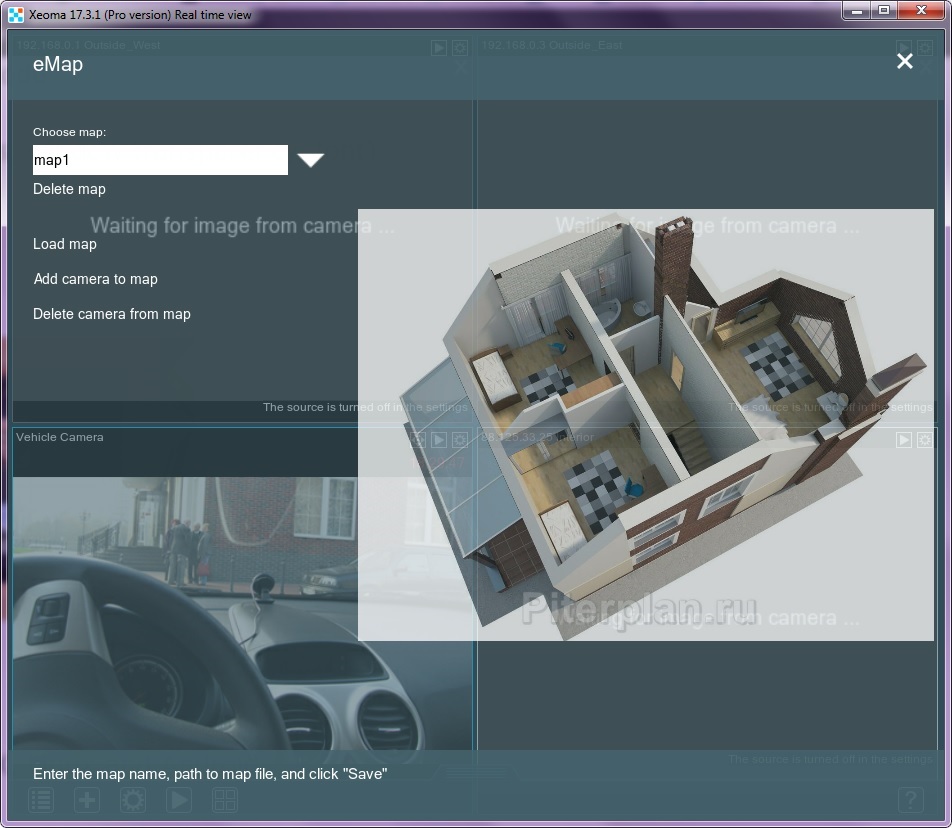 Xeoma advantages:
Full-featured work on Windows, Mac OS X, Linux and Android
Free download
Full featured trial (demo) edition can be used multiple times
Free edition with no time-of-use limits
Ready to work right after downloading with default settings
No installation needed
No admin rights required
Simple additional settings
Flexible control like in a children's construction set
Innovative intuitive graphical interface
Dynamic development and addition of cutting-edge features
Available in Main languages:
English, Spanish, Italian, Brazilian Portuguese, Chinese, French, German, Japanese, Hungarian, Polish and Russian.

Additional languages:
Dutch, Danish, Romanian, Turkish, Croatian, Finnish, Greek, Czech, Bulgarian, Ukrainian and Belorussian.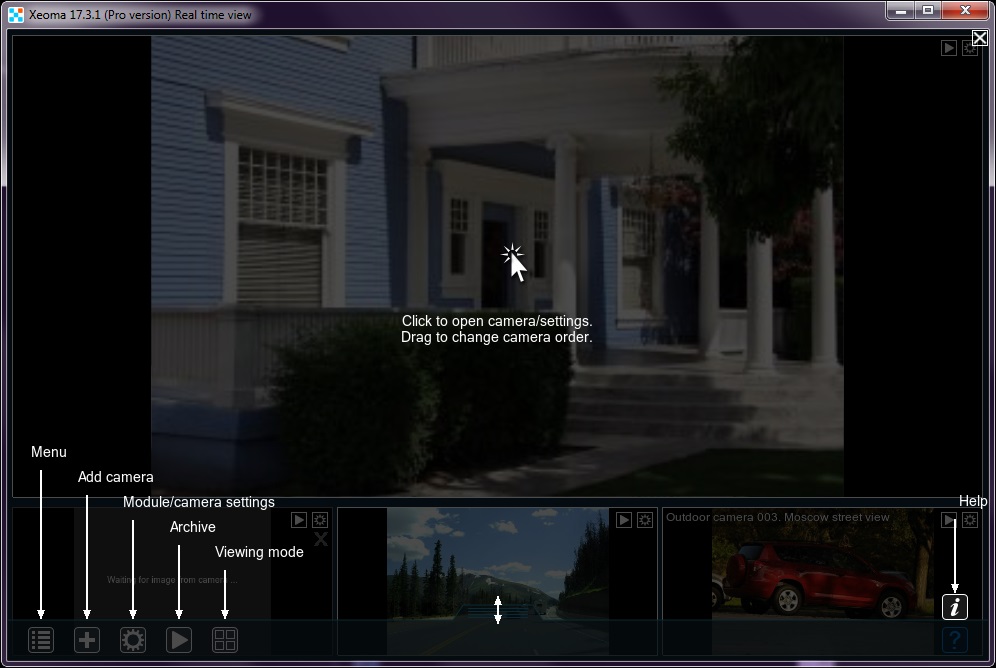 Object monitoring in non-working hours (office, store, warehouse)
Security surveillance (perimeter security monitoring, car, etc.)
Smart home systems integration
Staff monitoring (industry workers, office employees, caregivers and home staff)
Monitoring of activity of children and office workers on computer, control over visited sites
Pet surveillance
Watching machinery in industries
Download Xeoma cctv software for free

Ready to get new versions before all others? Subscribe to announcements about new beta versions here