← Back to list of Xeoma's Additional modules
Detector of Construction Site Safety: recognition of helmet and work robe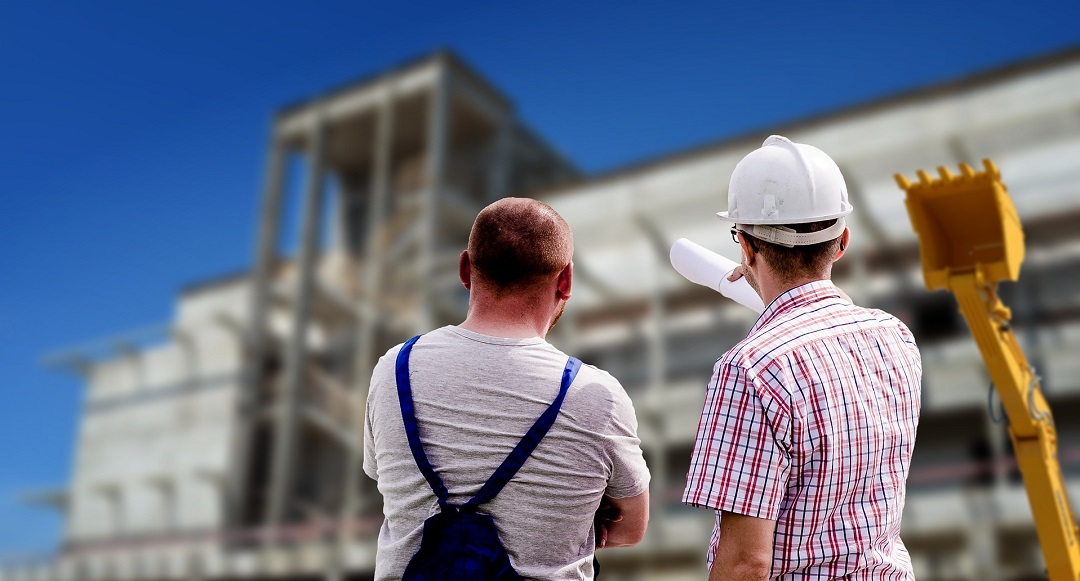 Detector of Construction Site Safety

Detector of Construction Site Safety is the module using artificial intelligence advantages that can detect helmets and work robe in camera's sight in construction sites and thus help ensure the compliance with health and safety regulations.
Can work in both open air or closed area locations, with workers and visitors of any gender, and in nearly any industry where safety regulations can save lives.

Save lives in dangeous jobs by making sure that workers and visitors are comlying with the simple requirements like wearing safety helmets. Distinguish workers from visitors by the sign of work uniform. The Detector of Construction Site Safety works with any gender and age of people, in open air or enclosed locations, in any weather, and without any special equipment!
TYPICAL USES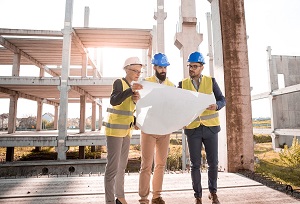 Construction of buildings
Detection of construction helmets and work robe can be used in construction site to detect if health and safety regulations are not abode by a worker of a visitor.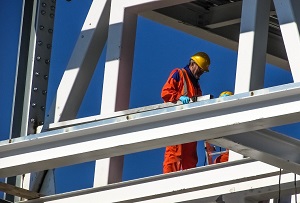 High rise works
High rise works are also high risk ones. Automated detection of safety helmets and work robe can save lives in jobs like industrial alpinism.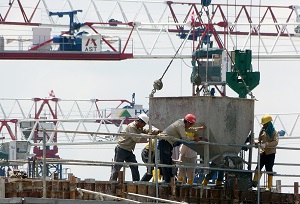 Drilling, mining
Health and safety rules are of utmost importance in natural resources mining and drilling industry. The Detector of Construction Site Safety works in verticals like these too.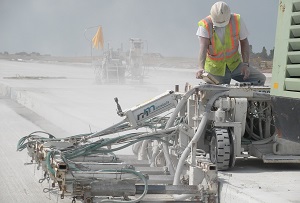 Industrial and heavy machinery
Xeoma's Detector of Construction Site Safety is an effective tool for tracking of safety compliance in industrial plants and repair factories, as well as in heavy machinery management and maintenance.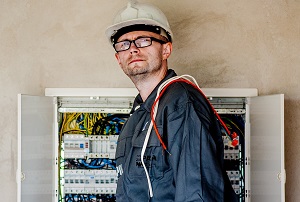 Electrical work
In electrical works, proper outfit complying with health and safety recommendations can save lives. This is where Xeoma's new Detector of Construction Site Safety can also be used effectively.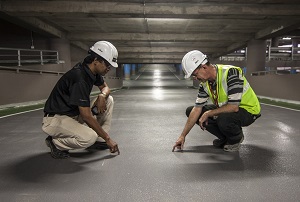 Roadwork, parking
Roadworks and vehicle-connected works are often associated with high health risks. Detector of Construction Site Safety can help provide safety by detecting absence of helmets and work outfit in workers and notifying supervisors.
WHY XEOMA'S CONSTRUCTION SITE SAFETY DETECTOR IS BETTER

Saves bandwidth:
All done on your machine, no need to connect to any cloud servers.

Realtime video:
Works with real-time video streams. The more fps, the better!

Cost-effective:
One-time payment. Two outfit items in one package.
See affordable prices
HOW IT WORKS
Detection of helmets or work uniforms in the "Detector of Construction Site Safety" of the Xeoma camera software is fully automated. Just connect the module into the chain after the camera module and select the outfit elements to watch for, and whether you want the system to react or ignore these types.
The objects recognized by the intellectual module "Detector of Construction Site Safety": helmets, construction clothing etc., will also be displayed in the interface of the program. With this function the security system operator will immediately be able to determine in which area the detector was triggered and which of the employees does not comply with the safety rules at the construction site.
The "Detector of Construction Site Safety" module can work in combination with other Xeoma's video analytics modules. For example, the "Face Recognition" module will find people's faces in the camera frame which will help you identify the persons without proper work outfit.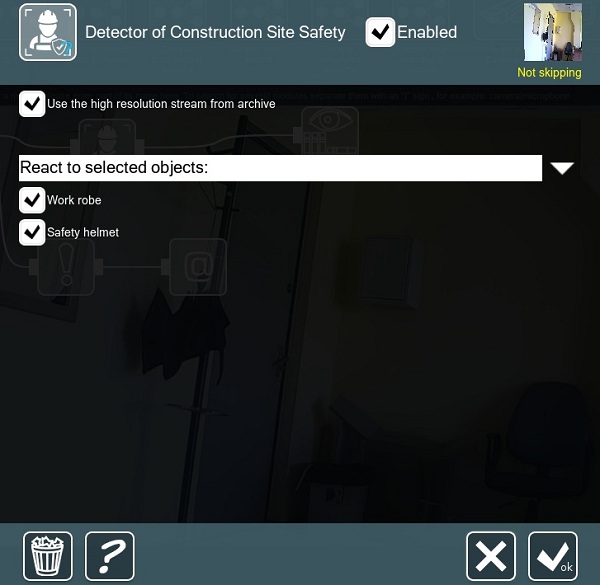 No special equipment required – regular commonly available off-shelf computers can be used.
No special camera required – any brand or model supporting standard streaming protocols can be used. Just make sure that the image is clear.
A wide range of supported operating systems: the module will work in 64-bit Windows, Linux or Mac OSX machines. See list of supported operating systems here
Not available for Linux/ARM systems. Contact us if you need it for an unsupported OS.
In addition to the "Building Safety Detector", other Xeoma modules can be useful for ensuring safety at the construction site:

Xeoma's Face Recognition module for automatically receiving information about the identity of people who violate safety precautions. Possibility of integration with systems of accounting of working hours and penalties.

«Automatic Number Plate Recognition» will determine the state registration number plates of cars approaching the construction site.

The effect of accelerated video ("time lapse") using a simple archive recording is an excellent marketing and statistical material.

Look for detailed information about these and other features in the Support section.
HOW TO TEST
1. Download from the official web page and launch Xeoma camera software. Make sure your Xeoma is in a trial edition or activate a Xeoma Standard / Xeoma Pro license and the license for the Additional module "Detector of Construction Site Safety".
2. Add a camera or let Xeoma add a default one for you.
3. Add the "Detector of Construction Site Safety" module in the chain.
4. Select a method to work with – React to selected objects or Not react to selected objects and tick either 'Safety helmets' or 'Work robe' or both.
5. Set up needed reactions – for example, saving records or ringing a sound alarm, or even a custom reaction.
FREE TRIAL OF XEOMA
Try Xeoma for free! Fill in the fields below and you will get an email with a demo license for the Xeoma Pro edition and all Additional modules, including the AI-powered 'Detector of Construction Site Safety' module.
To do that, enter your name and your email to send the license to in the fields below, and click the 'Get Xeoma free demo licenses to email' button.
Have any questions? Need help? Please contact us! We will be happy to help!
| | |
| --- | --- |
| | Do you need something else, for example, to provide higher level of security in constructions sites or in high-risk jobs? We can develop it and add it into Xeoma as the paid development. See details |
June 3, 2020
Read also:
Xeoma's Face Detection And Face Recognition
Face Recognition: search for people by names or photograph
Video surveillance minimum system requirements calculator
Additional modules in Xeoma
Buy Xeoma's Additional modules