ONVIF in video surveillance program Xeoma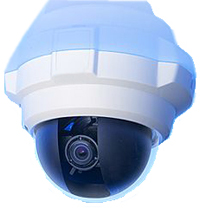 ONVIF (stands for Open Network Video Interface Forum) is global standard of network interface. It is created to ensure interoperability network products for the security market regardless of manufacturer (for example IP cameras, video encoders, network video recording, display and video analytics devices). Implementing just one protocol, ONVIF, hundreds of manufacturers offer full compatibility with other ONVIF surveillance products, providing users with greater freedom in planning and creating video surveillance systems and helping them save on future upgrades or migration costs.
What is your benefit from it? If you have been using IP cams before, you will surely feel the difference. Now when Xeoma supports ONVIF, your ONVIF camera will be auto detected and connected to the network, without any problems or waiting, without the need to find out camera's URL in its admin interface or browser.
Starting from Xeoma 14.6.4, Xeoma can detect PTZ controls for your camera with the help of ONVIF. Thanks to that, Xeoma now supports almost all ONVIF-compliant PTZ-cameras available on the market.
Thanks to this standard being open for all manufacturers and producers, ONVIF video surveillance has got widespread among major brands. ONVIF devices are quite affordable, let alone usually higher quality. So you just choose the devices that fit you and then choose supporting onvif software for surveillance Xeoma. Xeoma will let you use all the benefits of your ONVIF camera. Extraordinary simplicity and comfort is not luxury anymore.
ONVIF in Xeoma
Using ONVIF-supporting camera will not only make connection of cameras easier but it will also open several exclusive opportunities.
Here is what ONVIF can be used in Xeoma for:
* Connect cameras to Xeoma, find cameras' streams
* Control PTZ functions (find cameras' set of commands for PTZ)
* Change camera's settings of brightness, sharpness, contrast, etc.
* Change camera's IP address, login or password through Xeoma interface
* Synchronize the cameras' time with the server's time
* Send commands to camera
* Use camera's built-in detectors
Connect cameras to Xeoma
Usually done automatically – if the camera has working ONVIF, when Xeoma is looking for cameras, such camera will come forward and show itself.
ONVIF doesn't mean that anyone can connect and use the camera. Authorization can be used for ONVIF-supporting cameras just like in regular cameras. It's just like the universal language that most devices understand. Support for this ONVIF option is included into all Xeoma editions even the free ones.
When we are asked, "Is this camera supported in Xeoma?", we look if the camera has ONVIF. It if has – 99% chance it will work in Xeoma.
F.A.Q. How do I know if my camera works through ONVIF?
Control PTZ functions
Similar to what is said about easy finding camera streams with ONVIF, PTZ control commands can also be received and confirmed through ONVIF.
In PTZ set of commands select ONVIFPTZ. Finding PTZ commands supported in all Xeoma editions.
See PTZ for more
Xeoma Pro edition also features options to control the PTZ presets of an ONVIF camera and use them to create a PTZ guard tour. See more here
This options should not be mixed with a separate module called "Move to PTZ preset". With this module, while the camera is moving according to a guard tour it can zoom in on different areas or look for different objects there, and let Xeoma do other video analytics in each area. Read more here
Change camera settings
After an ONVIF-compliant camera has been added to Xeoma, you can change its settings for brightness, contrast, sharpness, etc. right from Xeoma's 'Universal Camera' module settings dialog. The scope of available options depend on the cameras and what options it allows to change.
In latest Xeoma versions, it is also possible to change the camera's IP address, login and/or password from Xeoma's 'Universal Camera' module settings.
Synchronize the camera time
Thanks to ONVIF, you can send the command to cameras to have their time display re-set to the time of the server part of Xeoma.
Use it carefully, this action cannot be undone easily – you will need to reconfigure the time in cameras manually if you change your mind.
Send commands to camera
With the Additional module Camera-Embedded Detector activated over Xeoma standard or Xeoma Pro, you can send commands over ONVIF to the camera's on-board sensors or reactions, as well as devices connected to the camera – like a glass wiper.
Use camera's built-in detectors
Cameras are getting more refined in their functionality every day. On-board video analytics are no longer a miracle, and some cameras also have exclusive features like thermal imaging that can be useful in video surveillance software. Either if a camera has more advantageous video analytics than Xeoma or if you want to shift some of the server's load to the camera side by using its video analytics rather than Xeoma's, you can use the Additional module Camera Embedded Detector (activated over Xeoma Standard or Xeoma Pro license).
Xeoma special features
Xeoma video surveillance software has over 100 features some of which only work for ONVIF compliant cameras. These are a few examples:
* The "Senstar PTZ Tracking" module, available in the Xeoma Pro mode. The module works in tandem with FlexZone intrusion sensors by Senstar and rotates an ONVIF PTZ camera to focus on the area that sends an intrusion alert. Read more here
* Import from the camera SD card is the feature that allows to synchronize Xeoma archive recordings with the camera internal storage. Thus, if the connection to the camera had been lost for a while, after it is restored, the camera can push its own records into Xeoma to fill the gaps. Read more here
29 August 2012, updated 26 December 2019
Read also:
List of supported cameras
Frequently Asked Questions about Xeoma software
Camera video surveillance: choosing and connecting cameras
Complete Xeoma User Manual