Telegram Bot Notifications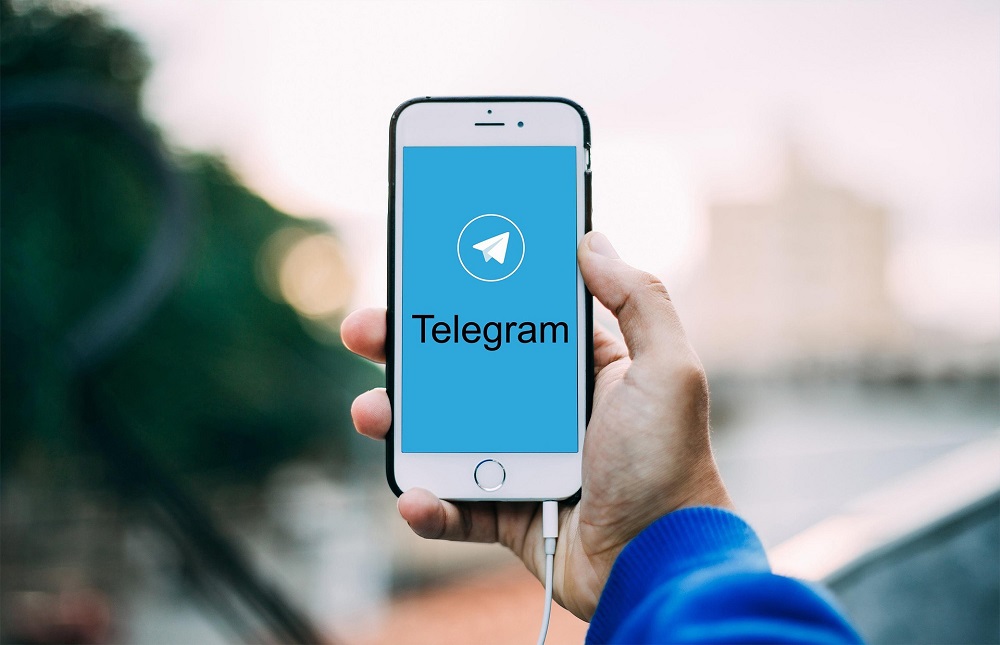 The Telegram Bot notifications module is designed to send instant messages from Xeoma to one of the most popular messengers, Telegram, when the filter modules to which this module is connected are triggered. Using this bot, you can send messages with a static text or dynamic (using macros), as well as attach photos from the camera when the module is triggered. Starting from beta version 22.10.12 this module is included in Xeoma Pro and Trial modes.
BENEFITS OF TELEGRAM BOT NOTIFICATIONS MODULE

Instant alerts
You receive notifications instantly, immediately after the configured modules are triggered

In real time:
You receive notifications in Telegram Bot in real time. Works on all operating systems.

Cost-effiective
One-time payment. All Pro modules are already included in the license price.
Affordable prices – here
HOW IT WORKS
Telegram Bot notifications works automatically. Connect the module to the chain after the detectors that you want to receive information about from the Telegram Bot.
The module requires an access token to the Telegram Bot. To get a token:
1. Open Telegram, in the search bar find "BotFather"
2. Run (/start) and create a new bot (/newbot)
3. Once created, get an access token, copy it.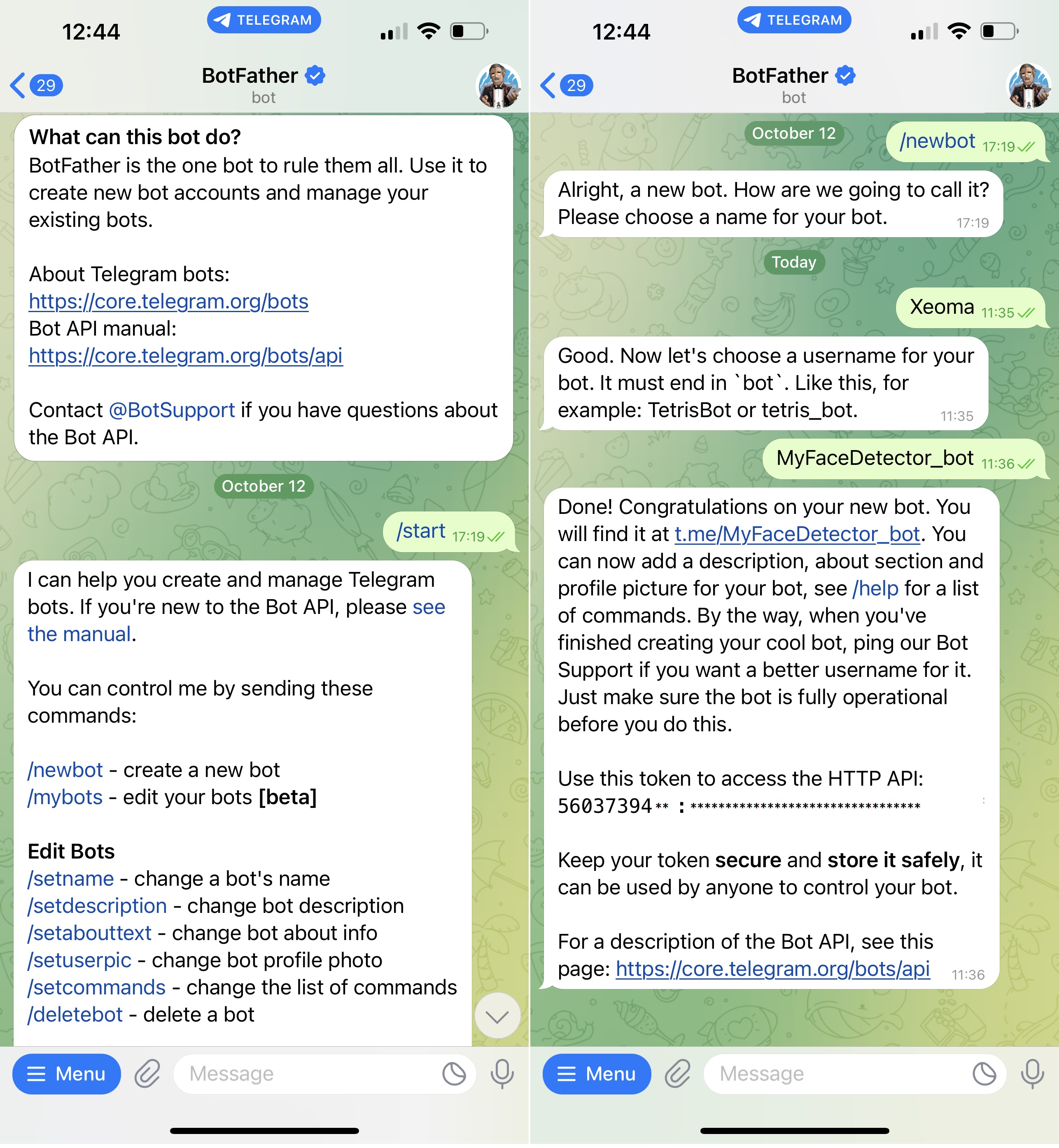 HOW TO TEST
1. Download from website and run Xeoma. Make sure you are using Xeoma in Trial mode or activate your Xeoma Pro license. Please email us in order to request a demo license to test Xeoma.
2. Add a camera or wait while Xeoma adds cameras found in your local network.
3. Add the "Telegram Bot notifications" module to the chain after the required modules.
4. Open the settings of the Telegram Bot notifications module and paste the token into the Bot access token field, after that you'll see the Bot access password.
5. Copy the Bot access password from Xeoma and paste it to the bot in your Telegram app. There can be several users subscribed to the same Bot, but the password only needs to be inserted once, for the first user.
6. In the Message text field, write macros or your own text that will be sent to the Telegram Bot. For example, the %PERSONS% macro for the Face recognition module will send all the information stored in the face database. The full list of macros used in Xeoma can be found here.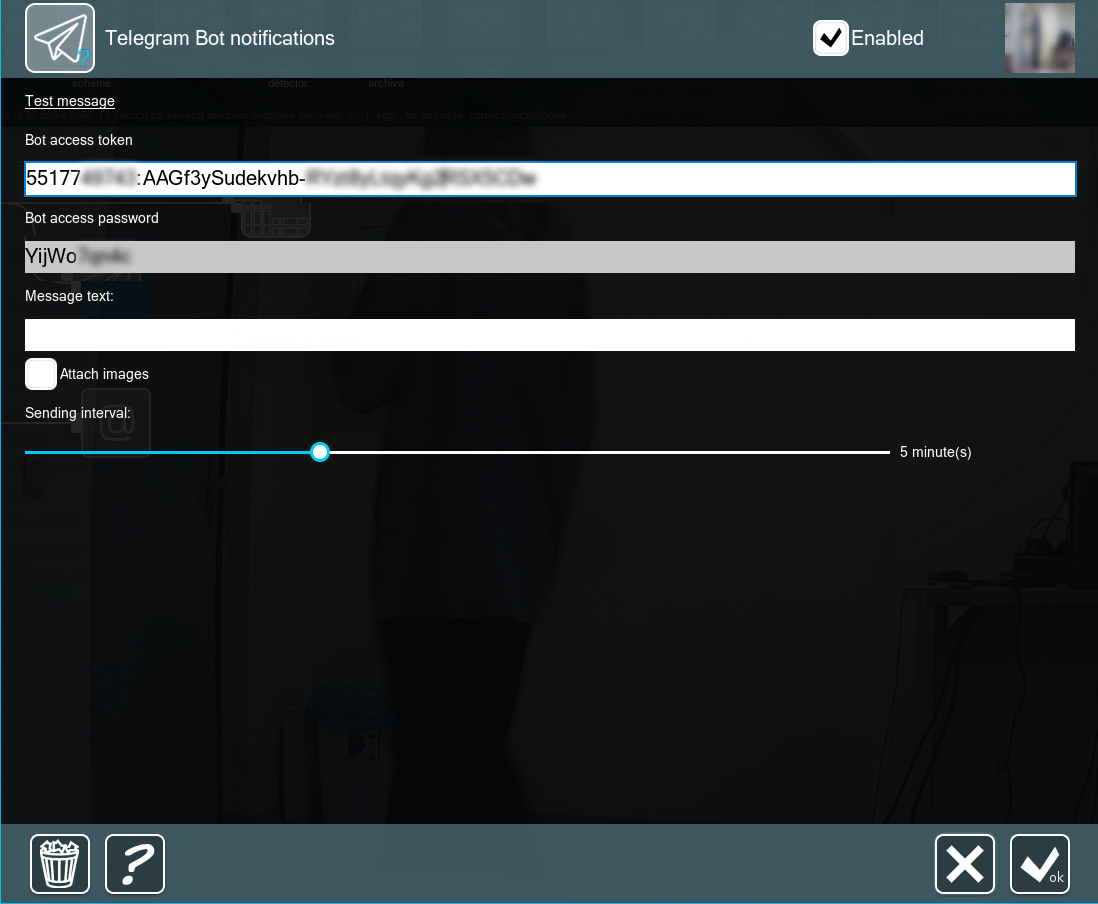 7. Check the "Attach images" box if required, set the sending interval and click OK.
Done! Now you will receive messages in the Telegram bot when filters with information on specified macros are triggered.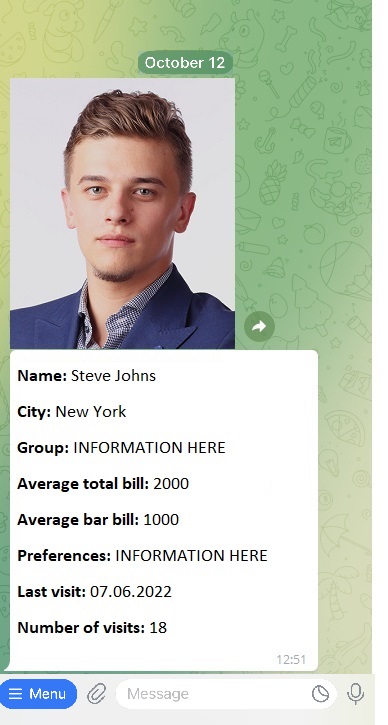 FREE TRIAL
Try the "Telegram Bot notifications" module with a trial license – request it via our contact form here
Have questions? Need help? Please contact us! We'll be happy to help!
| | |
| --- | --- |
| | Do you need something else? We can add this to Xeoma through a paid rework program. Learn more |
October 14, 2022
Read also:
Notifications in Xeoma
Mobile Surveillance