USB joystick for PTZ camera control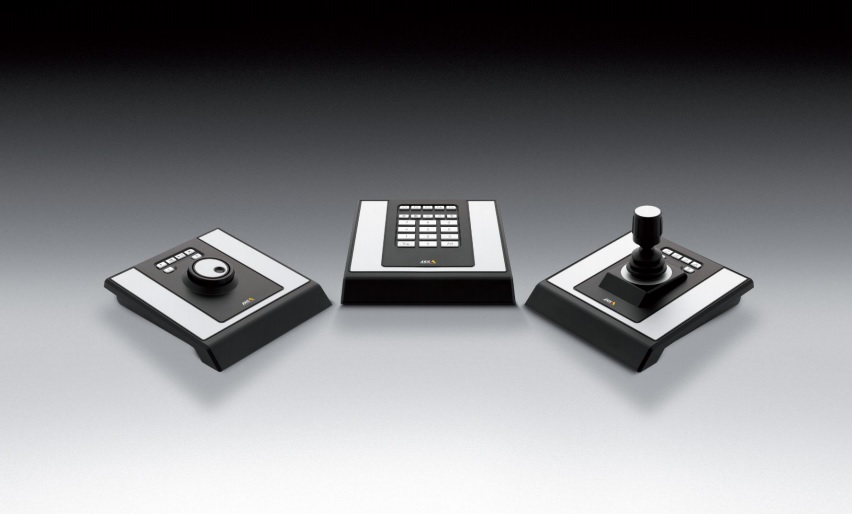 The Additional option 'Joystick for PTZ control' opens up an opportunity to use a USB control board to control PTZ cameras in a machine that runs a Windows operating system. Such control boards and the advantages they offer can be used in mid- and large-scale systems to facilitate control over video wall cameras for security operators, as well as by private individuals for more convenient camera management.
A professional control board with a joystick and buttons is an integral part of the security post and security systems for it can substitute a keyboard and a mouse and facilitate precise PTZ control. One such joystick in combination with PTZ cameras helps to not only efficiently monitor a large area with no or close to 0 blind spots, but also quickly respond to a triggering event.
Control boards are often used in security posts in conjunction with a video wall – a series of monitors showing the sights from video surveillance cameras. This piece of equipment allows operators to monitor all areas even with the largest number of cameras, and provide quicker feedback to alarming events. The speed of response helps to ensure reliable video surveillance and timely action in case of any emergency.
Xeoma video surveillance software for Windows now offers the Additional option "Joystick for PTZ control" that provides support for such USB control boards and joysticks. With this feature in Xeoma a security operator can use a Windows-compliant USB joystick to control PTZ cameras: rotate, zoom in/out, open a camera with a motion event, or go to a pre-configured preset.
SIMPLE, CONVENIENT, FAST

Any joystick:
Out-of-the-box support of any USB control board that is 'seen' by the OS.

Any cameras:
Any PTZ camera that works in third-party software will do. 430+ vendors supported.

Affordable solution:
Affordable flexible prices for this professional feature. Lifetime licenses with one-time payment.
Details
HOW IT WORKS
Connect a USB control board to a system running Windows OS, and it must be defined in the system as a joystick. One such joystick can be used to control all PTZ cameras connected to Xeoma on the same machine, provided that you have enough Xeoma Pro or Additional option licenses (see below for licensing).
Functionality of both a joystick and control board buttons is supported. So, for example, when viewing all cameras, turning the joystick up and down allows you to select one of the cameras, after which, by pressing the button, you can switch to the Single Camera View mode for the selected camera, as well as back to the view of all cameras.
Once in the Single Camera View mode, shifting the joystick up, down, left or right allows to rotate and tilt of the camera, while turning the joystick clockwise or counterclockwise controls the camera zoom. Besides, the control board can be used to switch to the next or previous configured PTZ preset.
The licensing of this Additional option is also flexible and beneficial to the user:
Each Xeoma Pro license activated in Xeoma on a server opens up an opportunity to control 1 PTZ camera with a USB control board / joystick connected to that machine. Thus, if the server has a sufficient number of Xeoma Pro licenses – for as many cameras as you need to control with the USB joystick – then you do not need to purchase an additional package!
If you don't have Xeoma Pro licenses on your server (only Xeoma Standard) or if you have less Xeoma Pro licenses than the number of PTZ cameras that you would like to control with a USB joystick, then you can simply buy an Additional feature for the "excessive" number of cameras.
Attention: Additional option "Joystick for PTZ control" does not increase the number of cameras that you can add to Xeoma software; instead, it only opens up the ability to control PTZ cameras using a USB control board.

(For example, if you had a Xeoma Standard license for 16 cameras, purchasing and activating the 'Joystick for PTZ control' Additional option for 1 camera will not add the 17th camera to the program, – instead, it will open the ability to control 1 of the PTZ cameras you have there with a joystick.)

To increase the number of cameras processed by Xeoma, you need to purchase and add a Xeoma license.
| | |
| --- | --- |
| | Attention: this feature is not to be confused with regular control of PTZ cameras via Xeoma interface (without a joystick) does not require the purchase of this Additional Option. Learn more about PTZ features in Xeoma |
Remote and joystick control can work in combination with PTZ presets (functionality available in Xeoma Pro mode). Read more about preset settings
The cameras can also work with recording, notification, video analytics and artificial intelligence modules: from motion detection to eye tracking. See all Xeoma features here
The joystick functionality does not require special servers: you can use ordinary public ready-made computers.
The joystick functionality does not require special cameras: you can use any brand or model of PTZ cameras that can work in third-party software.
Please contact us if you need this module to work on an unsupported OS.
There are more ways that Xeoma video surveillance software can facilitate better performance of security operators:
Panic button, event monitors
Camera access rights
eMap, interactive maps
Object and path visualization

and many more
HOW TO TEST
1. Download and run Xeoma in a computer running a Windows OS.
Make sure your Xeoma is in the Trial edition, or activate a Xeoma Pro license, or a Xeoma Standard license in combination with a license for the "Joystick for PTZ control" Additional option.
2. Add a PTZ camera, or wait until Xeoma runs an auto scan and adds the cameras found in your local network. At least one of the cameras must be a PTZ camera for this test.
3. Connect your USB control board and make sure that it is recognized by your Windows system.
4. Start using the USB control board to control PTZ cameras. The function works out-of-the-box, no configuration required thus no separate interface is available.
FREE TRIAL OF XEOMA
Try Xeoma for free! Fill in the fields below and you will get an email with a demo license for the Xeoma Pro edition and all Additional modules and features, including 'Joystick for PTZ control'.
To do that, enter your name and your email to send the license to in the fields below, and click the 'Get Xeoma free demo licenses to email' button.
Any questions? Need assistance? Please contact us – we will be happy to assist!
| | |
| --- | --- |
| | Please contact us if you need joystick control for other OS, or other features. Our paid development program offers competitive prices for professional service. See more |
September 12, 2022
Read also:
Additional modules in Xeoma
Object recognizer in Xeoma
Camera-Embedded Detector