Xeoma is the only software for video surveillance for Linux ARM and Android with such features.
It's the video surveillance №1 for Mac OS X.
To our knowledge, Xeoma is one of the top 5 video surveillance software for Windows and Linux.
15 reasons to choose Xeoma over other VSS:
1. Xeoma has the most intuitive interface: visual connection of functional modules – easier than children's construction set!
2. Xeoma has the greatest number of opportunities available in the free mode – any number of cameras for live view and 4 for archive recordings, unlimited time of work and no advertising.
3. Xeoma has the greatest number of modules available in the basic version, and flexible settings of modules to realize even most unusual video surveillance aims.
4. Xeoma has the greatest number of supported operating systems – cross-platform software that works on all Windows from XP to 11; on the majority of Linuxes; Mac OS, Android, iOS (only preview), ARM (micro computers).
5. Xeoma has the biggest number of supported cameras (more than 430 brands).
6. Xeoma has the greatest number of types of supported cameras including h.264, h.265, mjpeg, jpeg, mpeg2, mpeg4, rtsp, wifi, Fisheye (and dewarping), PTZ (and object tracking), USB.
7. Xeoma has the greatest number of cameras that can be connected to one server (more than 1000) + multiple server connection.
8. Xeoma has the most responsive technical support. Quick and efficient, free and unlimited technical support in Russian and English languages.
9. Xeoma has the lowest prices for professional video surveillance with powerful possibilities. For example, Xeoma Lite is $11.95 or less (the more cameras per server, the lower the per-camera cost)!
10. Xeoma is the most efficient and the easiest terms for resellers, no entering conditions. Discounts 10% – 30% and even more for manufacturers of video surveillance equipment.
11. Xeoma has the most functional cloud video surveillance system (VSaaS) and what-you-see-is-what-you-get conditions (unlike other VSaaS that only offer a simplified motion detector and lots of extra/hidden payments).
12. Xeoma has the most flexible rebranding for the program: change not just name and company information, but also interface of the program.
13. Xeoma is a most rapidly developed program – several new versions within one year, with new features being added.
14. Xeoma has standalone or cloud video surveillance at your choice. Easy to create and manage your own cloud video surveillance system or use our Cloud.
15. Xeoma has flexible management via API to programmable setup of cameras, management of external devices, from external devices, including "smart home" systems. Flexible setup for access rights through LDAP.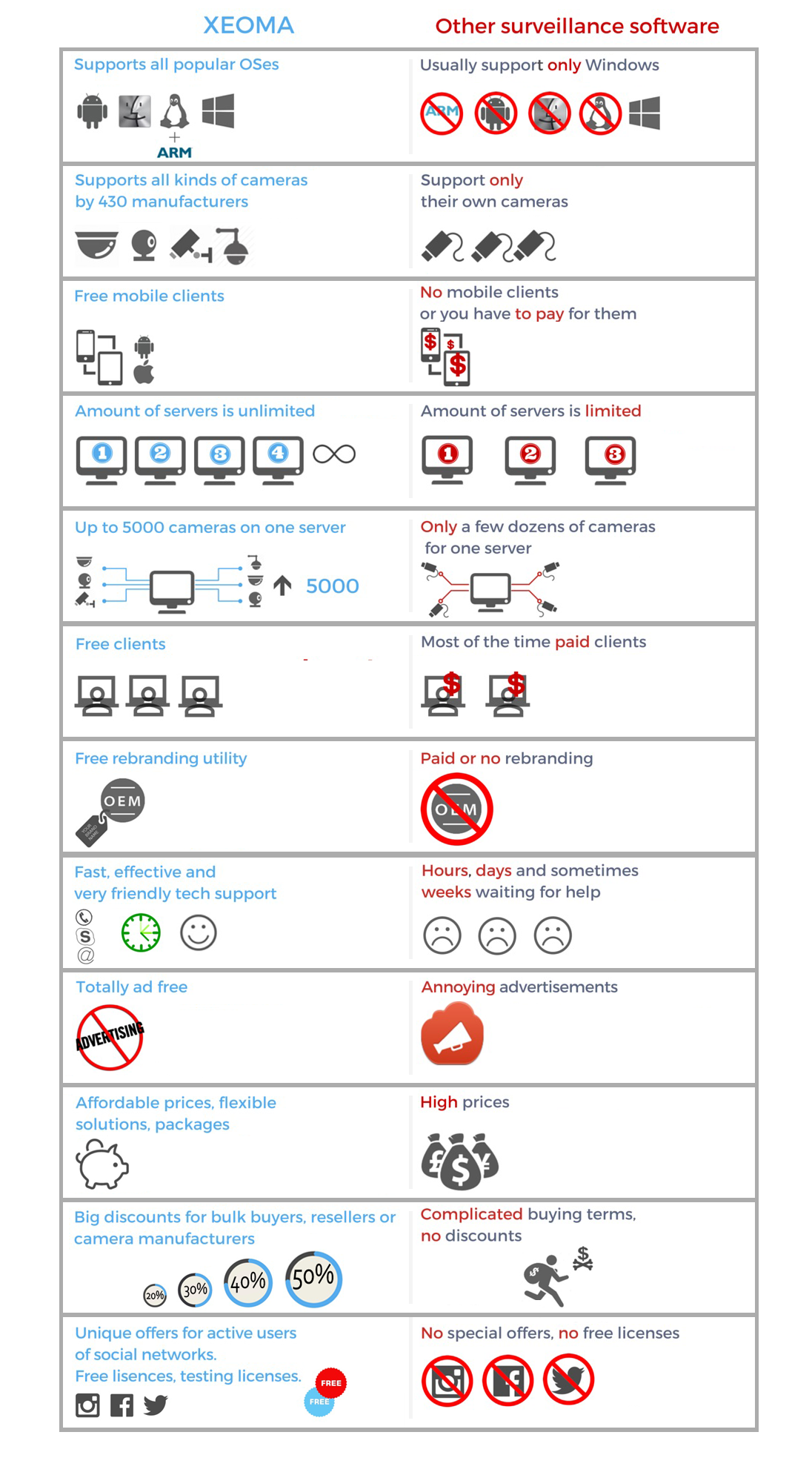 Still not ready to buy? Use a chance to try Xeoma for free or participate in our special offers. Money back guarantee and full product support.