Video analytics in Xeoma
Also view this PDF about Video analytics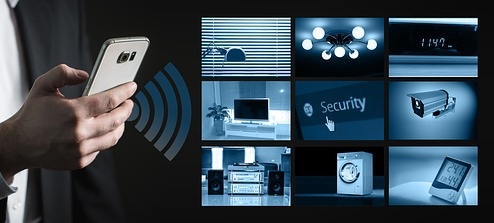 Video analytics technologies use algorithms of computer vision and artificial intelligence to automatically analyze video and detect/determine particular events.
Xeoma is a multifunctional and flexible video surveillance system with many advanced functionalities of video analytics.
User-friendly interface, modular system, automated data analysis, commercially available off-the-shelf (COTS) modules, video analytics for obtaining an objective assessment of business performance, biometric verification of objects, integration with different devices and sensors, intellectual modules based on artificial intelligence and deep machine learning – you'll find everything in Xeoma and even more.
Video analytics at $8.99 per camera – is it real?
Everything is possible with Xeoma! Software provides a wide range of versions to choose from. There's basic and most necessary functions for video surveillence as well as video analytics represented by motion detector with flexible configuration available in Lite version. Xeoma license that costs only $8.99 per camera will open up the possibility to take advantage of the most essential capabilities in video surveillence system.
Artificial intelligence and deep machine learning – future technologies.
Artificial intelligence and deep machine learning are not just distant words from the future, they are the presence of the video surveillence systems. Most advanced intellectual modules in Xeoma help to automate workflow and enhance efficiency of security systems, but also provide possibility to use modern technologies for commercial purposes collecting marketing information that can help to increase sales.

• Motion detector. Portal-perimeter monitoring.
Motion detector can detect motion in the chosen area. This module is available in all versions of Xeoma. Detailed settings of the module will help to avoid false alarms and configure system to meet your requirements. More here.

• Face recognition and workflow automation
"Face recognition" module in Xeoma allows using artificial intelligence and deep machine learning technologies to analyze the image from camera. Such recognition is highly precise and can be used for various scenarios – from employee passing automation to particular faces detected in the highlighted area. More info here.

• Face ID. Face verification and database.
Employee verification nowadays is an integral part of workflow of the whole organization, and automation of this process can help to simplify the working process and save time and money. "Face ID" module in Xeoma can easily handle this task. It compares face in camera's field of view with the face from ID taken from database. This module works in conjunction with "Smart-card reader" or "QR code recognition" modules. More here.

• Emotion recognition for business and more
"Face detector (emotions)" module can recognize 7 different human emotions: happiness, surprised, anger, disgust, afraid, sadness and neutrality. This module can be used in various situations e.g. in the airport to find people with negative emotions or for business to recognize customer's emotions and analyze satisfaction level and thereby obtaining information about service quality. Read more here.

• Object type recognition. Advanced video analytics.
In some cases simple motion detector is not enough because object in camera's field of view should be detected precisely avoiding any false alarms. In this case "Object type recognition" will be useful. It can recognize object type in camera's field of view: human, car, animal, plane etc. More information here.

• ANPR. License plate recognition in Xeoma.
License plate recognition is one of the most popular video analytics functionalities. Automated analisys of the video image allows detecting license plates in camera's field of view, and additional options in module's settings allow organizing the data creating e.g. log file. Xeoma's modular system is very flexible and allows combining modules meeting any requirements. This way you can create black or white list of license plates and open e.g. gate barrier whenever particular license plate is detected. More here.

• Abandoned objects detector against terrorism.
These days safety in public places is extremely important and requires the most accurate measures to find and eliminate possible threats. "Abandoned objects detector" in Xeoma allows detecting unattended items helping to fight against terrorism.

• Smoke detector
Almost every office and any public place nowadays is equipped with smoke detectors and security alarms, but sometimes it's not enough. "Smoke detector" module in Xeoma helps to detect smoke in camera's field of view and quickly react notifying e.g. fire or security service combining module with notifications modules. Read additional info here.
• Sound detector
"Sound detector" module in Xeoma allows analyzing audio streams and trigger according to the specified level in module's settings. Module can be used both with embedded-into-the-camera microphone and separate ip microphone. This module is perfect for perimeter security.

• Visitors counter
How can one increase sales and control business? By means of "Visitors counter" module in Xeoma you can easily collect marketing information about customers flow and their interest in a particular area/product. Module's flexible configuration allows specifying necessary areas and receive maximum information. More information about this module can be found here.

• PTZ tour guide. Presets.
PTZ cameras are irreplaceable not only in private territory, but also in public places and business sphere. PTZ camera can provide complete information of what is happening and PTZ touring in Xeoma can help to record all the events. There are PTZ presets available in Xeoma that camera will use to move accordingly. And by means of "Moving to PTZ preset" additional module camera can automatically move along the selected tracking path after receiving signal from e.g. motion detector module. More here.

• Loitering detector
It often happens that there is a need to detect not just motion, but whenever an object is standing in a specified zone for too long. Such tasks are often reqired for private territories video surveillence and public places requiring increased security level e.g. airports or various meeting of people (public events, concerts etc.). "Loitering detector" module works in conjunction with "Object detector". After receiving information about an object module will analyze time that object spends in the selected area and then it'll trigger if time copmapares to the selected time in module's settings. More here.

• Day detector
"Day detector" allows automatically skipping frames with insufficient lighting. It can be used for recording in daytime saving only important events and skipping unnecessary information.

• Integration with automation systems and different devices: from gate barrier to POS terminals.
Xeoma is an all-in-one video surveillence software equipped with all necessary possibilities and functions for any task. Process automation, integration with cash registers, access control systems and various devices on conducted by means of http-modules in Xeoma. This way video survaillence software can open gate barrier or turnstile, turn on security alarm, record archive and much more upon the received trigger (from motion detector, face or license plate recognizer, scheduler etc.). By the way, Xeoma can be integrated with POS terminals and different systemssuch as Smart home. More here.

• Privacy masking. Your personal information is safe and secure.
"Privacy masking" module allows blurring a particular part of image that can potentially contain confidentional information. Such functionality is perfect for private territory video survaillnce when camera might "see" part of neighbour's private premises. Also, this module can work in conjunction with different detectors and blur detected objects (e.g. faces or license plates).
• Missing objects detector
"Detector of abandoned objects" can analyze image from camera and search for necessary objects according to the configured parameters.
• Crowd detection
If there's a need to detect crowd, you can use "Face Recognition" module in Xeoma and configure it to detect a certain number of people.
• LDAP integration
There's LDAP active directory synchronization available in Xeoma.
• «Hot» areas, heatmap
Heatmap provides possibility to analyze the activity of objects and visualize the intensity of movement for a selected period of time. Such possibility can be used for marketing purposes or territory security. More here
COMING SOON IN XEOMA:
• Passengers counter
This intellectual module is based on Artificial Intelligence networks and can count people's heads in a public transportation enclosure like subway carriage, bus, tram, train, etc. It can also count people in open air events like protests or public celebrations.

• Gender recognition
This module is based on Artificial Intelligence and enables automatic recognition of a person's gender. Ideal for retail stores where promo ads or notifications can be adjusted based on a visitor's gender for higher sales rates.

• Color recognition
This intellectual module is triggered when it detects the selected color in the specified area in real time. The module is designed for independent work to intercept an object by a color, or to work in conjunction with other modules like License Plate Recognizer, for example, detecting violations of traffic rules in combination with a traffic light (detection of drivers ignoring the red signal).
Video monitoring and image analysis without direct human intervention is not only convenient, but also easily implemented using the video surveillance software Xeoma. You can download Xeoma and test all advanced technologies of video analytics.
July, 18 2019
Read more:
Heatmap in Xeoma
Videosurveillance as marketing and sales tool
Emotion detector (emotion recognition)
Face detector and face recognition
Smart card reader – access control system in Xeoma
Object detector
GPIO module in Xeoma.
Additional module: Moving to PTZ preset
FAQ. MODULES & FEATURES