Xeoma Starter
Available modules
Xeoma Starter video
Mini-FAQ
Buy
Xeoma editions comparison table (Xeoma Starter, Lite, Standard and Pro)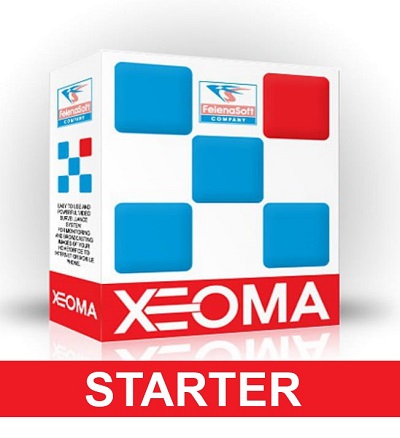 Xeoma Starter is an absolutely modern and minimalistic version of the well-known Xeoma that has everything a surveillance beginner may need.
Comes in handy not only for home users but for resellers and start-up businesses because of its commercial reasons and up-to-date functionality.
All the main modules and some very useful additions are gathered here in one set.
Xeoma Starter license can be purchased here.
For only $9.95 you'll get the following opportunities of the video surveillance program:
Free rebranding/customization opportunity;
Remote access from any device;
Unlimited amount of cameras for preview (you can connect up to 1000 cameras);
No watermarks ('Please ACTIVATE' inscription) or ads;
Works in virtual machines;
2 video sources to record into archive;
Up to 3 modules in a chain;
1-month updating period of the program;
Great deal for our resellers: with the purchase of 100 and more Starter licenses the price for a license is just $3.95.
With a little investment, you'll get the most profit. Great formula to start a business with!
Right after the purchase, you'll be able to rebrand the program and set your own price for the unique product.
Our software is always in great demand because of its variety of application use, e.g.: Intrusion detection, perimeter security, video baby monitor, and many other great application scenarios. Reselling a quality product will be a piece of cake!
Remote access option makes your life easier, you can check your cameras anytime from any device using Xeoma app or browser (use Web Server module)!
No worries if you don't have a static IP address, we've got your back! With the Repeater subscription that you can purchase additionally, you'll be able to access your cameras outside your local network anytime and anywhere.
Unlimited cameras for preview means that you can connect as many camera as you want to review them online (use them with the "Preview" module). 2 cameras to record into archive in a license will allow you to set up indoor and outdoor surveillance for a price of a cup of coffee!
Supported operating systems, cameras, and interface remain the same as in other Xeoma versions.

Xeoma Starter available modules:
| Devices | Filters | Destinations |
| --- | --- | --- |
| Universal Camera | Motion Detector | Preview |
| Microphone | Scheduler | Preview and Archive |
| Screen Capture | Marking | Save to File |
| File Reading | Day Detector | Email Sending |
| Another Xeoma | Image Rotate | Web Server |
| FTP Receiver | Unitor | Sound Alarm on server |
| | Image Resize | Pop-up Window (in Client) |
| | | HTTP Upload to other Xeoma |
Attention! Xeoma Starter licenses do not summarize with other Xeoma licenses!.
Starter license allows you to use an unlimited number of cameras for online preview and record into archive from 2 cameras (as well as sending email notifications from a maximum of 2 cameras). Digital zoom, PTZ control and multiple user profiles are not available. You can't increase the number of sources for archive in Starter edition.
To switch to Xeoma Lite, Standard, Xeoma Pro (or use Additional modules) from the Starter edition please purchase a separate license for the necessary amount of cameras.
| | |
| --- | --- |
| | Starting from version 22.11.25, you can switch directly from the program interface to trial version of Xeoma Starter (previously the Trial mode represented only the Pro edition). |
Please contact us if you want to know more about the Starter version or in case of a purchase.
Watch video about Xeoma Starter
Please check this PDF presentation about Xeoma Starter to find more: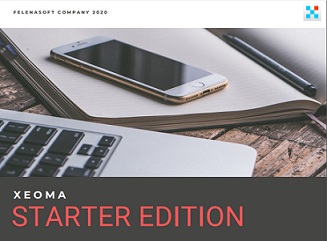 Before you buy licenses we recommend you to have a look at Xeoma versions comparison table.

Ready to get new versions before all others? Subscribe to announcements about new beta versions here

1. I have 4 cameras. How do I use them with Xeoma Starter license?

You can connect 2 cameras with "Preview" module and 2 cameras with "Preview and archive" module. This way you'll have 4 cameras in total in Xeoma, all 4 of them can be reviewed online and 2 of them can be recorded into archive.

2. I need to record 4 cameras into archive. How can I increase cameras number in Xeoma Starter?

In this case you can switch to Xeoma Lite. It allows to purchase up to 4 cameras. You need to purchase Xeoma Lite license for 4 cameras. Licenses can be purchased here.

3. I'm looking for a certain module. Does Xeoma Starter have it?
4. I need a feature that is not included into Xeoma Starter, otherwise I'm satisfied with what Starter has, and ready to buy it. What should I do?

You can either check what edition has the sought for feature in this comparison table and purchase its license – or purchase Xeoma Starter and use it without this feature that is not included.

5. I want to use the latest Xeoma version because I've seen that there's a newly released feature that I'd like to use. But my Starter license doesn't allow to update to the latest version. What should I do?

Yes, that's right, there's only 1 month renewal period available in Xeoma Starter. But if you need to use the latest Xeoma version, you can always purchase a new Xeoma Starter license and activate on the latest version. Licenses can be purchased here.