Video surveillance in a car service center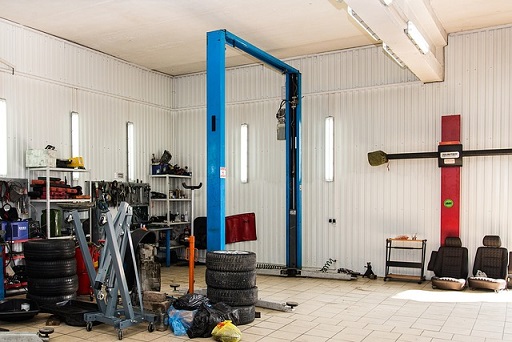 Nowadays almost each car owner visits a car service center once in a while. So that makes it important for such business to control and improve quality of customer service. And the best way to do it is to use modern technologies.
Xeoma video surveillance software can be used to grow business of a car service center to the maximum. Its intellectual modules will become the excellent tools to automate particular processes and improve the customer service quality. Xeoma's basic modules will help to cover all essential needs of video surveillance.
Let's review Xeoma's modules and features that can be useful for a car service center:
Motion detector

Use Xeoma to create a video surveillance system in your car service center. Xeoma's "Motion detector" module will help to detect motion in the specified arias e.g. at night if someone is in the building or during the day time if particular territories should be free of people and motion. More.

ANPR

Xeoma's "ANPR" module can be used to recognize cars license plates and, for instance, automatically open gates if there's a car from the white list. Also, you can store logs with license plates of the cars that were operated on during the day/week/month to have a database with all necessary information. More.

Face recognition

Also, there's AI-based "Face recognition" module that can recognize faces of employees or customers and store pictures in the database. This module can be used to automatically open doors or gates upon receiving a signal from the white list of the module. More.

Emotion recognition

If you'd like to improve customer service quality in your car service center, you might be interested in our AI-based module "Emotion recognition". This module can recognize emotions of your customers, so this way you will have information if they are satisfied with the customer service or not. More.

Object recognition

If you need to protect the territory during the nighttime, you can use "Object recognition" module to detect particular objects on and around the premises. E.g. it can detect only people, animals or cars. This module will help to avoid false alarms and maximize the level of security. More.

Crowd detector

This module can automatically count people in camera's field of view and recognize gatherings of people. This option will increase the chances to avoid break-ins as it can prevent undesired gatherings around the building and notify if there many people in the camera's field of view. More.

HTTP marking (integration with POS or cash registers)

If you have cash registers and would like to monitor all financial business, you can use Xeoma's "HTTP marking" module to create marking on the video that Xeoma stores. You can place a camera above the cash register and see all financial operations on the screens with date/time and name of the employee that is in charge. More.

Sound events detector

Protect the territory of your car service with Xeoma's "Sound events detector". It will notify you if there's a loud noise e.g. a glass break or a gunshot on the territory. So you'll be always aware that your premises are protected and safe during the nighttime, weekend or holidays. More.

Construction site safety

If you're planning to reconstruct the building or conduct other construction activities, then you might be interested in using Xeoma's intellectual module "Construction site safety" to protect employees. This module will notify you if a worker doesn't have a helmet or other protection gear on. More.

Emap

If you have multiple floors, then you might need to monitor various locations and switch between them pretty quickly. In this case Emap option in Xeoma will be suitable for you. You can place your cameras on the maps of multiple floors and switch between them whenever you need. More.
And that's not all! Xeoma VMS has over 100 more features! See all features here
So to put it in a nutshell this is how video surveillance can be of help in a car service center:

Proactive prevention of damages in a company's property;
Increase in safety of customers, employees and passers-by;
Capture of vandalism and damage and wrongdoers' identification;
Conflict situation settlement (video footage is a reliable witness);
Increase of work effectiveness;
Collecting marketing information and improving customer service;
Promo materials from live footage.

By means of Xeoma video surveillance software you can easily and effectively fulfill these tasks.

Buy licenses for Xeoma video surveillance at affordable prices here: Check prices and buy

Try Xeoma for free and feel free to contact us any time!

December, 9 2021

Read also:
Smart video analytics with neural networks modules in Xeoma
Prices for Xeoma CMS
Video surveillance cameras in a private parking lot
Video surveillance system at a petrol filling station
Bus Surveillance
Traffic light automation with Xeoma
«Parking Spots» – get information about illegal parking and the parking load
Video surveillance system in the parking space
Video surveillance system in the garage cooperative
License plate recognition: Speed limit violation
Road safety with Xeoma video surveillance CMS