Special offer for Smart Home system integrators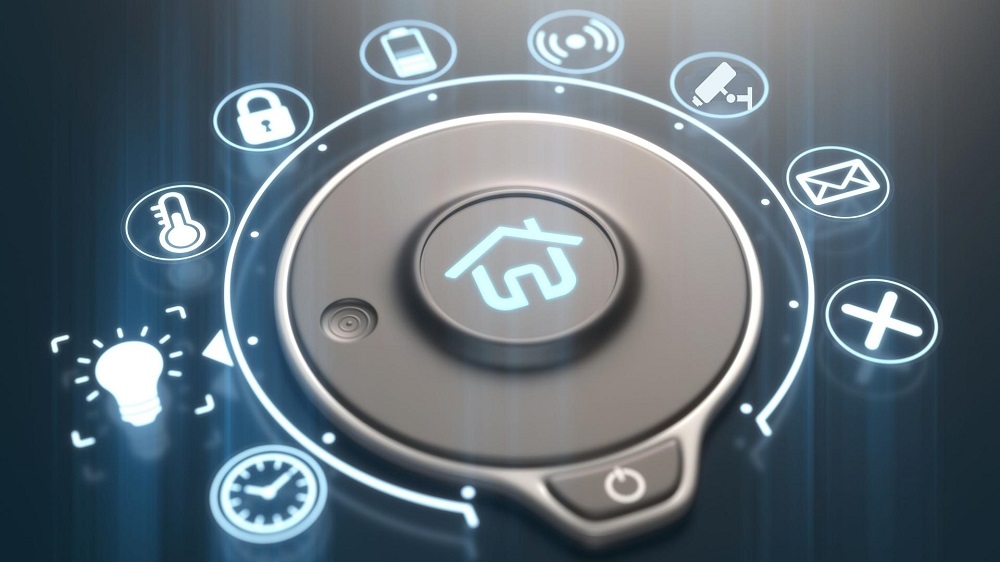 Smart home systems are becoming more widespread in our time, because technologies are rapidly developing and becoming available to more people all over the world. Xeoma video surveillance software is a unique product that makes your Smart home system integration even more affordable! In addition, you can earn, using Xeoma in your projects.
We have a special offer for integrators of "Smart Home" systems: install Xeoma and get more customers, and therefore more profit!
Possibilities of Xeoma video surveillance software are endless: from smoke/fire detection to integration with external systems. Xeoma has a set of more than 100 features, which allows you to offer your customers a variety of solutions where everyone will find something for themselves.
Xeoma is available in several modes: from an absolutely free to commercial ones – plus extra Additional modules based on artificial intelligence that can be purchased separately to further enhance your video surveillance system. This structure of the program allows you to adapt the solution to any project requirements and budget. Offer Xeoma video surveillance software in a bundle with smart home systems to your customers and you will get a competition-busting advantage that will attract more interest and more orders!
We offer several collaboration options:
| | |
| --- | --- |
| | Use Xeoma in the Smart Home system as a program that centralizes the viewing and control of video cameras. Remote access from anywhere in the world and from any device. |
| | |
| --- | --- |
| | Sell ​​Xeoma licenses to the customer in accordance with requirements of the project or install the Trial version of Xeoma, which provides access to the full functionality of the program. |
| | |
| --- | --- |
| | Create your own all-in-one bundle based on Xeoma and other elements of Smart Home systems. Free rebranding is also available – you can sell your complex solution under your own brand. |
Here are examples and scenarios of using Xeoma in Smart Home systems:
The first step in the implementation of the Smart Home system is the installation of CCTV cameras. With the help of Xeoma video surveillance software, you can connect to your cameras from anywhere in the world and check the situation in your home. Moreover, with Xeoma you can be more than just a passive viewer! You can also control the situation because this solution is more than a means of just watching a video stream from your cameras – it is also a powerful tool to do tasks related to security and process automation. Sounds interesting? See more below!
For many homes, the very first thing in ensuring safety is the installation of a fire suppression system. This is true, as there are lots of potential sources of ignition in probably any house. Thanks to the intelligent Xeoma's module Smoke Detector, the program will detect smoke and/or fire in the camera's field of view and send you an alert via SMS/Email or push notification. You can also use Xeoma in conjunction with fire extinguishing systems, and then, when triggered, the Smoke Detector module will send a command to activate the home's embedded fire extinguishing systems, or automatically call a fire brigade.
Integration with external systems is possible thanks to Xeoma's module Application runner. This module allows you to run the specified application. Connect this module after the module whose triggering should launch the application you need.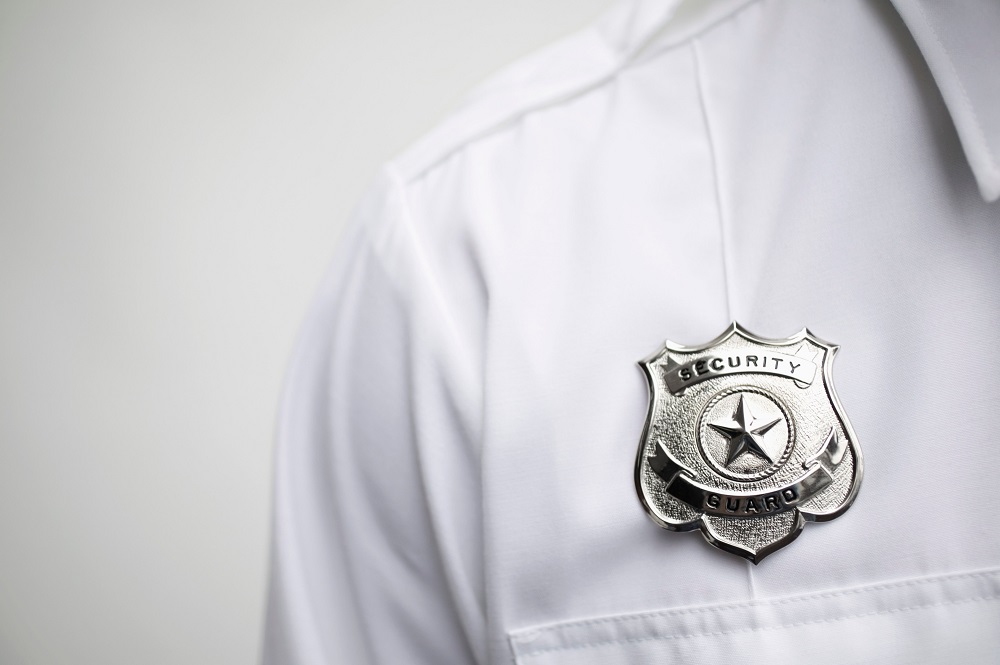 For example, you can use the Application runner module in conjunction with the Motion Detector module. If you went on vacation and entrusted home care to video cameras, detected motion in the monitored area would be a signal that thieves have entered the house. After the Motion Detector module, connect the Application runner module and set up an automatic call to a private security agency or the police.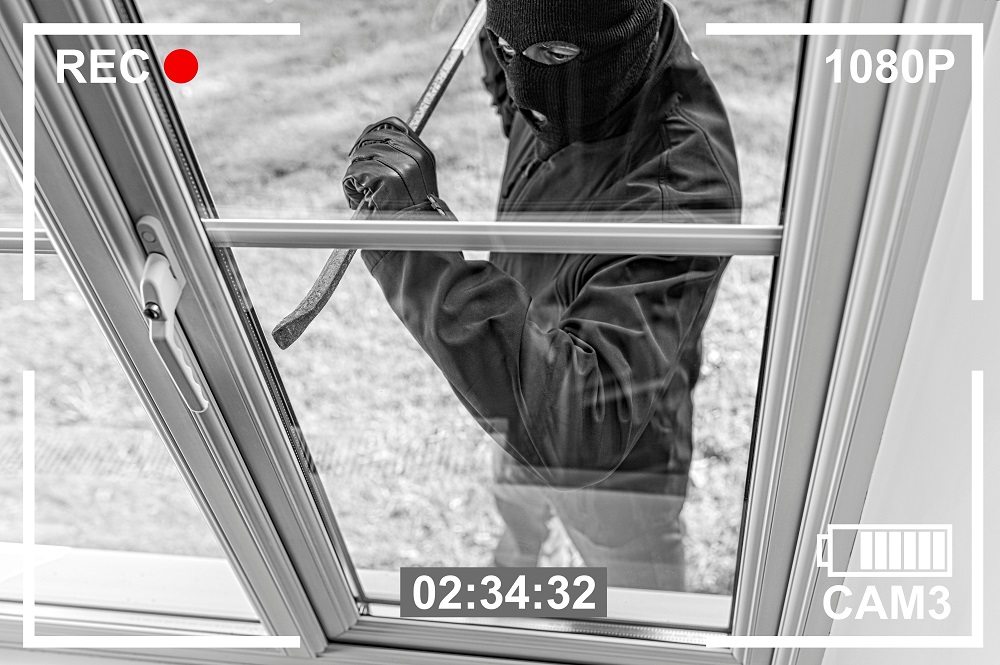 Xeoma can also serve as intrusion prevention. Most often, before breaking into the house, thieves carefully monitor what time there is no one at home. The light in the window is the first signal that someone is at home. Xeoma allows you to create an imitation of your presence in the house: configure Xeoma to turn on the lights in your house according to a schedule.
Using the Scheduler module, set the time to turn on/off the lights in different rooms for each day of the week. After the Scheduler module, add the Application runner module to the chain, which will send a signal to turn on/off the smart switches. You can also use the HTTP request sender module instead of the Application runner module if your switches can accept http commands. Here's an example of a fitting modules chain: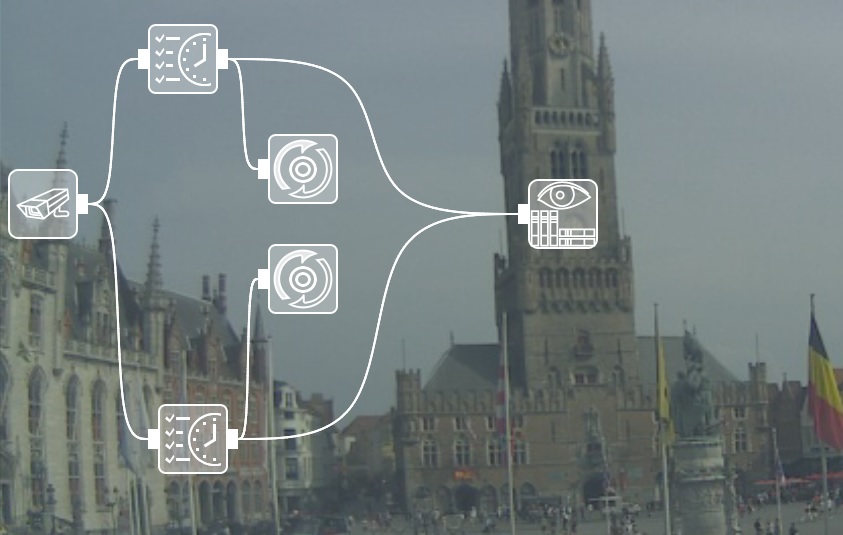 Similarly, with the help of Xeoma you can set up control of air conditioning, underfloor heating, roller shutters or even irrigation system.
For example, to set up automatic closing of roller shutters when you leave, add the Cross-line detector module to the chain, in the settings of which draw a line near your threshold and set the direction, crossing which it will be considered that you left the house. Next, add the Face Recognition module to the chain, configure it to respond only to selected people (upload photos of the house owners to the database). The next module in the chain is the HTTP request sender module, which will send a command to smart sensors of roller shutters to close when previous modules are triggered: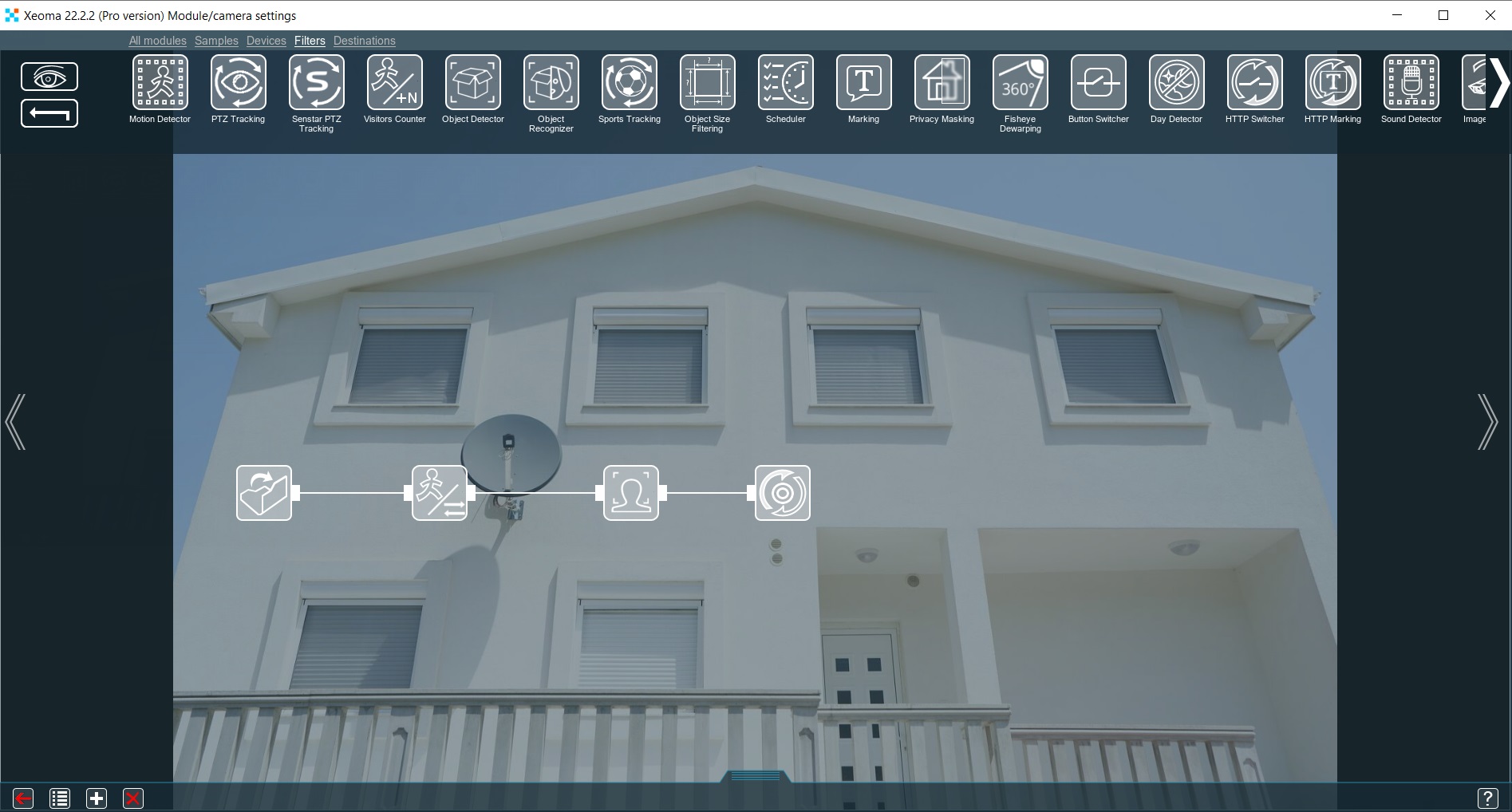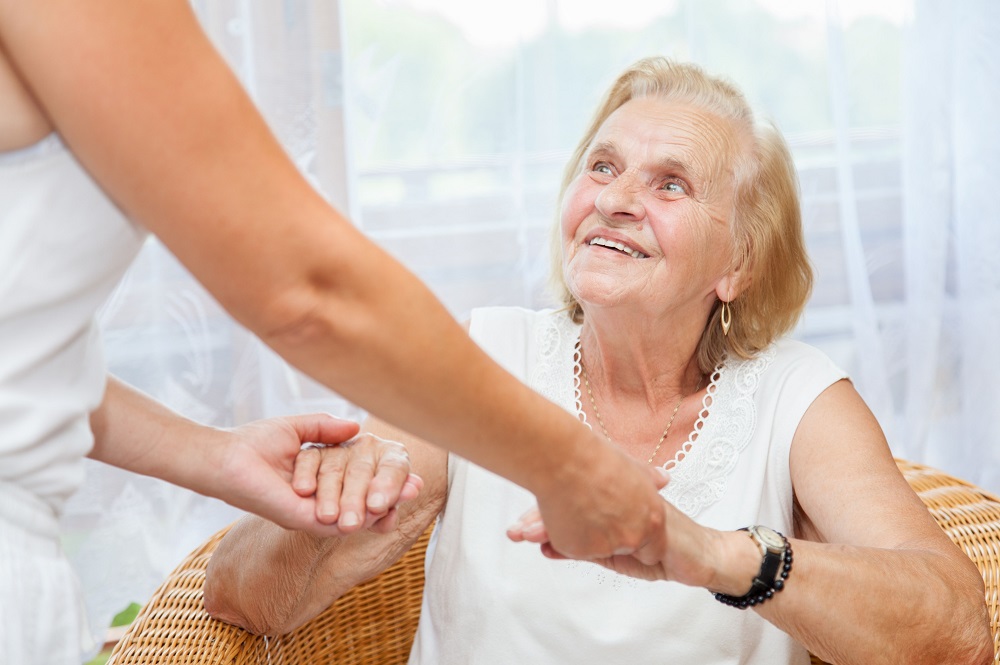 If your customer is away from home most of the time, and their elderly relative lives with them, the Slip and fall detector will also be useful. It is used to detect falling in the selected area. Don't miss a thing: the module is able to recognize even a fall from a chair, as well as an incomplete fall if a person slipped and fell from a small height or lost consciousness and slid down the wall. When a fall is detected, the detector can call an ambulance (using the Application runner module), as well as notify relatives about the incident (email, SMS, push notifications).
Access control automation: with Xeoma you can automate the entrance to the territory of the house: add in the modules chain of the camera, installed on the gate, Xeoma's License plate recognition module. Set up a "pass list" (the list of license plates, who can enter the territory), and when Xeoma detects a license plate number from the pass list in the camera's field of view, the gate will automatically open.
Xeoma can make your access control system work even faster! How do you like the idea of ​​opening the door with the help of your glance? Xeoma's innovation, the Eye Tracking module is a unique feature that will surely increase interest in your Smart Home system integration services. Set up the module in conjunction with the Face Recognition module to achieve the most accurate result, and also connect the HTTP request sender or Application runner modules. As soon as Xeoma detects a person from the "pass list", the door will automatically open.
Another Xeoma module that is often used in Smart Home systems is Modbus controllers. This module is designed to receive commands from controllers operating via the Modbus protocol in order to launch necessary reactions in Xeoma. For each sensor, you can configure your own reactions, and not only notifications, but also filter modules.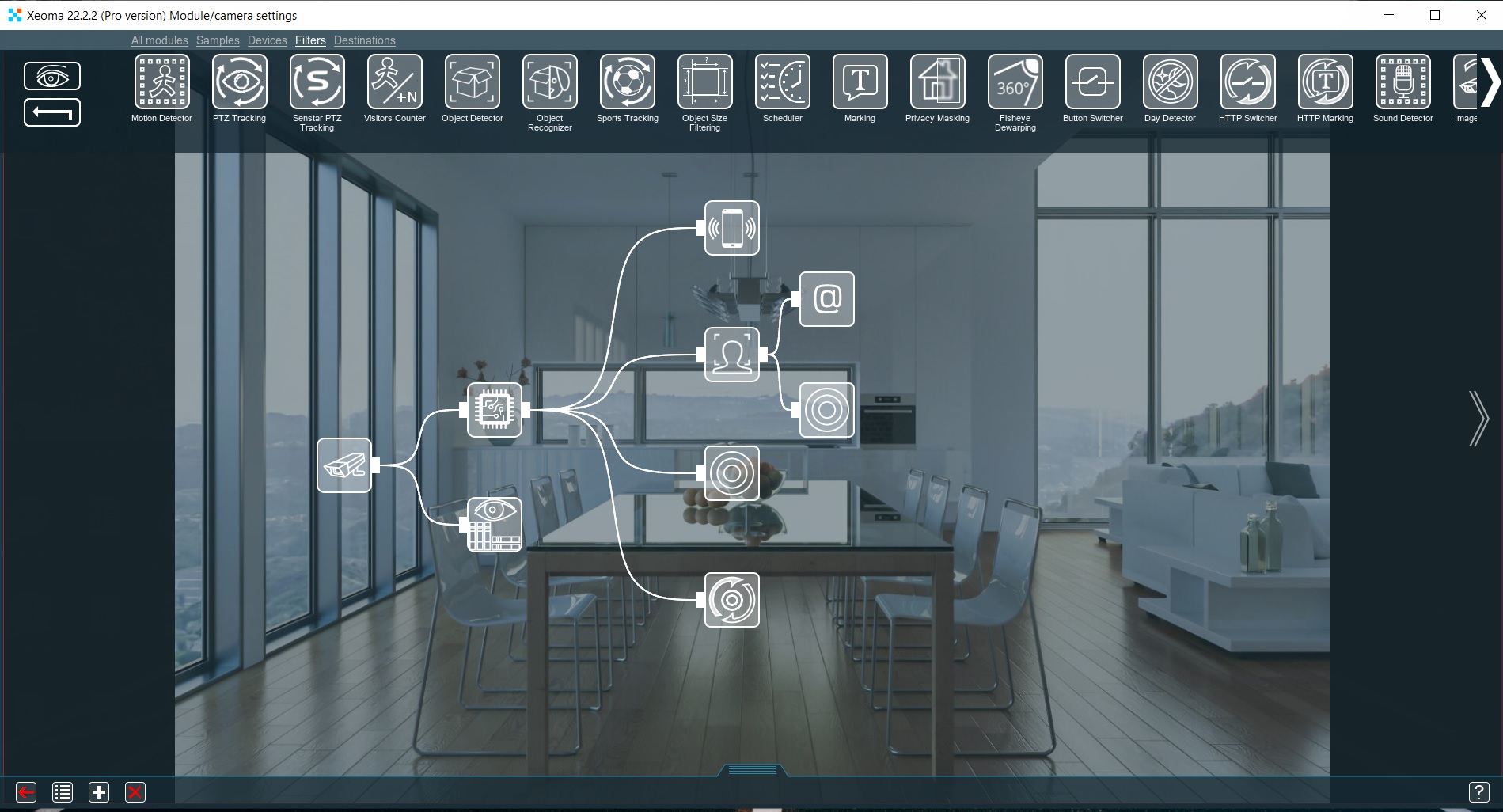 Here's an example:
Input port 1: Signal from water leakage sensor. Reaction: push notification.
Input port 2: Signal from Motion detector. Reaction: launch the Face Detector. Checking the "pass" list.
Result 1: sending an email with a photo.
Result 2: launching the Application runner (e.g. calling the police).
Input port 3: Signal from a temperature sensor: threshold exceeded.
Reaction: launching the Application runner (turn on the air conditioner).
Input port 4: Signal from a power outage sensor.
Reaction: launch HTTP request sender (start standby power supply/generator set).
Sound event detector is another module that is an assistant in the smart home system. This detector is able to distinguish 5 types of sounds: glass break, alarm, baby cry, screams and gunshots. Set the module to trigger when glass break and gunshots are detected and set up notifications (email with a photo or video attached). This way, you will immediately receive notification that an emergency has occurred in your home, so you can take necessary measures in time.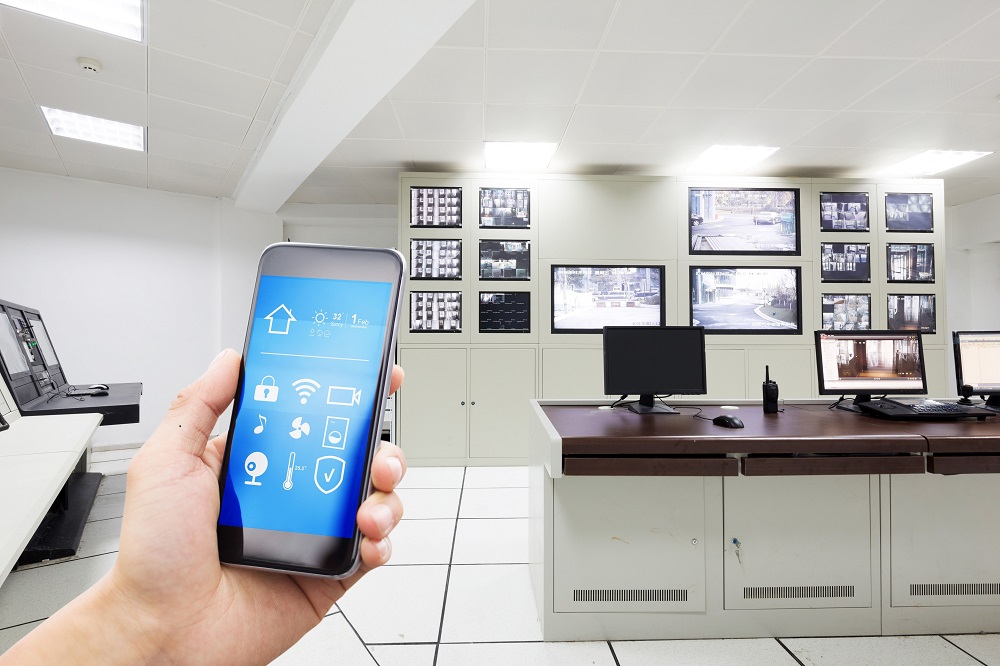 A smart home system equipped with Xeoma video surveillance software allows you to monitor your home from anywhere in the world, receive notifications of emergency situations, automate the supply of electricity/water, set up automatic opening of gates/doors, control the climate, irrigation system, as well as control the entire smart home system remotely. Xeoma video surveillance software is so flexible that it allows you to find a solution for any task of your clients.
For Smart Home systems integrators, it is profitable to work with Xeoma: we offer affordable prices and a rich set of functions to satisfy the needs of customers with various computer vision tasks. Moreover, we have special conditions for our partners. We are always open to cooperation, so if you want to install Smart Home systems in combination with Xeoma, please contact us to discuss the details of collaboration. We offer free demo licenses for you and your clients and provide an individual approach and comprehensive assistance in promoting Xeoma!

| | |
| --- | --- |
| | Do you need something else? We can add the necessary functionality to Xeoma under the paid development program. More about the program. |
FREE TRIAL OF XEOMA
Evaluate all the features of Xeoma video surveillance software absolutely free: fill out the form below and get a demo license.
To do that, enter your name and your email to send the license to in the fields below, and click the 'Get Xeoma free demo licenses to email' button.
February 22, 2022
Read also:
Integration of Xeoma video surveillance software with robot vacuum cleaners
Best Surveillance Equipment 2021
Best Android CCTV app of 2021
Artificial Intelligence to the rescue: how video analytics helps solve business tasks