Guide to working with your own cloud video surveillance service Xeoma Pro Your Cloud
Xeoma Pro Your Cloud is Xeoma's special mode of work powered by Xeoma Pro licenses. Designed to enable easy and quick work with subscribers, it automatizes the work to the maximum.
Read here to understand what Xeoma Pro Your Cloud is and why you need it
How to start:
– Download and launch Xeoma in the special Cloud mode;
– Buy and activate Xeoma Pro licenses;
– Setup and configure your Cloud video surveillance service.
Xeoma Pro Your Cloud Manual
Work with Xeoma Pro Your Cloud can be carried out in 2 ways – through web interface or through configuration files.
1. Work through web interface.
Launch Xeoma. Use the Install Cloud-server to the autostart option in Main Menu -> Install:
The program will offer to choose the place to put Xeoma files. Press ОК. You'll see a warning that the installation will take some time. You can also get a system about permission to install the service. Click Allow or OK.
As soon as the program is installed, the admin page will be opened in browser by default. Default credentials for browser access are admin/admin. We recommend to change these credentials to stronger ones. You can do that by clicking the username in the top panel.
The landing page – Main window – has the top panel with tabs Xeoma Cloud, List of users, Global Settings, Logged-in User, and Exit.
Xeoma Cloud will take you back to the Main page.
List of users is a window where you can view and change current users and their permissions.Global settings is where you can activate licenses and set up general rules for the cloud service.
Logged-in User will always let you know as what user you are logged in. Click on it to change the access data.
Exit is a log out button. It lets you re-login as a different user.
Global general settings for your Cloud can be set in the Global settings tab. Attention: to save changes you made don't forget to click the Save button under the block with the changes.
List of users has a list of all current users, their connection data, number of available sources, etc. An new tab called Preferences will be added in top panel which is used to add or delete a user account.
Next to user name in the list you'll see these icons: Box (for bulk actions), Pen (to change settings of a user account), Trash Bin (to delete a user account), and Camera (for view of a user's cameras).
Press the Pen button to edit a user's account data, including log-in information, number of available sources, disk space, etc. Take a look at registration data here as it will be used for connection under a user.
Enter your subscriber's email in Registration data: user email. This email will become web page login username for this user. Please mind that for login the @ sign and point will be replaced with "_".
You can set name for this user account in users list in User data block of user settings under Registration name: user name.
To view a user's cameras, you will need to re-log in using user's access data. To do that, click the Exit button. Enter user's access data in the authorization prompt.
Among other wonderful posibilities, Xeoma Pro Your Cloud web interface offers setup of the Email Sending and SMS Sending modules that have been added to the chain.
Web interface differs slightly for a user. Read more about user web interface in Xeoma here.
2. Work through configuration files.
Launch Xeoma with -cloud:
When launched through Terminal, you will see this output. Please take time to read it thoroughly:
If you run top in the same Terminal, or close the Terminal, Xeoma Pro Your Cloud will be stopped. If you want to check that Xeoma has launched, open another Terminal and see if Xeoma is there: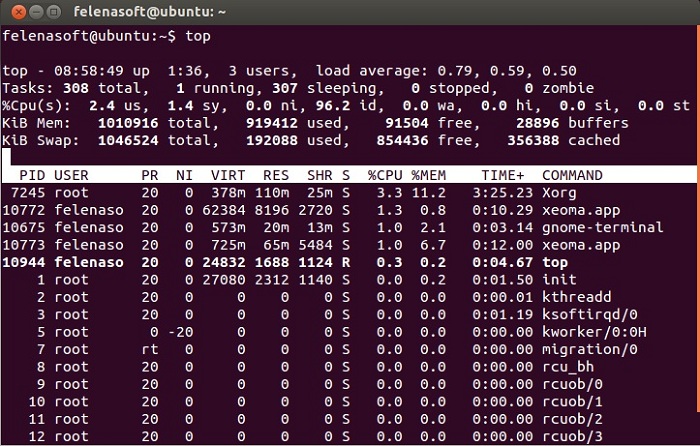 When you first launch Xeoma with -cloud, it creates sample configuration and is ready to work with these demo settings from the start:
Config folder has only default users so far – adminUser and demoUser. Both are just for example, you can remove them when you want. You can create new user configs there.
Available settings for the user configs are reviewed in details below. Here's how a user config looks like:
In xeoma_cloud.log file you will get information about events and users.
The data folder is where the users' archives and settings are to be found, arranged by username. User.dat is the settings file, for Xeoma's internal use.
Cloud.config file (also referred to as the main config file) allows you to set general settings such as ports, storage time of invalid users' data, and activate licenses:
Please note that if set in the main config file, a parameter will be only applied to those user's config files that have this parameter commented or not present at all.