What is OEM and ODM? Xeoma video surveillance software customization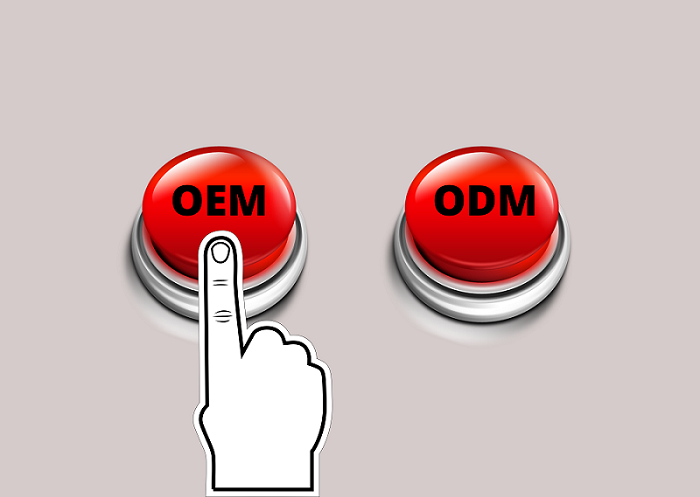 Customization
One of the latest trends on the market is product customization. This phenomenon is actively used by small companies as well as by such giants as Apple, Microsoft and many other equally well-known brands.
What is customization? From the English word "customer", the concept means creating a product to the request of a particular consumer. For example, you buy computers for the company, but you want them to be unique, for this you order customization from a supplier, who adds your company name and logo to the surface of the PC. In this way, customization allows you to rebrand a product so that customers or employees can identify it with your company. The key advantage of customization is that you get a finished product. This saves you time and money.
However, not only external customization or rebranding is possible, but also internal one. For example, you can change the software or the application. So what do you need for this?
OEM & ODM
There are many ways to customize software. Some of the most common ways of such software modification are OEM and ODM. Below we will describe each of them in detail.
OEM or Original Equipment Manufacturer is the production of parts and equipment that can be sold to other manufacturers as components to create or complement their products.
For example, a company that manufactures computers usually does not produce software and operating systems for it, but buys them from other manufacturers. At the same time, such systems can be customized to meet the specific needs of PC users. For example, if a company has released a limited edition device for its anniversary or in tandem with some company, they can request a custom version of the system from the OS manufacturer. One of the most striking examples of such customization are the products of Samsung, which often conducts various collaborations with brands and orders rebranding of the Android OS for their devices.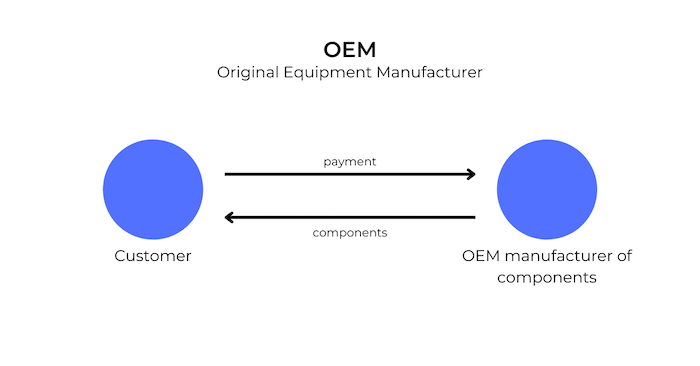 The advantages of OEM manufacturers are the following:
+ The affordability of this method, as such companies provide good discounts for the use of their systems for mass-produced goods;
+ Ability to adjust to each client with their needs;
+ Saving money on your own production;
+ No attachment to a specific manufacturer, at any time you can change the OEM company that produces components for your business.
However, this way of production has a number of disadvantages:
– Such a system of work is not suitable for small businesses that produce goods in small volumes, as it can be very expensive;
– Not every niche can cooperate with outside companies, for example, due to trade secrets;
– You need to specify OEM co-authorship when selling merchandise.
ODM or Original Design Manufacturer, which is also known as White Label, is the production of goods that are created entirely according to their own original design. When cooperating with ODM manufacturers, companies order from them the production of a complete product, usually immediately customized for their company, and then sell it under their brand.
It is worth mentioning that many businessmen are confused about the concepts of White Label and ODM, while they are practically identical. The only difference is that ODM is the manufacturer of the customized product, while White Label is a form of cooperation between this manufacturer and the client company.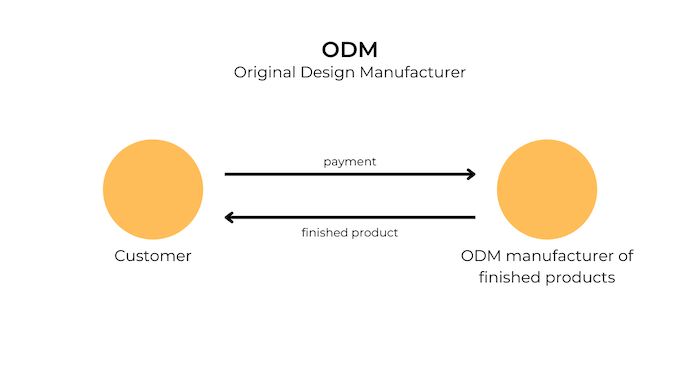 The advantages of such cooperation:
+ The company does not have to own a factory for the production of goods, accordingly, it saves material resources;
+ You don't need to spend time on creating your own production from scratch, just order a customized product from an ODM manufacturer and start selling right away;
+ There is no need to list the ODM company as the co-producer of the goods, as the White Label form of cooperation includes the transfer of all rights to the goods to the company that ordered the production.
Disadvantages:
– More expensive production of goods;
– Depending on the ODM company, if for some reason their production stops, then the customer company's sales will also stop;
– Difficulties when changing an ODM-partner, as it is not always possible to quickly and without losses find a company whose conditions would meet the requirements of the firm.
Thus, OEM and ODM production is used to create unique products for the brand. Each of these productions has its own parameters, based on which companies can choose the most convenient and profitable way to produce customized products.
Xeoma video surveillance software customization
Our clients also have the possibility to rebrand Xeoma video surveillance software both on OEM and ODM basis.
OEM
Are you a manufacturer of video surveillance cameras, computers or other components of security systems? Use Xeoma intelligent video surveillance software as part of your products. By cooperating with us you will get the following advantages.
Modern and reliable software with a wide range of intelligent features;
Discounts and exclusive offers;
Free trial licenses for comprehensive testing of the program functionality;
Ability to change the name, interface design, logo and other graphic elements of the program for your company with our free customization utility;
Prompt technical support.
ODM
If you want our specialists to customize the program, you can order a paid rebranding of the program to meet your requirements under the White Label. What will be available?
Changing the program design: logo, interface, icons, etc;
Changing the program name and the loading screen;
Ability to remove the copyright and specify "White Label" in the program;
Adding/removing functions;
Revision of existing functionality;
Developing and adding new modules (under the client's request).
Please note that the cost of rebranding depends on the number of changes and modifications you need. Describe the functionality you need and send us to calculate the cost for you.
Would you like to customize Xeoma to fit your brand or to create your own unique product with your own logo, design and feature set? Contact us and we'll be happy to help you create a perfect video surveillance solution for your requirements.
Request a demo license for testing all program's features!
May, 12 2022
Read also:
Additional modules in Xeoma
Video instruction on rebranding Xeoma
Loyalty program for resellers