| | |
| --- | --- |
| | Coming soon: Gender recognition in Xeoma. |
| | |
| --- | --- |
| | «Gender recognition» module is not released yet, but it'll be available soon. For additional information, please contact us. |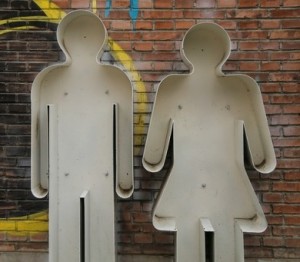 Whenever we look at a person we usually can determine his/her gender carefully. But can computer vision do that? Can you teach a computer to recognize the gender?
Modern technologies say yes. Progress does not stand still, more and more opportunities and ideas come to life each day.
«Gender recognition» intellectual module based on artificial intelligence and deep machine learning is able to analyze the image from camera and recognize gender in real time.
Fields of application
This module will be useful for collecting marketing information. «Gender recognition» module can be used in retail to determine category of customers that are interested in particular products and thus creating targeted advertisement and increase sales.
«Gender recognition» module can be used in conjunction with «Emotion detector», this way you can receive information whether the client of particular group (men, women) is satisfied with the product/service or not. Based on this marketing information you can improve service quality to the fullest.
Also, «Gender recognition» module can be used alongside cross-line detector to check the exact amount of women and men that left the room or went to check particular products.
By the way, this module can be used in private kindergartens, religious institutions and other organizations that work with people of particular gender. E.g. private school for girls, monastery for men etc.
«Gender recognition» can be used in kindergartens to check the person that took a kid from kindergarten. Also, it can be used to observe children and determine the created groups by gender, thus build further psychological strategies for subsequent games and activities, as well as improve the atmosphere in the groups.
As you can see, Xeoma is a multifunctional software that can provide not only high-quality video surveillance, but also opportunities for business growth and increased sales.
August, 16 2019
Read also:
Face ID module in Xeoma
Additional modules in Xeoma
Object recognizer in Xeoma
Rent of the license is the best way to launch a new project
GPIO module in Xeoma
Object recognition in private life