CCTV systems in traditional farming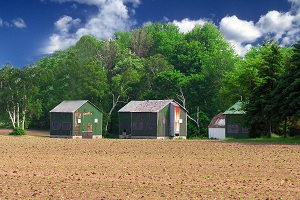 More and more industries turn to CCTV systems when small and sometimes even family businesses expand and grow really big. So big that it is simply impossible to control by using just human recourses.
And here comes the technology to help even some traditional and natural industry out – CCTV systems in traditional farming.
CCTV systems in traditional farming with Xeoma become more and more common among the farmers. It's not like it was before, with small and rather compact one-man farms which could be on 150 acres. Sometimes they might have spreads 25 miles wide on different farms which calls for a CCTV system that can 'cover' long distances. Luckily, Xeoma is just like that.
Xeoma software as part of efficient CCTV systems allows to screen and store all the footage recorded on its cameras through its data center, which gives the clients an access to their systems almost anywhere at any time on a laptop, PC or a mobile device, like a smart phone. Long distances of a contemporary can be covered with relocatable surveillance or just placing cameras in several strategic points and engaging advanced 24/7 video analytics with alerts.
The farming commodity prices grow higher which makes the risk of robbery or any kind of vandalism even more serious and perceptible. Some farmers who also possess their own warehouses and trucks realize that farm CCTV systems is just inevitable for their traditional farming business with the logistics involved.
The more property you have got, the more it costs and produces, the higher are the expenses on its maintenance and security. With the farm industry taking place on scales never seen before, farmers are no longer taking chances with security. But the good thing is CCTV systems in traditional farming are getting more and more affordable, and if just several years ago the cost of a farm video surveillance system would grow with the development and growth of a farm company, it becomes only more affordable each year now. And the bigger a farm is, the more cameras you need in your CCTV systems, the more discounts you get on buying the technical equipment and the software.
Farmers are usually concerned about safety of their crop yields, that can be damaged by birds. With the help of Xeoma's AI-based module "Object Recognizer" your CCTV system will be capable to detect a bird and trigger the protective system, email or SMS notifications, alarm, etc. You can find more information about AI-based Birds Recognition in Xeoma in this PDF brochure.
There are, of course, more options powered by artificial intelligence in Xeoma CCTV that can be useful in farming: detection of tresspassing people or vehicles, counting of animals, drone detection, etc. Read more about the usefulness of AI technologies in various businesses here
Xeoma is one of the most innovative CCTV systems software on market today. But it is also very affordable. You can even use it for free, if your video surveillance system requirements allow it. There are also many different ways to get a license for free.
And, in terms of all these discussions on a privacy question being unfolded online and on the TV, it is necessary to point out that, like it or not, the CCTV systems have become a part of our life, also in traditional farming. You might hate to see our world coming to this, but it is what it is.
FREE TRIAL
Try Xeoma for free using a demo license. You can request it here:
Also watch our video about "Object Recognizer":
16 July 2013, updated: 7 July 2022
Read also:
Video surveillance installation in the horticultural society
Frequently Asked Questions about Xeoma software
Complete Xeoma User Manual