Sending Email: module for notifications and reaction to events
Xeoma video surveillance program organizes automatic email sending to your email address with the help of this module.
Obvious from the first sight, but very useful and essential feature will help you out in different life occasions.
There are different ways in Xeoma of informing you about what is happening on the territory you are recording video at, and Sending Email is one of them. It's crucial always to have up to date information so you can act fast and do the right thing.
APPLICATION SCENARIOS
Problems Detector + Sending Email
These modules' duet will notify you about the problems related to
Camera settings(absence of camera video stream,image is too dark, camera might be turned)
System problems(no free disc space left, RAM is running out, processor load)
No Internet connection(check access to a network resource)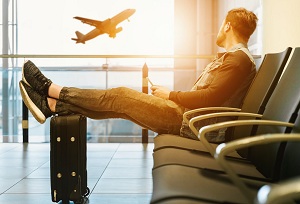 Your little helper while you are away
While you are on vacation or a business trip use Sending Email module together with the following modules:
Motion detector(also the absense of movement)
Smoke detector
Sound event detector
*scream
*baby cry
*gunshot
*glass break
*alarm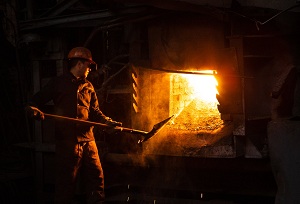 Control over your workplace
Any production should take under control the safety of employees and the serviceability of equipment. Get a real-time email notification in case of an emergency:
Absense of movement
Cross-line detector(restricted area)
Smoke detector
Detector of Construction Site Safety(recognition of helmets and work robe)
Sound Events Detector
Sending Email module comes in handy and user friendly, you just need to get to know the settings to benefit from it, and we gladly help you with that!
In the module settings, firstly, you can set the interval between messages and attach images and videos from the camera. Also use macros when connecting with movement and problems detectors, to get the message about what problem was detected.
Email server settings
When configuring the module, follow these steps:
1) Choose the Email Server (existing email server (gmail, mail.ru, yandex, etc.) or specify the settings manually, choose «manual setup» variant).
1.1. When you choose Manual setup enter SMTP-server address and port as well as the method for encrypting data.
2) Enter username and password of your email (You can type in the full adress e.g. test@gmail.com)
3) In 'from email' line specify sender's email
4) In 'to emails' line specify recipient's email (or emails separating them with space, comma or semicolon).
5) Enter subject and message text (optional) or use the macros.
Attention!
Previously, occasional issues with GMAIL boxes used to be resolved with turning off blocking of "less secure apps".
Starting from May, 30 2022, Google disabled password authorization for email sending from automated systems. Now you need to use a separate special 'app password' for that.
App passwords can only be used with accounts that have 2-step verification enabled. If you want to use a GMAIL email to get immediate notifications from Xeoma, you must get a special Google's 'app password' and use it in Xeoma instead of your email's password.
"Sending email module's settings"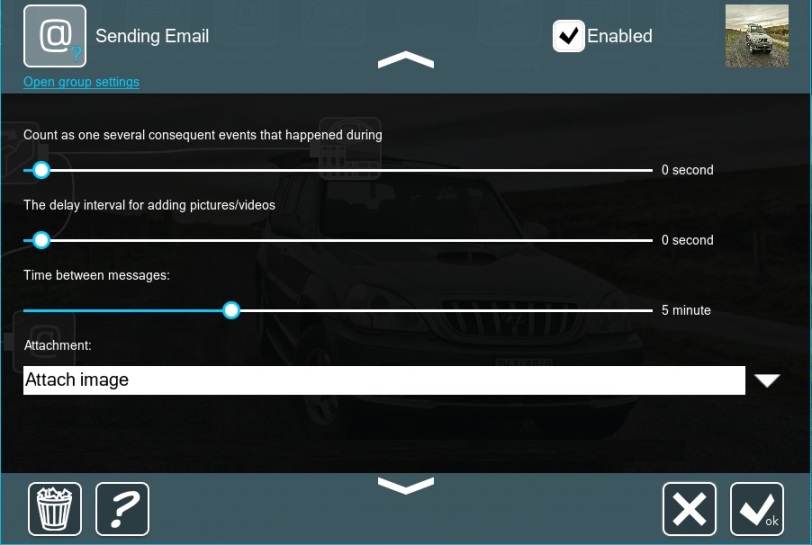 Count as one several consequent events that happened during…: – this is best described with an example:
-the motion detector detects something for 5 seconds, then after 10 seconds – something else for 5 seconds
-if the e-mail is set for the interval of 5 seconds – you will get 2 messages (2 different events detected)
If you know that detectors can trigger often in your situation, and you don't want Xeoma to flood your e-mail account with messages every few seconds – this is the slider that allows Xeoma to compress all the triggered events into a single message.
The delay interval for adding images/videos: if you have any attachments to the e-mail, this will force Xeoma to make those not immediately upon a detector triggering, but with a delay.
Time between messages: this decides how often Xeoma can send you messages; in the above-mentioned scenario of a flooded mailbox this would also help, but all the potential messages in between will be ignored and lost. (N.B. this timer takes priority over the rest; if e.g. the delay between images is greater than this timer – you will still get messages, but no attachments)
Attachment: you can choose image, video or no attachments at all.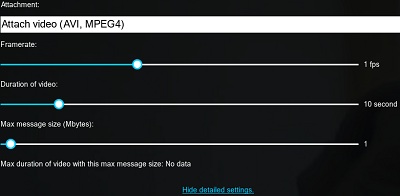 When selecting "Attach image" you can choose how many pictures to attach, time between images and max message size(Mbytes). In the bottom you can see how many pictures can be attached due to the current max message size. The maximum number of attached pictures is calculated based on the specified maximum message size and the size of each image from this camera (depending on the resolution and size of the image, which in most cases are set in the camera settings in its admin page).





When selecting «Attach video» you can select the video Framerate (number of frames per second), video duration, and maximum message size (Mbytes).
After configuring the module, you can test its performance by clicking "Test".



Attention: if you want to watch videos sent to the specified email address on a mobile device, we recommend to choose the MP4 format, as it is supported by the majority of mobile device operating systems

In "Sending Email" module's settings you can specify macros as Email Subject and Email message.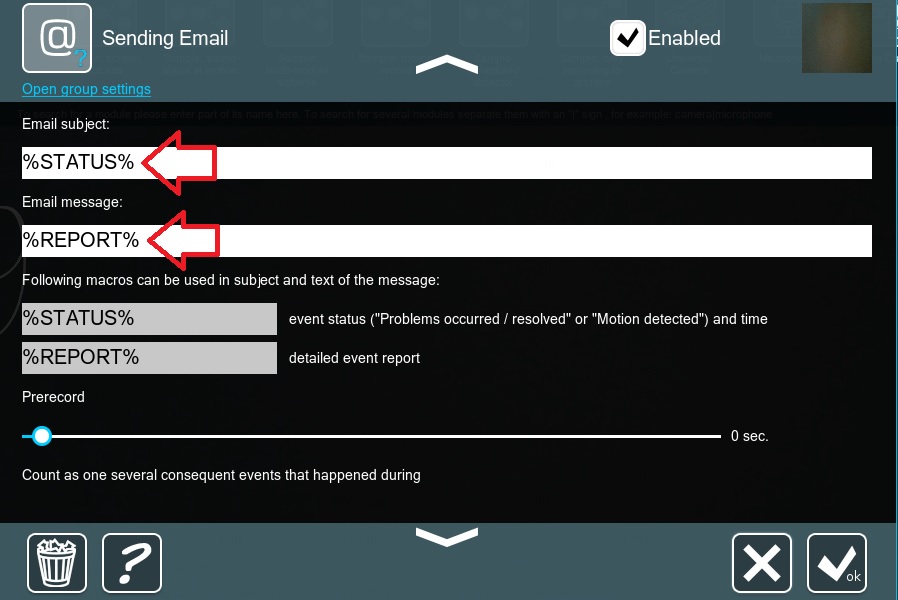 You can use the following macros:
%TEXT% – macros to receive recognized text from new module 'Text recognition' (still in production, not available in the current version)
%OBJECT% – this macros allow receiving information about the object that was detected by the 'Object recognizer' module
%GENDER% – this macros allow receiving info about gender from the 'Gender recognition' module
%NUMBER% – macros to receive license plate's number in plain text from the 'ANPR' module, e.g. A110PB77 etc.
%FACECOUNT% – it shows the number of faces from the 'Face recognition' module in the email
%NAMES% – macros to receive names from 'Face recognition' module
| | |
| --- | --- |
| | Starting with Xeoma beta 23.3.22 the option to select the language for messages sent from the "Motion Detector" or "Problems Detector" modules is available. Previously, all messages were in English only. Also added the option to enable logging of the module's operation. This will be a great tool to keep tabs on the stability of the module, especially if the program works offline, with notifications of critical events. To do this, use the "Record found issues into a log file" option in the module settings. By default, both errors and successful sending events will be logged, but you can choose to log only sending errors due to issues in communication with the sending server. |
Sending Email module available in each Xeoma license as it is an irreplaceable module in video surveillance, that optimizes the process, helps to avoid unpleasant situations, and allows you to control the situation in various life scenarios.
Troubleshooting:
1. I've configured the module but the test fails with an error message. Why's that? What do I do now?

Please see what the error message says. If it says the credentials are incorrect, then your next move is to check lest there be misspellings, etc. See also question #2 below.

2. I'm trying to use a HOTMAIL/GMAIL/other public domain mail box to send/get email alerts from Xeoma, but the test fails. Why's that? What do I do now?

GMAIL and other public domain addresses might have issues with automated sending (this might not be your case, if you are using your own domain name). For Gmail please see here

3. The test message gets sent alright but I'm not getting any real alerts when there's an event there. Can you help?

Sure, please see the customer note 'Email notifications not working'

September 25, 2020; updated August 30, 2023
Read also:
Sending SMS
Sound Events Detector
Face Recognition: search for people by names or photograph
Platerecognizer utility for ANPR module in Xeoma
Mobile video surveillance with Xeoma free Android app