How to run Xeoma CCTV on Android TV
Xeoma video surveillance software (or VSS, for short) is famous for its unmatched cross platform architecture. Xeoma works not only on all major desktop operating systems, but also on mobile platforms like Android and iOS.
The whole multitude of Android devices can work in tandem with Xeoma VSS, starting from smartphones that a modern human always has on hand, to Android-powered Smart TVs.
If the latter is your choice, this article will list some simple actions how to put your Android TV to good use with Xeoma VSS.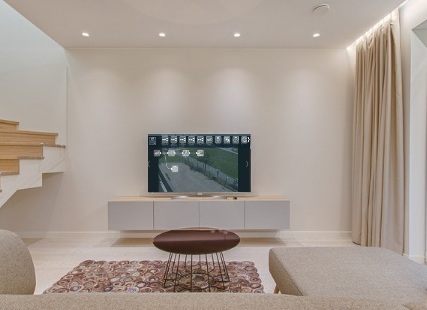 1. Navigate to signing in to your Google account. The sign in dialog is usually in the upper panel under a gear icon or a person icon. If you are already signed in, you can skip this step.
2. Navigate to view of apps on this device. Usually it is an Apps tab in the left panel. Once in there, navigate to the Google Play app catalog option.
3. Once in the Google Play store, click the magnifying glass icon and type 'Xeoma' in the search bar. Click OK when you're finished.
4. Select either 'Xeoma Video Surveillance'* or '(Client part only)Xeoma Video Surveillance' app (read more about them here). Click Install. Installation will begin.
5. Click on the 'Open' button in this window or navigate to the list of apps in your Android TV and select Xeoma.
6. Follow the regular instructions either for a standalone CCTV completely inside the Android TV or for a client that connects to a remote server.
*Processing of cameras might be a high-load process. If your plan is to make an Android TV a standalone VSS, make sure that your Android TV hardware is powerful enough for the desired amount of cameras and their parameters. See our online calculator for hardware requirements.
After you have installed Xeoma VSS on your Android TV and run it, the journey to enjoyable and powerful video surveillance on a big screen begins. With over 100 of features, including over 3 dozens of intellectual video analytics modules, there are millions of ways you can set up your video surveillance system to fit exactly to your needs.
Please let us know if you have questions or need assistance.
| | |
| --- | --- |
| | Try also: KnownCalls: FelenaSoft's new, 100% free Android app for blocking unrecognized calls: robocalls, telemarketing and spam calls. See more |

December, 29 2021
Read also:
Mobile video surveillance with Xeoma free Android app
Free video surveillance app Xeoma for iPhone and iPad
Choosing the right Android devices for live CCTV video with Xeoma IP surveillance