New Wisenet cameras are designed to improve video surveillance on transport.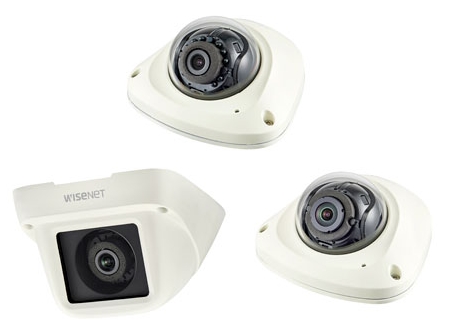 Today Tatris, the official distributor of Hanwha Techwin introduced a line of Wisenet IP cameras. All cameras are adapted and certified for public transport usage. The cameras are equipped with a special protection, which allows to work in places with increased vibration, they also have anti-vandal protection. This protection is provided by the metal case (IP66, IK10), which still has a corrosion protection class NEMA X4. All these measures make the entire line of these cameras not only very durable, but also weather-resistant.
We have already understood all about the durability, so what about the characteristics? Let's have a look at them.
All cameras have a 2 megapixels resolution and work on modern Wisenet 5 processors. Also cameras support H.265, H.264, MJPEG formats and the stream speed up to 60 FPS. This option allows you to perform the widest range of surveillance tasks. To increase the compression you can always use the proprietary technology WiseStream II.
In addition, all models are equipped with digital PTZ, digital auto tracking and hallway view (90˚/270˚). In this line we will also have the «day/night» mode, the signal transmission to the PTZ camera, two-way audio, NAS recording or direct recording to PC, you can even write to a 256GB memory card. All these cameras are compatible with Xeoma software and together represent a smart solution for video surveillance in transport.
Wisenet IP cameras have built-in video audio analytics functions that significantly improve video surveillance. Here are these functions:
face detector;
loitering detector;
cross-line detection;
area entrance and exit control;
detector of abandoned objects;
smoke and fire detector;
defocusing and external impact monitoring;
directional detection;
sound classification (shot, crashing, explosion, loud scream, etc.).
There are 4 cameras in the line – Wisenet XNV-6012, Wisenet XNV-6012M, Wisenet XNV-6013M and Wisenet XNV-6022R.
All cameras are made with an inherent elegance of this brand and have compact size. All this make it easy to fit them into a taxi interior, bus salon, tram or trolley.
Read also::
Tips for dealers: relocatable surveillance systems based on RPI (or other mini computers)
Video surveillance kit based on Banana Pi
June 6, 2018