Asus Tinker single board computer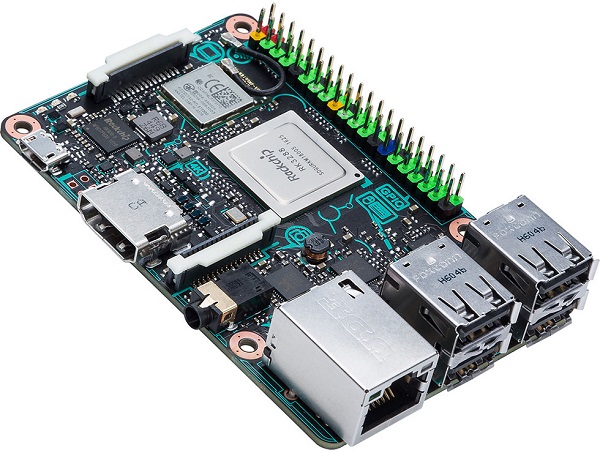 Raspberry Pi's fame and success has been long exciting the minds of manufacturers that dream to get a share of single board computers market. Asus Tinker Board is yet another RPI competitor, this time from a popular brand Asus. Like in many other instances, competitors try to outdo Raspberry Pi with more attractive, more powerful characteristics. Unfortunately, this goes rarely with as low price as Raspberry's $35 (Tinker's price when the article was published was $65).
The newcomer's highlights are: a more productive processor Quad-Core 1,8 Ghz ARM Cortex-A17 (Rockchip RK3288), 1 Gigabit LAN, 2 GB of memory, better audio capabilities, 1 HDMI 2.0 port with possibility to decode 4K resolution.
The following specifications stay at the same level as in RPI: 40 pin headers (including 28 GPIO), Bluetooth 4.0 + EDR, Wi-Fi: 802.11 b/g/n (in Tinker with swappable antenna), and four USB 2.0 ports.
Supported operating systems are Debian OS / Kodi with more coming soon, as per producer.
In conclusion, apart from being made by a famous brand, Asus Tinker Board brings nothing much new to the table of single board computers. It's a valid alternative to the popular Raspberry Pi board, but so is ODROID C2 and many other boards. The hope for Asus Tinker is that it will have Asus quality which will prove the product way ahead of the curve in the long term.
25 January 2017
Read also:
Raspberry computer as one of the best microcomputers for video surveillance
Choosing a microcomputer for CCTV software
Intel-based AAEON UP Single board computer that works with Raspberry Pi extension boards
Cheap Intel Mini PC Wintel W8 Pro based on Windows 10
New Raspberry Pi 4 board: new system for video surveillance