Xeoma Lite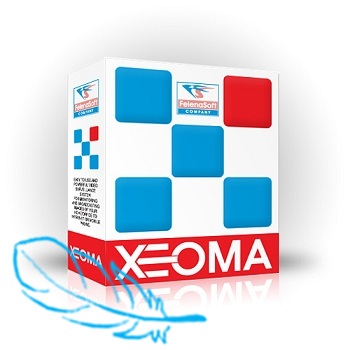 Xeoma Lite is a simplified version of the Xeoma video surveillance program for small and medium size business and home users. Xeoma Lite includes the most essential and easy to use modules.
If the Xeoma commercial version seems to be expensive or too complicated, try Lite version.
Xeoma Lite limitations:
The maximum number of cameras per server in Lite edition is 4 (depends on the purchased Lite license);
Up to 6 modules in a chain;
No updates of the program;
Additional modules can not be purchased and used in Xeoma Lite;
Unavailable user access rights setup (only admin is available);
Does not work on virtual machines, including Docker (versions from 16.12.26 to 20.10.12);
Unavailable heatmap and digital zoom functions.
Supported operating systems, cameras, Repeater service and interface remain the same as in commercial Xeoma version.
NEW: Starting from version 20.10.13 released on October 13, 2020 Xeoma Lite can be activated on virtual machines as well!
Devices
Filters
Destinations
Universal Camera
Motion Detector
Preview
Microphone
Scheduler
Preview and Archive
Screen Capture
Marking
Save to File
File Reading
Day Detector
Email Sending
Another Xeoma
Image Rotate
Web Server
FTP Receiver
Unitor
Sound Alarm on server
Image Resize
Pop-up Window (in Client)
HTTP Upload to other Xeoma
Also available: rebranding/customization, layouts/grids control, control of PTZ functions of supported PTZ cameras, making screenshots, time synchronization through ONVIF, export from archives and making undeletable intervals, motion visualization, device list.

Haven't found what you are looking for? Ask us if Xeoma Lite has it!
Attention! Xeoma Lite licenses can summarize up to 4 cameras per server and cannot be combined with Starter, Standard, Pro and renewal licenses!
To switch to Xeoma Standard, Xeoma Pro or use Additional modules from the Lite version you need to buy those editions' licenses per each camera you want to use.
How to activate Lite version:
Download Xeoma for your OS. Program will start in the trial mode where you can particularly test nearly all of its functionality. If you'd like to test the Xeoma Lite features solely, please follow this guide.
When you are sure that Xeoma Lite is what you need, please feel free to buy and activate Xeoma Lite license or licenses via Main menu -> Registration -> Activate. Now Xeoma Lite is successfully activated on your computer and ready to use.
Before you buy licenses we recommend you to have a look at Xeoma versions comparison table.

Ready to get new versions before all others? Subscribe to announcements about new beta versions here