Affiliate program for partners: cashback from referrals
An easy-to-use affiliate program for Xeoma resellers that offers a great passive or active income. Shortly put, you get cashback from purchases made by end-users using your link.
After you register in the program, you will get a special ID. Please a link to Xeoma page with this ID in your website, blog, social media, or anywhere where people can click it – and get 10% of their purchases in real money transferred to your bank or PayPal account.
Tell your friends, clients and acquaintances about Xeoma – and earn a percentage off their purchases. More purchases – more real money for you.
How to participate:
Step 1. Register in our partner program:
Go to this page to register: https://a.felenasoft.com/cgi-bin/xeoma/affiliate.cgi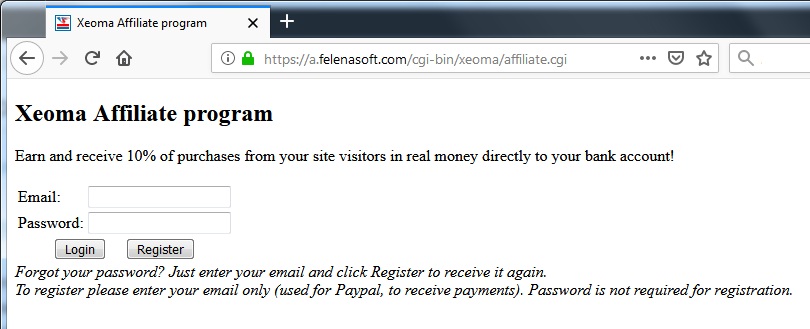 Enter your valid email address to receive a letter with password. Make sure to log in in the next 24 hours after registration, otherwise the newly created account will be removed.
Step 2. Get a special link with your ID.
After registration you will get a registration confirmation letter and find your own referral link in it that looks like https://felenasoft.com/xeoma/ref/?id=XXXXXX :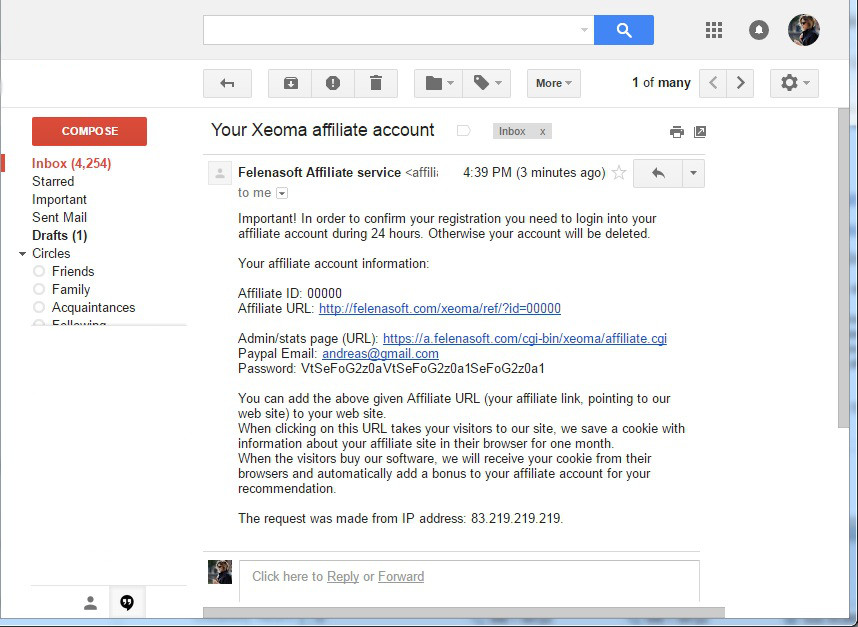 Step 3. Put the referrals link in your site.
Put your special referrals link in your site, blog, social media profile. Promote Xeoma as much as you can for the more people buy Xeoma, the higher is your profit.
Note: Avoid the uncalled-for spamming your link on third-party resources like forums – it will still be deleted and you will probably get banned.
After new visitors follow your link to our site, we will save their cookie and keep it for 30 days. If they make one or several purchase during that time, you will get 10% from those purchases back to your reseller account. You can get the money transferred to your PayPal or bank account!
That's it!
Here are answers to frequently asked questions about this affiliate program:
1. Will I get 10% of any purchases made by my referrals?

Yes. All Xeoma products and services participate in the offer, including rent, Xeoma Cloud, etc. Also see question #5
2. Where can I move out the earned money to?

You can get the earned 10% to your bank account by a SWIFT transfer. See also question #3.
3. I know there are fees charged by banks for money transfers. Will there be a money transfer fee or commission applied to my bonuses?

Yes. Since we will be transferring money to your bank account, each transfer will have a $10 commission fee. If your earned bonus money is not sufficient to pay the commission fee, the payment is postponed to the next month, and so on.
4. My referral has made a purchase and I now have a 10% bonus. How soon can I get it?

Starting pont for payouts begins when the 5th unique customer foloows your link and makes a purchase (you will getbnouses for all 5). There is a general delay for up to 35 days between the purchase and the transfer to your bank account. Usually it's 30 days and the payment is ready in the next month following the month of the purchase. See also questions #7 and #8.
5. Will the bonus be applied for purchases by everyone who followed my link?

We will save cookie for new visitors who followed your link, and count their purchases in the next 30 days. But if they have already been on our website before, their purchase will not count – you will not get bonuses for their purchases. Another exception is if the customer has purchased Xeoma products by SWIFT transfer or with a discount. Summing it up, a client must be new to our website, purchase Xeoma products within 30 days since first visit and pay for it with a credit card, PayPal or MyCommerce/ShareIt, without discount.
6. How much time for purchase does someone who followed my link have?

Any purchase from new visitors made within 30 days since their first visit will be counted and bring you a 10% bonus. See also question #5.
7. Is there a minimum amount of money I have to earn before I can get it to my bank account?

No, you will receive monthly payments for any sum you earn except for when it isn't sufficient to pay for the bank transfer commission fee. See question #3.
8. My referrals make a lot of purchases so a bank commission fee is not a problem for me. How frequently can you make the payouts for me?

Payments are made not more frequently than once per month. It could be less often if your earnings don't reach out to pay for the bank commission fee. See question #3.
9. Can I make the link hidden or use a more motivational anchor?

Your referral must know where they're going if they press your link. There is no point in making a misleading anchor because people will not buy what they are not interested in anyway.
10. How can I earn more?

Promote Xeoma, tell the visitors about how great Xeoma is and how it can do more than 100 up-to-date functions, including based on AI. If you need anything for promotion, please let us know!
If you have any questions regarding this special offer, or have issues with registration or logging in, please feel free to contact our support team.