Archive of Xeoma Webcam Software
They say, time is money. But despite modern technologies being so advanced nowadays many users of video surveillance systems tend to monitor what is going on themselves or to have someone monitor it, watching screens of their PCs or work stations day&night. Real-time monitoring is time-consuming and therefore very expensive. Do you really need those extra costs? Often what you really need is set up recording to view it at comfortable time. This option enables us to have it under control without spending much time.

Xeoma Video Surveillance Software has an archive, specially designed to meet these purposes. All recordings from the camera(s) will be stored in default user catalog, conveniently sorted by date.rchive recordings can be watched both online and in offline mode.ou can browse the archive, with Xeoma continuing to monitor and record.
Archive of Xeoma is equipped with a handy built-in media player.imescale of the archive is adjustable (minutes to hours) so you can easily and quickly find the required time period and begin playback from that point. Rewind function is also at your disposal - view only what you want to and from the moment you want.ou can adjust the records playback speed, for example, to play fragments in the fast mode that are of little or no interest to you and focus on the parts worth more attention.eoma supports both forward and reverse playback.

Archive is fully customizable.efine maximum size of the archive, storage time, quality and compression rate of the stored material - control the space on the hard disk of your machine allocated for archive.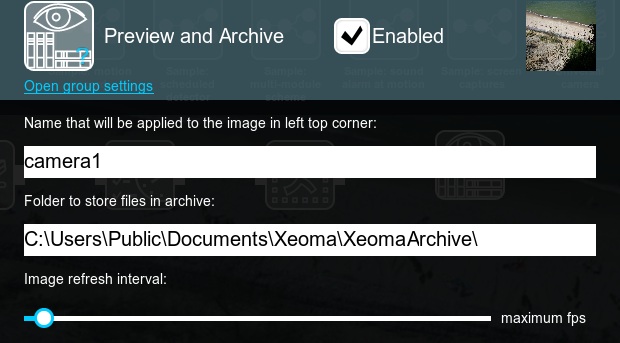 The table below shows how much disk space you will need for 24 hours archive storage with a certain camera type (sorted by resolution) and compression rate (or output video quality).
Camera Resolution
Required disk space/day
Required disk space/week
5 fps
10 fps
15 fps
5 fps
10 fps
15 fps
0.3 Mpix (704x480)
30 GB
60 GB
90 GB
210 GB
420 GB
630 GB
1 Mpix (1280x1024)
98 GB
190 GB
290 GB
680 GB
1.4 TB
2 TB
2 Mpix (1600x1200)
140 GB
290 GB
430 GB
1000 GB
2 TB
3 TB

For example, if you want to use your 2 Mpix high-resolution cam to record live video in MJPEG mode 24/7 with 5 fps and standard compression rate, you are going to need almost 1TB of free disk space per camera per week of storage. Storage capacity also depends on many factors in the field of the view, but remember that required disk space can be reduced by setting up motion and day detectors. Another option is to use Saving to File module to save videos with other codecs (for example, high compressive H.264) - this way videos won't take so much space but will not be played with the built-in player of Xeoma either. You will never have to face the problem of the full disk or archive stopping recording if the place reserved for it comes to an end. Once the limit is exceeded, Xeoma's archive will start recording over oldest materials. Reliability, security, stability - these are the very qualities that make Xeoma advantageous to other video surveillance software. These are also the qualities necessary to have a truly professional surveillance system in personal life and in business.

In Xeoma Video Surveillance Software. Archive video tutorial you can see the advantages of archive of Xeoma in action.s always, we welcome your feedback, questions and offers concerning Xeoma Video Surveillance Software. You can discuss Xeoma on forum, ask any questions, search for answers, or share your ideas how to use Xeoma or how it helps you.

6 Mar 2012