| | |
| --- | --- |
| | FelenaSoft is glad to invite you to join our worldwide affiliate program for resellers, integrators and distribution. We welcome new partners who will represent and promote our products. We believe that our partnership will help us discover new markets for our products and this collaboration will be profitable for both parties. |
On a constant basis we offer following affiliate program scenarios
E-mail


20% your revenue

Buy licenses using any option

No entrance requirements




Bank


From 30% to 50% your revenue

Buy licenses via bank transfer

30% discount - any purchase*

40% discount for purchases for $2000

50% discount for purchases for $10.000

For manufacturers:

$1.99 per camera if you buy 1.000 Xeoma Lite licenses at once

$4.99 per camera if you buy 1.000 Xeoma 1 camera licenses at once

Xeoma's free edition



MyCommerce


30% your revenue

Buy licenses using MyCommerce

No entrance requirements



Details:
E-mail
Buy licenses in any comfortable way - via RegNow, PayPal, bank, etc. You can buy licenses just like regular customers from RegNow (PayPal), then notify us via email about your purchases, and we'll reply with free licenses for 20% of the total cost of licenses purchased. If you have purchased two 32 cameras licenses, you will be able to get 8 cameras license free of charge. There is no need to "cash out" your licenses at once, you can save and later get a better license (usually it is relevant for large orders). The advantage of this method is that you don't need any registration anywhere to get your discount and you stay in touch with us.
Bank
You can buy licenses straight from us using bank payment system. If you buy licenses for more than $2.000 from us, you will get a 40% discount, and if your orders exceed $10.000, you will be able to buy licenses with 50% discount.
MyCommerce
When you purchase licenses as our partner, via MyCommerce, you get 30% commission in cash. Using My Commerce (RegNow) Payment System, sign up as an Affiliate (our RegNow ID is 14338) and use the following links (please replace XXXX with your Affiliate-ID at My Commerce (RegNow) to earn your commission from sells!):

You can buy licenses in advance and then re-register them to your clients.
At the end of the billing period you will get 30% commission of all purchases back. You don't need registration at FelenaSoft if you use this method but we would be always glad to hear from you and get your feedback, suggestions, ideas on how to improve conditions for resellers.
*except for EU countries. For large amounts please contact us.

Affiliate program for manufacturers and OEM of video surveillance equipment
If you are a video surveillance equipment manufacturer (produce cameras, DVRs, tablets, dash cameras, video capture cards, tablets and monitors with embedded web cameras, smart home systems, etc.), or if you sell it, our affiliate program with its special, most profitable conditions is just for you:
Moreover, with Xeoma's free rebranding, you will be able to offer Xeoma in your video surveillance project under any name of your choice, with modified design and information about your company.
Here are some ways you can use Xeoma with our affiliate program:
As you see, FelenaSoft offers very profitable affiliate program for resellers, integrators and Xeoma software distribution. Earn by helping clients save money with Xeoma and WebCam Looker dvr software!
| | | | |
| --- | --- | --- | --- |
| | | | |
| Free rebranding: free rebranding is available - with its help you can make Xeoma have a different name of your choice (your company name, for example) | Your responsobilities as a reseller will include pre-sales promotion and organization of payment process. Delivery of license and post-sale activities (users support) will be exercised by our team. | Companies and individuals, can take part in our affiliate program - software dealers, consultants, developers and distributors. Important is that you should deal with clients who may be interested in our software products.. | Flexible cooperation with each partner and effort to find attractive business conditions for everyone. That is why your suggestions on terms and conditions of taking part in our affiliate program as a reseller, integrator or wholesale buyer at FelenaSoft are most welcome. Please contact us with your questions or suggestions. |
If you are a reseller or "manufacturer"and you'd like to test the commercial version - let us know and we'll gladly provide you with a temporary license for your testing.
You can change registration data of a license/licenses to your clients' data (email, name, company name) with this page
| | | | |
| --- | --- | --- | --- |
| | | | |
| You can use this edition as main or alternative software with the cameras you produce or install. | Xeoma's free edition is much better than the regular bundled software, with 0 addition to cost! This version has the famous user-friendly modular-structure interface that users love so much, and all the modules and options of commercial Xeoma available for 2 video sources. | When the user feels like buying and adding more cameras to expand the system, a license can be bought to unlock more features and more cameras. | Works on Windows, Linux, Mac OS X, Android + iOS client coming soon. Online view via browser is available from any OS, any browser! |
Subscribe to our newsletter to get the free edition!
With our free OEM/rebranding utility you can rebrand Xeoma into an application for Windows, Linux, Mac OS and Android with your name and sell it exclusively as your own in your country or region.

Since the resulting product is unique you won't need any agreement confirming your exclusive status. Just offer the rebranded Xeoma to your customers.
Changing name will fully eliminate mentioning of Xeoma from the program so you can feel safe your clients will not buy licenses from us behind your back. They will only know and trust your company especially if they need camera and hardware installation, excellent local representation, quick response and
very good/cheap prices for quality and one of the most powerful video surveillance software in the world. It's more convenient for users to talk to a local company! Please note that we do not provide discounts to end-users so thanks to our beneficial discounts buying directly from you might be even cheaper for your clients! You will have the 100% of the market.
NEW: Billing page for resellers
For your comfort, we have added reseller area. Go to reseller admin page
Now you can purchase licenses instantly or leave a deposit with us to generate licenses when you need them. After you transfer money to us, we will send you your login and password for reseller area access. Here you will see:
1 - Your login
2 - Money left in your account
3 - Your discount (depends on paid amount of money)
4 - License generation section. Please be advised that your reseller discount does not apply to Cloud and Repeater subscriptions!
5 - Choose product/license type
6 - Enter name and email of your CLIENT. This data will be used to register license and will be shown in the program. Choose amount of such licenses you want to generate and click Order product. Generation takes only a second and generated licenses will be shown on screen.
7 - Show history of payments and license generation
8 - Show API button will show commands that can be used to integrate reseller area with your billing.
You can
get invoice here
(for deposit please choose the Deposit option)
&nbsp
Promotional materials

For quick study of our product major advantages, download our leaflet.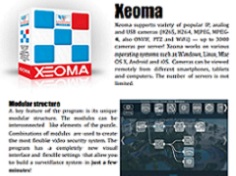 &nbsp