What is Xeoma's module?
If your acquaintance with Xeoma Video Surveillance Software has only started, you probably wonder what a Xeoma's module is. This article will help you learn about modules and their key role in the software.
Xeoma's modules are functional blocks, that, when combined, are used to build chains or combinations of modules. Simply put, a module is a certain feature represented by an icon. Modules differ in their functions.

Modules are combined in groups based on their common features. There are 5 groups of modules in Xeoma.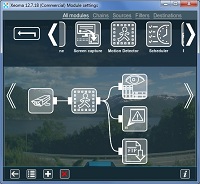 All modules is a default group. It shows all the modules in Xeoma.
If you press Chains, you will see the list of ready-to-use chains consisting of several modules. You don't have to spend time combining modules into chains - use ready-to-use chains instead. Sources is a group of modules handling signal sources. It includes camera, microphone, file reading and another Xeoma modules.
Destinations (or reactions) are modules used to specify an action as a reaction to an event: e-mail notification, saving to file, preview, preview and archive, sound alarm and application runner.
Filters is a group of modules that do actually filter the signal thus setting the following modules to work or not. Such filters are scheduler, motion and day detectors.

You have decided to give Xeoma a try and want to know what mode of functioning is best for you? The table below will show all differences between modes in a brief and will help you choose one for you:
Comparison table for modes of functioning in Xeoma:
Features
Modes
Free
Trial
Commercial (licensed)
Unlimited use of modules
Unlimited use of sources
Full remote control
Unlimited time of use
Settings saving
All modes support Repeater service and usage of any types of modules.

Details:
Xeoma can work in three modes: free, trial and commercial. The free version is basic. In this edition you can use any 3 modules of any type and in any combination. The only restriction is that the number of modules in use cannot exceed 3 modules including not more than 1 video source (that is either universal camera, file reading, or another Xeoma). Summing up, with the free edition you can build a chain to look like:

Video or Audio Source + Any other module (except sources) or
Video or Audio Source + Any other module (except sources) + Any other module (except sources) .

If you have already tried Xeoma and realized that you needed more than 3 modules to build chains with (for example, if you'd like to build several chains or use multiple video/audio sources), you should choose commercial mode. You need to decide for how many cameras you need to buy a license (use the trial version of Xeoma to find it out. In trial mode you can use unlimited number of modules of any type in any combination during time-limited period (your settings will be reset to defaults at program exit and every 48 hours of continuous use) and besides feel the easy and flexibility of Xeoma's remote access feature). When you buy a license, you pay for the number of cameras or other sources that you will be able to use in your Xeoma. With this license-limited number of cameras you will be able to build chains of any length, complexity, configuration, i.e. containing as many modules as required to make your system perfect.
What license do I need to buy?
You have tried trial mode of Xeoma and decided to buy a license. Now you have the question, 'How many how many licenses and for how many cameras will I need?'
It's all simple.
Number of sources you need license for depends on how many IP cameras, USB cameras, screen shot modules you are going to use. Let's assume you have 5 cams. 3 of them are IP cams (one of them has embedded microphone) and 2 USB cams. In addition, you'd like to use screen capture module. In our example, total number of video sources is 6 (microphone doesn't count as a video source). You will need to buy a license or licenses just for 6 cameras (video sources).
Number of licenses depends on how many computers you are going to use them on. Since licenses for more modules give you a discount, it's natural that you might want to buy just 1 license for the total number of video sources you are going to use. But please be careful: while IP cameras can be accessed from several computers in network, and shifted if necessary, embedded USB cams can't, so every embedded USB cam means using a separate computer, and therefore server since licenses can be used on 1 device only, and servers is what you buy licenses for. Things to keep in mind here is that client parts connect to server for free. For more information about server-client connection, you might find our article "Architecture of Xeoma" useful.
If you need to extend the system by adding more sources of video, you can buy additional licenses at any time and add them up to the existing one - licenses summarize.
Modules are a key part of Xeoma that are as important as easy to use. If you have suggestions or inquiries as what functionality should be added please let us know. We value your feedback and opinion.

5 Mar 2012