← Back to Articles
Linux with graphical shell
Linux without graphical shell
Activation
Autostart script
Troubleshooting
Launching ARM 32 bit on a 64-bit system
User manual for Xeoma Linux surveillance software
This user manual on how to use Xeoma as Linux surveillance software will give you an insight into what basic steps to use Xeoma on Linux OS are.
If yours is a Linux distro with a graphical shell, you can download Xeoma from its official site. Once on page, you will be offered to download the version corresponding to your operating system:
Unpack the downloaded tgz file (click the right mouse button when hovering cursor over the file, and choose the unpack option).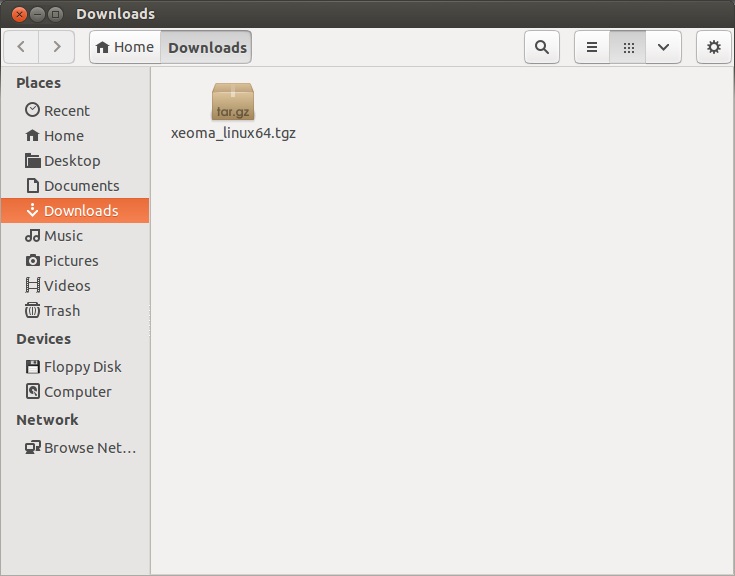 You will see the xeoma.app diamond icon. You can now launch Xeoma by double-clicking it.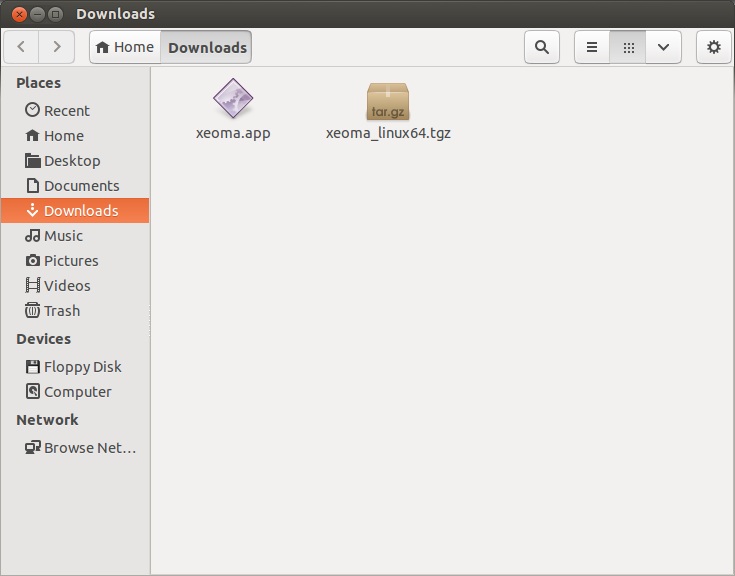 Installing Xeoma Linux surveillance software for Linux without graphical shell (via Terminal)
If your Linux is a server version or if you want to do the same through a console, run the Terminal and execute
wget http://felenasoft.com/xeoma/downloads/xeoma_linux64.tgz (for 64 bit systems)
or
wget http://felenasoft.com/xeoma/downloads/xeoma_linux.tgz (for 32 bit Linuxes).
Unpack the archive with the tar command.
After unpacking is done, you will get the xeoma.app file. Run it to start Xeoma (both server and client parts at once). When you access the file, the short help will be displayed with commands that can be used (they can also be viewed in our 'Help' section).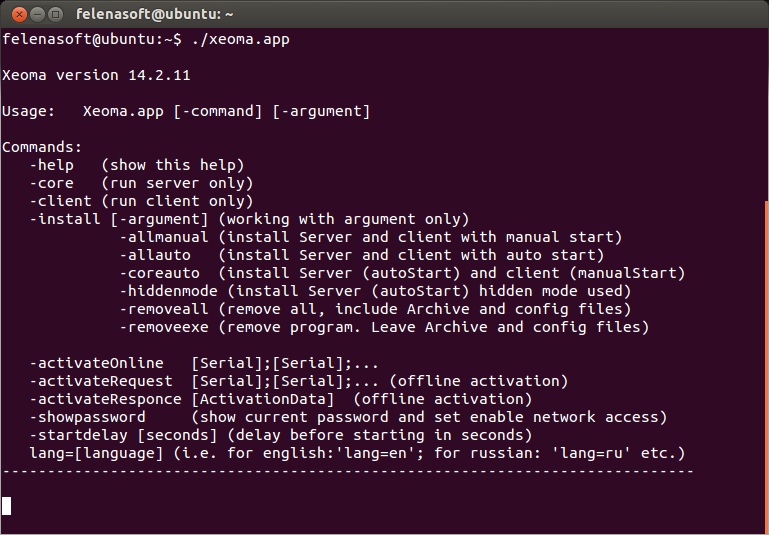 Running xeoma.app will only be good if your Linux has a graphical shell. The client part – the visual part – will then be displayed: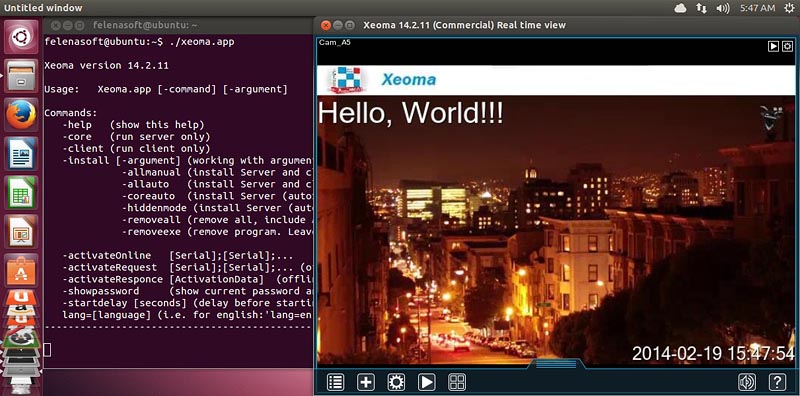 Otherwise, you can just run the server part without displaying the visual part (the client part):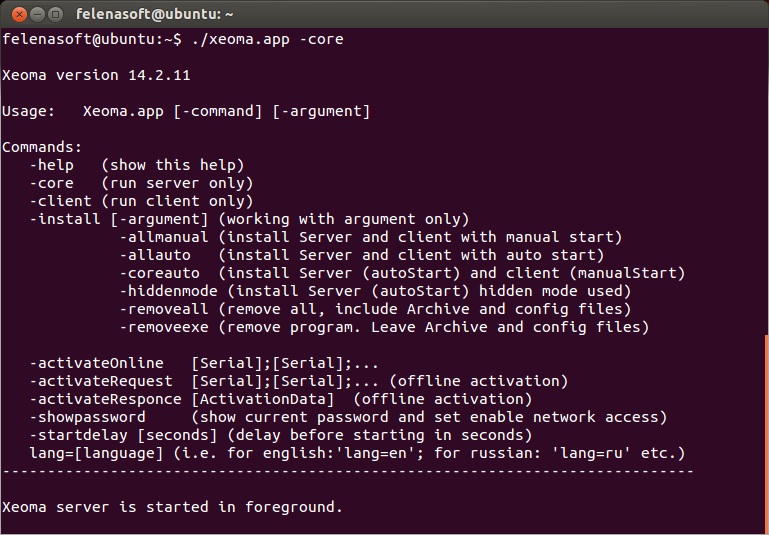 You can change language via console, install and uninstall the program, run it and activate it.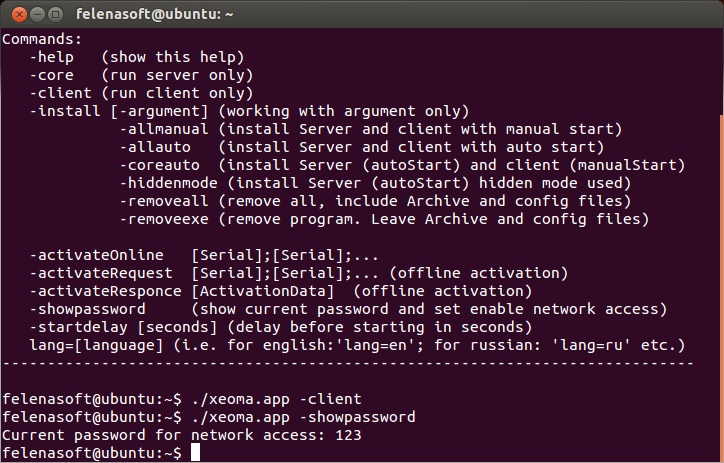 To setup other features (for example, add and configure cameras, add user profiles, change password and set it for local access, etc.) you will need to connect to this server part from a client. The machine with the client part must have graphical shell. This can even be your Android smart phone.
As you see, Xeoma Linux surveillance software for Linux is as easy to handle as Xeoma for other operating systems. Moreover, you can save not just nerves and time but also money with Xeoma on Ubuntu or other Linux distros.
Wonder where Xeoma's settings and archives are stored on your Linux? Please check the 'Location of Xeoma files' article!
Autostart script
Depending on the operating system in use, XeomaCoreService autostart script can be found in:
etc/init.d
etc/init
/etc/systemd/system/
If you need to edit the script (for example, to increase delay before start) you need to do that with admin rights, otherwise the changes won't be saved.
Launch/installation troubleshooting
1. Error cannot execute binary file (at launch)
If you're getting an error message as follows:

root@myUser:/home/myFolder# uname -a
Linux myUser 2.7.32-504.el6.i686 #1 SMP Wed Oct 15 03:02:07 UTC 2014 i686 i686 i386 GNU/Linux
root@myUser:/home/myFolder# ./xeoma.app
bash: ./xeoma.app: cannot execute binary file

Please make sure that you are launching 32 bit Xeoma on 32 bit Linux, or 64 bit Xeoma on 64 bit Linux. Installing ia32-libs might help, or simply use Xeoma of bit capacity that matches your OS's bit capacity.
Another reason for this error might be insufficient rights. In such case please try to execute chmod 777 xeoma.app in the folder where your xeoma.app is, and then launch Xeoma server again (xeoma.app -core).
2. Error "Access denied" (at launch)
If you're getting an error message as follows:

bash: ./xeoma.app: Access denied
This error can occur if you're trying to launch Xeoma on a USB stick or a disc mounted into the system with a noexec parameter. We recommend to try to launch Xeoma on a system disc or disable execution restrictions.
3. Error Illegal instruction (Core dumped) (at launch)
If you're getting the Illegal instruction error at launch you might be using an outdated processor that can't process Xeoma. In this case please try to launch an older version Xeoma 15.2.25 instead. If it works while newer versions don't you are advised to upgrade your hardware.
4. Error "version `GLIBC_2.17′ not found" (at launch)
If you're getting the version `GLIBC_2.17′ not found error at launch you might be using an outdated operating system that doesn't support GLIBC_2.17 (or higher) required for Xeoma starting from version 17.7.31 (for example, CentOS 6).
Solution: please use an older version of Xeoma (older than 17.7.31) or update your OS.
5. Error Fail (at installation)
If you're getting the error as follows during installation

[root@myUser ~]# ./xeoma.app -install -coreauto

install server (auto start) and client (manual start) ... * Ok > installFiles

* Ok > popClientFromAutorun
**
*** Fail > installCoreShortcut
* Ok > removeExeOnly
* Ok > unRegisterInSystem
* Ok > revertOldXeomaVersion
**
*** Fail > installCoreAutostartOnly
Fail




please install the xdg-user-dirs package and run installation again.
If none of this helps, please contact our technical support with the description of the issue.
Activation
To activate Xeoma license or renewal, you will need the 25-digits serial number you received after purchase. Important: please use clipboard copy/paste instead of manually entering serial number to avoid spelling mistakes. For Terminal, please use hotkeys Ctrl+Insert or Ctrl+Shift+C for copying and Shift+Insert or Ctrl+Shift+V for pasting.
Launching ARM 32 bit on a 64-bit system
If a 64-bit operating system is used, you might get an error «Command not found» when launching the utility. In this case you need to install a set of 32-bit libraries. In DEB-based distros install the libraries with the sudo apt-get install ia32-libs command.
To run utilities in RPM-based distros you might need to install a 32-bit library glibc: sudo yum install glibc.i686.
Execute:

sudo dpkg --add-architecture i386; sudo apt-get -y install libc6:i386 libncurses5:i386 libstdc++6:i386

7 March 2014